Julio Chavez Jr. vs. Andy Lee: Keys to the Fight, Predictions, More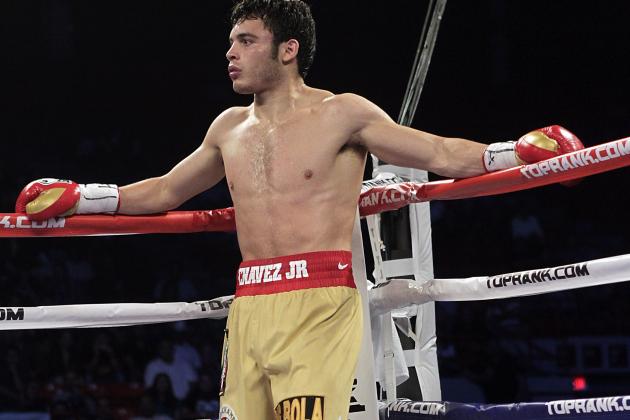 Bob Levey/Getty Images

Despite last weekend's horrible Vegas decision, the sport of boxing must go on, and luckily, we have a great fight to look forward to on Saturday night in Texas.
Julio Cesar Chavez Jr. takes on Irishman Andy Lee, for the WBC middleweight title, with the winner set to take on lineal champ Sergio Martinez in September.
It should be a terrific matchup, and I, for one, am looking forward to it. Lee is an excellent fighter, and Chavez Jr. knows no other way to fight than to slug it out, so it's a fight that should appeal to most and be a great action fight.
So, here are some keys to the fight and a prediction on who will take home the belt in El Paso, TX, on Saturday night.
Begin Slideshow

»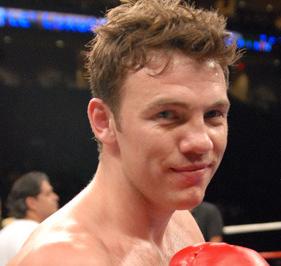 Of all the keys to the fight, this one is probably the clearest for Andy Lee. Lee always comes into his fights in terrific shape, and there have never been reports of him blowing up between fights.
Lee trains under Emanuel Steward, who always advocates for his fighters to remain in the gym and in shape even when they aren't prepping for a fight.
However, in Lee's only career defeat against tough brawler Brian Vera (which he later clearly avenged), he was way ahead and tried too hard to go for the knockout, which ultimately led him to punching himself out. While I think he's learned his lesson, it's an area of small concern.
Chavez, on the other hand, is always questionable when it comes to conditioning.
He's HUGE for a middleweight and routinely comes in at 180-plus pounds on fight night—three weight classes above middleweight. He has to cut a ton of weight and doesn't exactly keep himself in great shape year round.
Advantage: Andy Lee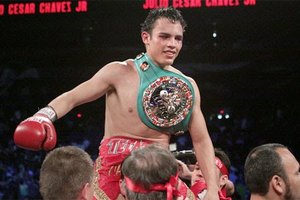 This is a tough one to call, so I'll call it a draw. Chavez Jr. displayed a lot of power earlier on in his career, and he has decent power, but he hasn't really showed it since he stepped up to the championship level, as he's gone 4-0 with only one KO in world title fights. He has enough power to keep opponents honest though, that's for sure.
With Lee, he's 13-0 with eight KOs since his lone career defeat in 2008, and he has 20 KOs in 28 victories, so he also has adequate power. He showed that he can punch late into fights, as he scored a dramatic come from behind knockout victory in the final round against Craig McEwan last year.
However, he's never fought at the championship level, so his power against top opponents is yet to be tested.
Advantage: Even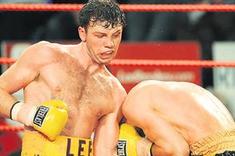 This is another category in this fight that I'll tip to Andy Lee.
While Chavez is a good fighter who's showed improved skills over the past couple of years, Andy Lee is a slick fighter who has displayed really strong boxing ability. He's able to use his jab to control distance and knows how to measure his punches so that he's able to use his height and reach to his advantage.
Chavez is more of a brawler. Freddie Roach has tried to get him to use the jab more, but it seems that Chavez likes to fight on the inside, and that could ultimately be his downfall.
If he forgets to jab his way in, he's going to have to take a lot of leather from Lee on his way in. Chavez would be smart to remember to use his jab and try and box a little more than he has in the past in this fight.
Advantage: Lee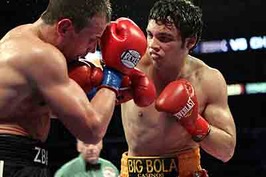 This one is a very tough call, but I'll give it to Chavez, as it's very hard to pick against Freddie Roach. Roach has established himself as probably the best trainer in the sport, and it's easy to see why.
His fighters win almost 100 percent of the time. Roach will have the right game plan in place to beat Lee, and he'll do his best to get Chavez to execute it. Roach knows how to get the most out of his fighters, and he'll do that on Saturday.
That's not to say that Lee doesn't have a great corner. He and trainer Emanuel Steward have a very close relationship, and Steward, like Roach, is one of the great trainers in history. Steward will have Lee prepared and in top shape ready to perform on Saturday; there's no doubt about it.
Advantage: Slightly Chavez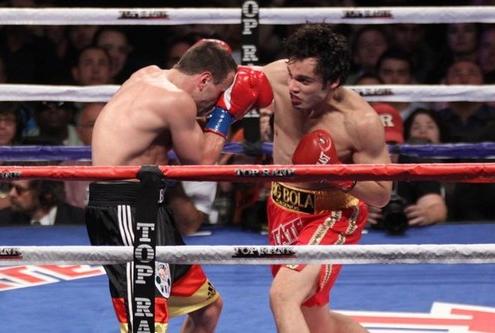 Here's another area where Chavez has over Lee. Chavez has fought 18 more fights as a professional and has experience at the elite level, where as Lee has never really taken a full step up to the top level of the sport.
Lee does have a terrific amateur background, but he doesn't have enough to overtake Chavez in professional experience.
Emanuel Steward always loves to talk about how important having a strong amateur background is, and perhaps, we'll see why on Saturday night. However, at the moment, the fact that Lee fought in the Olympics isn't enough to swing this category in his favor.
Chavez has fought more fights, more rounds, and the better opposition up to this point in their respective careers.
Advantage: Chavez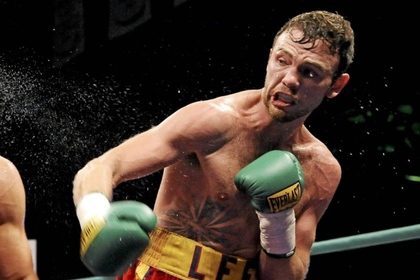 The advantage here isn't immediately clear, and it kind of depends on who you favor. You can look at Chavez, who was regarded as a B-level fighter for much of his career, only to step up and appear vastly improved in recent years under the tutelage of Roach. Chavez is becoming a more complete fighter by the day.
In Lee, you have a brawler who has reformed his ways into that of a boxer who takes his time and fights smart. Lee has come a long way from his past tendencies and could be peaking at just the right time.
He actually turns 28 today, so he's a tough in his prime fighter and will be the best opposition that Chavez has faced yet. Likewise, Chavez will be the best Lee has faced.
I can't really choose a winner here, as both have similar intangibles, and both have heart and the ability to sit down and really fight if they have to.
Advantage: Equal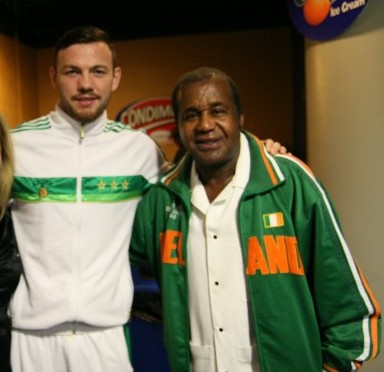 I may be in the minority, but I'm going to go with the mild upset and pick Lee in this fight.
I'm really surprised that according to Oddschecker.com, Lee is roughly a 3/1 underdog. I view this as somewhat of a toss-up-type of fight. What it will come down to is will Lee keep his distance and box Chavez, or will he make it a dogfight and fight toe-to-toe on the inside and give in to Chavez and make it a brawl?
If Lee can box Chavez from the outset, I really think it could be an easy night for the Irishman. Lee has a lot of natural talent, while Chavez is more workmanlike. Lee must keep his cool and if he gets tagged, not succumb and plant his feet and have a slugfest, that's exactly what Chavez likes to do—get in close and brawl.
Lee has the ability to beat Chavez; there's no doubt about it. He's been waiting a long time for a title shot, and he'll take advantage of it on Saturday night in El Paso. Call it a 116-112 or 115-113 type fight for Lee, clear but competitive.
Let's just hope the judges for the fight didn't learn their from Duane Ford or CJ Ross.
Follow me on Twitter: @rlongo924