NBA Draft 2012: Ranking 5 Best Lakers Draft Picks of All Time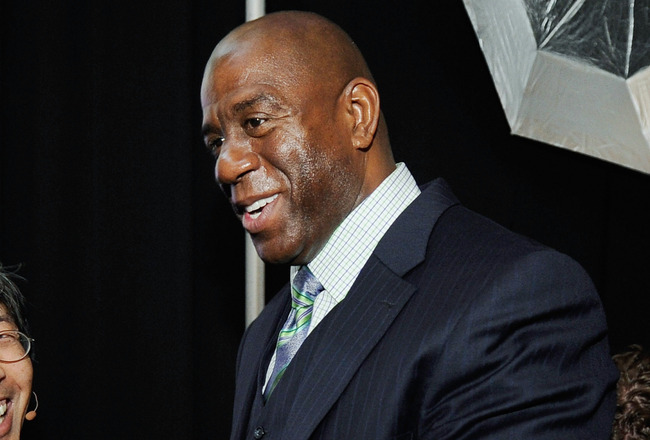 Kevork Djansezian/Getty Images
With just a late second-round pick in this year's draft, there's not a lot for Lakers fans to get excited about. However, as you will see in this slideshow, the Lakers have had pretty good success with their draft picks.
While there's almost zero chance they will get a great player with the 60th overall pick, they could get a decent role player who will help them win another title.
5. Gail Goodrich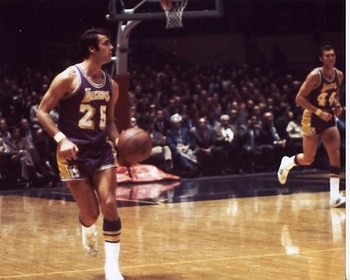 Photo via: BestSportsPhotos.com
Goodrich is one of the best left-handed players in NBA history. He averaged 18.6 points per game in his career, including putting up 25.9 points per game in the 1971-72 season, when he won his lone championship.
Goodrich retired early at 35, but he still managed to put up 19,181 points in his career. Easily forgotten amongst the other Laker greats, Goodrich is one of the best players in the franchise's history.
4. James Worthy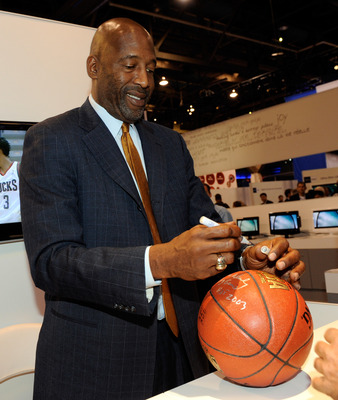 Ethan Miller/Getty Images
Part of the "Showtime" Lakers in the 1980s, Worthy won three championships in his career. Nicknamed "Big Game James," Worthy actually took home the NBA Finals MVP in 1988, putting up 36 points, 16 rebounds and 10 assists in Game 7 against the Pistons.
A perfect complement to Magic Johnson and Kareem Abdul-Jabbar, Worthy is considered one of the 50 Greatest Players in NBA History.
3. Elgin Baylor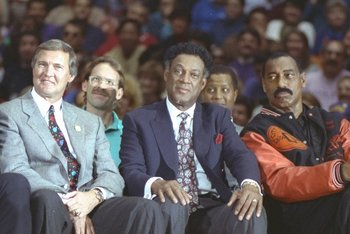 Ken Levine/Getty Images
Baylor is one of the most underrated players in NBA history and is one of the greatest forwards to ever play the game. He made the All-NBA First Team 10 times and was an All-Star 11 times. Baylor averaged 27.4 points per game for his career to go along with 13.5 rebounds per game.
The only reason Elgin isn't higher on the list is because he never won a championship in his 13 seasons in the league.
2. Jerry West
Kevork Djansezian/Getty Images
When the NBA makes its logo after you, you have to be pretty good. West was more than pretty good, though. He averaged 27 points, 5.8 rebounds and 6.7 assists per game during his time with Los Angeles.
West was so good that he won the first ever finals MVP in 1969, despite playing for the losing side. He would eventually lead Los Angeles to a championship in 1972 and will go down as one the NBA's greatest players.
1. Magic Johnson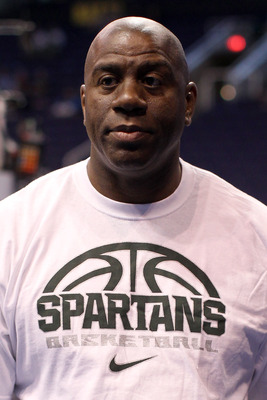 Christian Petersen/Getty Images
While biased Celtics fans might disagree, Magic Johnson is the greatest point guard of all-time. Johnson simply knew how to win, collecting five championships in the 1980s for the Lakers. Magic also won three MVP awards and was selected to the All-NBA First Team nine times.
Even more impressive, Johnson averaged close to a triple-double in his career, with 19.5 points, 7.2 rebounds and 11.2 assists per game.
Keep Reading

Los Angeles Lakers: Like this team?