2012 NBA Mock Draft: Stars That Will Fall to the Wrong Team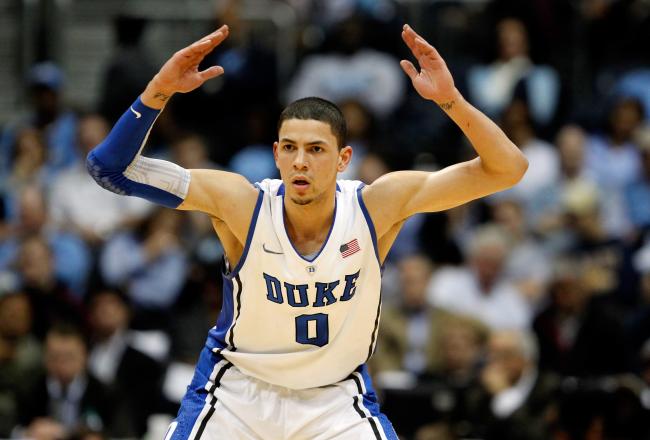 Streeter Lecka/Getty Images
Many players will wind up on their ideal team in this year's NBA draft. Others, will be dismayed when they find their future destination.
Some of this year's stars will wind up on teams with styles that do not fit, coaches who do not mesh or a poor supporting cast. These factors will keep them from reaching their maximum potential.
The following mock draft depends on each team staying with in their current spot. Charlotte could move their No. 2 pick, Toronto could move their No. 8 pick and a handful of other scenarios could happen. But let's pretend they don't.
Let's take a look at how this year's draft will play out and which players will wind up in the wrong situation.
* Players on the wrong team are italicized.
1. New Orleans Hornets (21-45): Anthony Davis, PF, Kentucky
The Hornets need help at every conceivable position. Davis is the obvious choice here.
He will be a disruptive force on the defensive end immediately, and his offense will follow shortly after. Expect a dominant career from this freak-of-nature.
2. Charlotte Bobcats (7-59): Michael Kidd-Gilchrist, SF, Kentucky

Charlotte is not going to be good next year regardless, but Kidd-Gilchrist is a step in the right direction.
His ball-handling and shooting are suspect, but his athleticism, leadership and tenacity make him desirable. He possessed the intangibles needed to have a long, successful NBA career.
3. Washington Wizards (20-46): Thomas Robinson, PF, Kansas

The Wizards are not as sorry as they once were. With John Wall leading the charge, things are beginning to fall into place.
Robinson is a high floor/low ceiling prospect. What you see is what you get, but you will like his mostly finished product. He brings a ton of energy and athleticism up front, and loves to win.
He will be a consistent 15-20 points and 10 rebounds a night.
4. Cleveland Cavaliers (21-45): Harrison Barnes, SF, North Carolina

Who should the Cavaliers select?
This is a match made in heaven. Cleveland needs to find a shooter to put with this year's best rookie Kyrie Irving.
Barnes is a three-point ace with high character. He still has a ton of room to grow, but playing next to another high-caliber point guard will speed up that process.
5. Sacramento Kings (22-44): Andre Drummond, C, UConn

The Kings are a bit ragtag at times, but there is some talent there. This pick could be Jeremy Lamb or Bradley Beal, if they decide to move Tyreke Evans.
Assuming Evans stays put, Drummond is a perfect match. If the Kings' coaches can get DeMarcus Cousins to focus, he and Drummond could form a dynamic duo.
Drummond is a major project but he oozes upside.
6. Portland Trail Blazers (via 22-44 New Jersey Nets): Brad Beal, SG, Florida

Portland sorely lacks a point guard, but I think this is too high for Kendall Marshall or Damian Lillard. So let's go with the next best thing.
Jamal Crawford's position is not necessarily safe, and Beal is the most talented guard in this draft. He is a versatile scorer with great rebounding for a guard.
The Trail Blazers are not far away. Beal will be a huge boost.
7. Golden State Warriors (23-43): Terrence Jones, SF/PF, Kentucky

The Warriors' backcourt is set. Now, they must add a small forward.
Jones is the second coming of Lamar Odom. Take that however you wish. He is enigmatic, athletic and possesses tremendous upside.
His versatility could put the Warriors over the hump.
8. Toronto Raptors (23-43): Jared Sullinger, PF, Ohio State
Sullinger goes to Toronto here. They want to solidify their interior, but look at the rest of their team. Every player likes to run.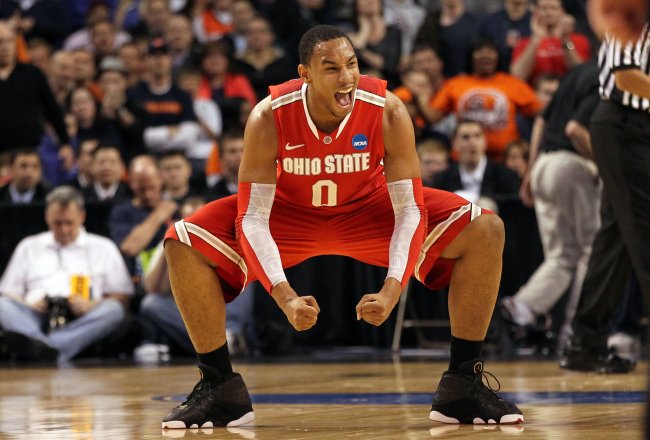 Jim Rogash/Getty Images
This former Buckeye is a lot of things, but quick is not one of them. Asking Sullinger to play an up-tempo style will not benefit either side.
In the half-court, Sullinger is brutish in the paint. He can also step outside and do damage around the arc. On a different team, he could have a very solid NBA career.
I do not think Toronto passes on Sullinger here, but Detroit wishes they would.
9. Detroit Pistons (25-41): Jeremy Lamb, SG, Connecticut
Pistons take the best player left on the board. Lamb is an electric shooter with limitless range and a lightning-quick release.
Detroit's best-case scenario is Sullinger being available here. Instead they will settle for the draft's No. 2 2-guard.
10. New Orleans Hornets (via 26-40 Minnesota Timberwolves): Kendall Marshall, PG, North Carolina
Marshall needs weapons to operate correctly. He will have Anthony Davis for sure. Eric Gordon is open to staying with the team, but his status is uncertain.
Which point guard fits New Orleans better?
Without Gordon, Marshall will have no one to pass too.
He is not a scoring point guard, and he doesn't defend well. If he cannot rack up the dimes, Marshall is useless.
The Hornets address a need here but Marshall's style doesn't fit their current structure. His pass-first attitude would be better suited for another team.
He may be better than Damian Lillard, but Lillard would be the better fit.
11. Portland Trail Blazers (28-38): Damian Lillard, PG, Weber State
The Blazers do not have a point guard to speak of. Lillard is an explosive athlete who should have a steady career.
He, and Brad Beal, could make the Blazers very interesting next year.
12. Milwaukee Bucks (31-35): John Henson, PF, North Carolina

Milwaukee's backcourt is locked down, but their frontcourt could use some work.
Henson's length and athleticism will add an intimidating presence under the basket. His career will go as his offense goes.
13. Phoenix Suns (33-33): Terrence Ross, SG, Washington
Phoenix was hoping Marshall or Lillard would fall to No. 13, but they won't. Instead the Suns wind up with Ross.
He is a dynamic open-floor performer with a dangerous perimeter game. Ross' lanky 6'6'' frame will create mismatches from day one.
14. Houston Rockets (34-32): Tyler Zeller, C, North Carolina

Houston needs size up front. If they cannot land Pau Gasol this offseason, Zeller will be the pick.
He has exceptional speed for a man his size and shoots well out to 15 feet. Zeller's deadly baby hook with either hand is a legitimate go-to weapon.
A long and consistent career lies ahead.
15. Philadelphia 76ers (35-31): Austin Rivers, SG, Duke

Reportedly, Rivers has a guarantee from an NBA lottery team. If that's true, my guess is Philadelphia.
Doug Collins and Doc Rivers are close friends. Chris Collins recruited, and coached, Austin at Duke. It just makes sense.
Despite their family relationship, Collins' coaching style will not mesh with Rivers' playing style.
Rivers is a high-volume perimeter shooter. The rest of his offensive repertoire has a long way to go, and his defense is suspect.
Collins has built the 76ers into a team based on unity and defense. Rivers will not fit their unselfish offense, and he won't buy in on the defensive end.
16. Houston Rockets (via 36-30 New York Knicks): Perry Jones III, PF, Baylor

Rockets add more size here. Jones III is the ultimate boom-bust prospect, but Houston can afford to roll the dice here.
Maybe staying close to home will motivate Jones III. If it does, his athleticism and versatility will make. the Rockets very happy.
17. Dallas Mavericks (36-30): Dion Waiters, SG, Syracuse

The Mavericks could use an infusion of youth across the board. Waiters is a fast-rising name because of his diverse offensive game.
He can take you off the dribble or bury a jumper from distance. Waiters could outperform this selection spot before too long.
18. Minnesota Timberwolves (via 36-30 Utah Jazz): Meyers Leonard, C, Illinois
Nikola Petrovic was fine last year, but he is not a great long-term option.
Leonard's upside and shot-blocking skills are already up to par. His offense will improve as he matures.
19. Orlando Magic (37-29): Arnett Moultrie, PF, Mississippi State

Dwight Howard is as good as gone. Moultrie will be a solid replacement.
The Magic have to find a new guy in the middle. Moultrie is a very good scorer, but his motor has been questioned. If you keep him inspired, Moultrie can dominate games down low.
20. Denver Nuggets (38-28): Moe Harkless, SF, St. Johns

Harkless is one of this year's rawest athletes. He will fit into Denver's offense very well.
His jump shot needs a lot of work, but Harkless has the tools to be a very good bench player. He will complement Danillo Gallinari's perimeter game perfectly.
21. Boston Celtics (39-27): Royce White, PF, Iowa State

No offense to White, but the pressures of Celtic basketball will impact him in a major way. White's well-documented anxiety issues have some questioning his NBA future.
White would fill a need for Boston. He was college basketball's best all-around player last year, and he can play multiple positions.
Boston's proud franchise has certain expectations. Players face pressure every night. This atmosphere is not ideal for White's fragile persona.
He is a fantastic player but I would like to see him elsewhere.
22. Boston Celtics (via 40-26 Los Angeles Clippers): Fab Melo, C, Syracuse

Boston gets the center they desperately need. Melo is a project, to say the least, but he can eat up space right away.
At 7'0'', 250 pounds he is a physical presence with solid shot-blocking instincts.
23. Atlanta Hawks (40-26): Tony Wroten Jr., PG, Washington
Wroten Jr. fits the Hawks like a glove. He is athletic, versatile and disappears for long periods at a time.
He projects as a combo guard. His slippery handles in the open court and court vision make up for his poor shooting ability.
24. Cleveland Cavaliers (via 41-25 Los Angeles Lakers): John Jenkins, SG, Vanderbilt
Cleveland already added Barnes. Now, let's find Irving a shooting guard.
Jenkins only does one thing well, but he does it better than anyone. Cleveland locks up the best pure shooter. He, Irving and Barnes will score a ton of points.
25. Memphis Grizzlies (41-25): Marquis Teague, PG, Kentucky

Memphis will take a chance on Teague's upside. He is a capable defender, but still turnover prone.
Once he works on his decision-making, Teague could be a very good NBA point guard.
The Grizzlies will need depth in the backcourt next season. Teague presents a very realistic option.
26. Indiana Pacers (42-24): Andrew Nicholson, PF, St. Bonaventure

The Pacers need another scoring option. Nicholson is not a household name, but he is a very good big man.
Nicholson has a raw set of moved inside, but he has a knockdown face-up game. He averaged a double-double for the Bonnies this year because of his skill and work ethic.
Both will fit Indiana's system perfectly.
27. Miami Heat (46-20): Festus Ezeli, C, Vanderbilt
I will make this explanation very simple: Ronny Turiaf, Udonis Haslem, Joel Anthony and Dexter Pittman.
That is all.
28. Oklahoma City Thunder (47-19): Jeff Taylor, SF, Vanderbilt

The Thunder do not really need anyone, but a reliable backup for Kevin Durant would not hurt.
Taylor is experienced, and a solid two-way player. He works hard on defense, and established himself as a very good perimeter defenders for the Commodores.
He is also an above-average spot-up shooter.
29. Chicago Bulls (50-16): Evan Fournier, SG, International

Chicago takes a gamble on Fournier's upside.
He has tremendous length, and projects at multiple positions. His developing perimeter shot will be the key to the arc of his career.
Because of his athleticism, he is already a dynamic dribble-drive player. The Bulls could really use his presence in the backcourt.
30. Golden State Warriors (via 50-16 San Antonio Spurs): Draymond Green, SF/PF, Michigan State

Green's poor fit is contingent on their drafting of Jones earlier in the first round. If they do, Green doesn't fit but he's easily the best available option.
The Warriors do not need another shooting guard, and it is too early for the rest of this draft's big men.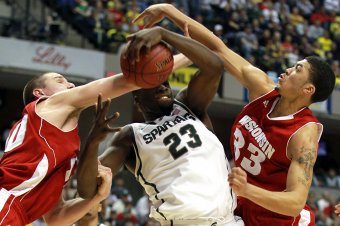 Andy Lyons/Getty Images
Green is a bit of a tweener, but his basketball IQ makes up the difference. He is experienced, a leader and a proven winner.
His versatile skill set will make him a solid bench player in the NBA.
With Jones landing in Golden State, he will struggle to develop. Jones will start, and Green will be buried behind him on the depth chart.
They could move him to power forward, but I cannot see his size holding up underneath.
This article is
What is the duplicate article?
Why is this article offensive?
Where is this article plagiarized from?
Why is this article poorly edited?