10 Rookies Who Starred in OTAs and Bombed the Regular Season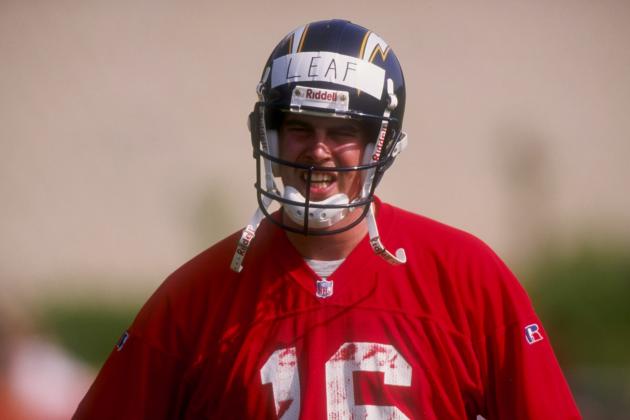 Todd Warshaw/Getty Images

OTAs give fans a first look at their team's new draft picks and what they hope to be the future of their franchises.
But let's be real: Working out in shells and shorts can be pretty deceiving.
Just because a guy looks good on the practice field doesn't mean he's destined for stardom come game day. This list is proof of that.
Begin Slideshow

»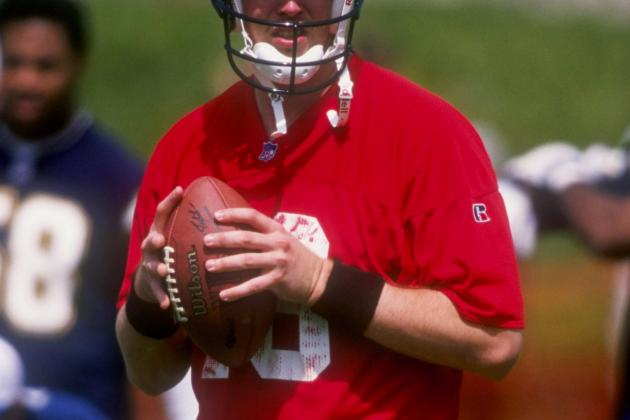 Todd Warshaw/Getty Images

Ryan Leaf is an all-time bust.
In fact, he's the all-time bust.
But there was a time when Leaf was considered to be just as good, and maybe even better, than future Hall of Famer Peyton Manning.
In the 1998 draft, the Chargers gave up the third overall pick, a future first- and second-rounder and Pro Bowl RB/WR Eric Metcalf to move up one spot to guarantee a shot at Manning or Leaf. After the Colts took Manning, the Chargers were more than happy to take Leaf, and it looked like both teams had their quarterbacks of the future.
In camp, Leaf did little to endow himself to his teammates, but he performed well on the field and went into the regular season as the consensus starter.
Leaf impressed in his first two starts and led San Diego to a 2-0 record to begin his career. But in his third game against the Chiefs, Leaf completed one pass, threw two interceptions and fumbled three times. His career never recovered.
Leaf was eventually benched for backup Craig Whelihan and finished his rookie season with just two TD passes and 15 interceptions. He won just three games in nine starts.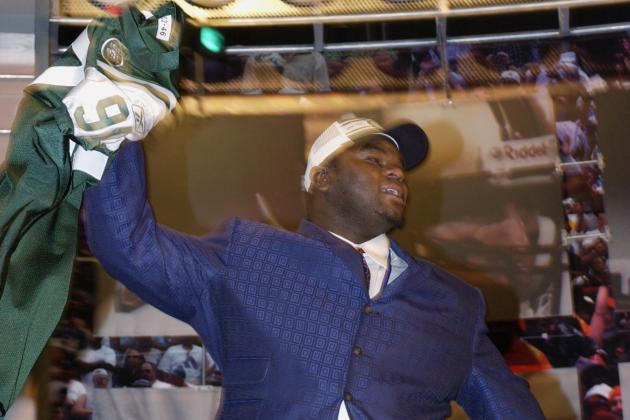 Ezra Shaw/Getty Images

In the 2003 draft, the New York Jets moved up to select Kentucky defensive tackle Dewayne Robertson, who drew comparisons to players like Warren Sapp.
In camp, Robertson impressed with his quick burst and great first step and won a starting job with the team.
Robertson started all 16 games his rookie year, but still managed to disappoint Jets fans. He tallied only 1.5 sacks and didn't force a single turnover in his rookie campaign, leading New York fans to feel the pain.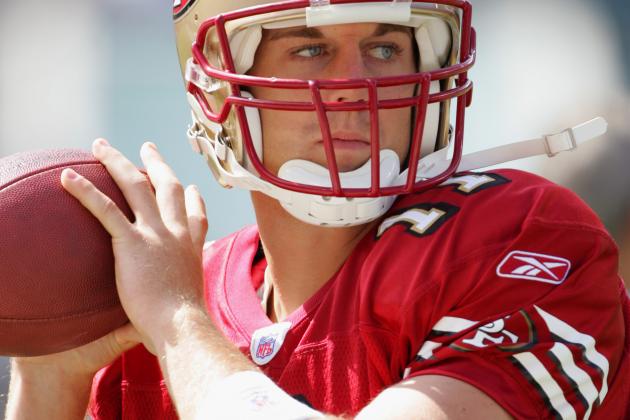 Jamie Squire/Getty Images

In 2005, the 49ers held the first overall pick and were looking to find the next great franchise quarterback to lead them back to the top.
So with the first pick, they selected Utah's Alex Smith, a quarterback who had thrown just eight total interceptions in three years with the Utes.
Smith seemed like a perfect fit for the Niners, as his skill set graded out to work best in the West Coast offense, similar to the one San Fran employed.
But Smith's rookie season left a lot to be desired.
One could place a lot of blame on then-head coach Mike Nolan, who bounced back and forth between four different quarterbacks during the 2005 season, including Smith, Tim Rattay, Ken Dorsey and Cody Pickett.
Smith started seven games and appeared in nine, all while throwing just one touchdown pass to 11 interceptions. San Francisco won two games that Smith started.
Jim McIsaac/Getty Images

In two years as a starter at Ohio State, Vernon Gholston accumulated 22.5 sacks and became a force off the edge in college football.
Everyone loved Gholston heading into the 2008 draft, including the guys at SI.com, who touted:
Gholston has been an impact player at Ohio State the past two seasons and he offers tremendous upside for the next level. He offers potential at a variety of positions in either a three-point stance or standing up over tackle. Gholston should be off the board during the initial 10 picks of round one and has the potential to quickly produce as a rookie in the NFL.
The Jets took Gholston with the sixth overall pick and planned to use him as a pass-rushing outside linebacker in their 3-4 scheme.
During camp, Gholston appeared to be picking up the defense quickly and was a projected starter and early contributor.
But Gholston ended up not starting a single game for the Jets in 2008 and was a healthy scratch for the team's season finale against the Miami Dolphins.
To this day, Gholston has never recorded a sack in his NFL career, which seems to be all but finished.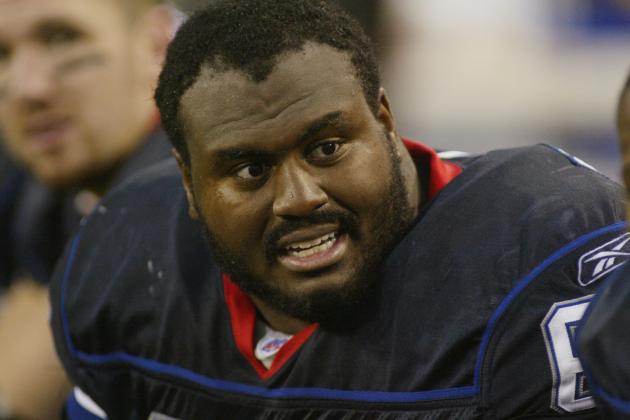 Rick Stewart/Getty Images

At Texas, Mike Williams was a wall.
He allowed only two sacks in his time with the Longhorns and, despite his massive physique, was considered to be light on his feet and agile.
All of this acclaim led the Bills to select Williams with the fourth pick in the 2002 draft to become the team's franchise left tackle.
Williams started the season on the right side but eventually moved to the left, but nothing could help the 375-pound tackle.
He underwhelmed the Bills in his rookie season and for the rest of his four-year career in Buffalo. He is widely considered the team's biggest bust.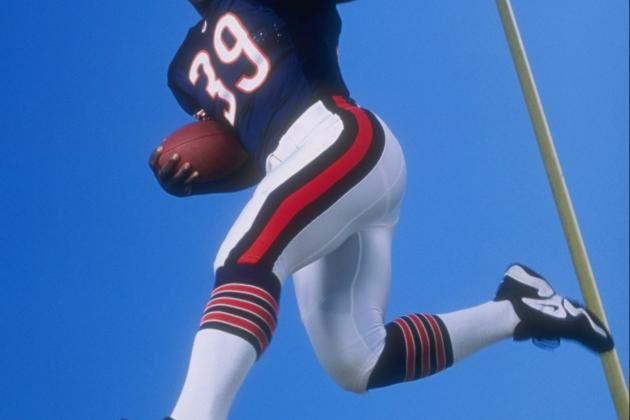 Mike Powell/Getty Images

Entering the 1998 draft, Penn State running back Curtis Enis was dubbed by many to be a "can't miss" prospect who had the size of a linebacker and the speed of a wide receiver.
His ability led to the Bears selecting the former Nittany Lion with the fifth overall pick in the draft to be their franchise's future.
Enis was never able to take flight in his rookie season.
He started just one game for the Bears and appeared in nine, all while rushing for an underwhelming 497 yards and ZERO touchdowns.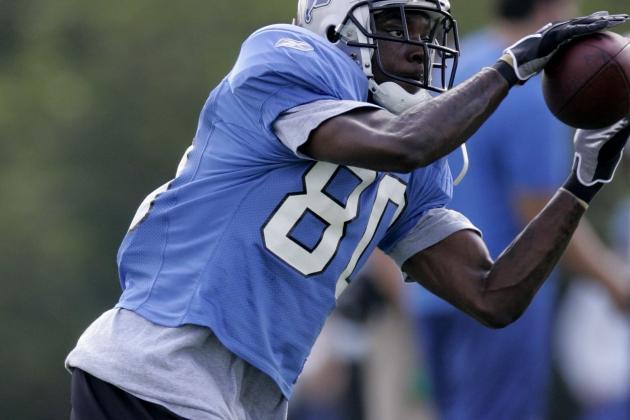 Gregory Shamus/Getty Images

There may have never been a bigger wide receiver bust that Charles Rogers.
After drawing comparisons to Randy Moss, the Lions took the former Michigan State receiver with the second overall pick in the 2003 draft.
After a strong spring, Rogers was penned in as the Lions number one receiver and looked pretty good in his first five games.
But a broken collarbone suffered in a practice session ended Rogers' rookie season in a fabulous disappointment. In five starts, Rogers caught 22 passes for 243 yards and three touchdowns.
Sadly, as bad as Rogers' rookie season was, those numbers would all be career highs for the former No. 2 pick.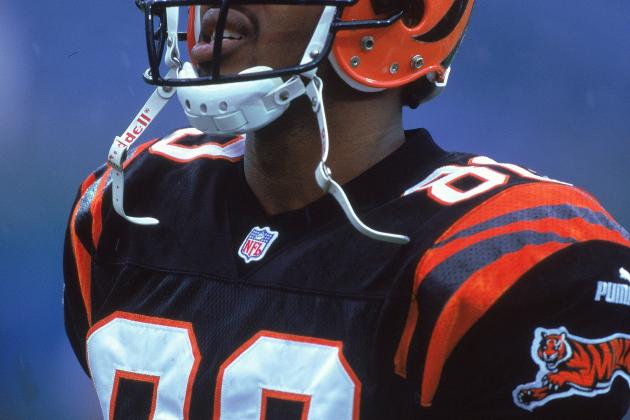 Scott Halleran/Getty Images

Peter Warrick was really the Reggie Bush of his time. He was the Sugar Bowl MVP, a three-time First Team All-ACC performer and the best return man in the game.
This led to the Bengals selecting Warrick with the fourth pick in 2000, hoping he could be the number one receiver for the team's 1999 first-round pick Akili Smith.
Unlike most of the other players on this list, Warrick's career wasn't an absolute bomb, but his rookie year failed to meet the team and fans' expectations.
Warrick started all 16 games and even led the team in yards and receptions. Unfortunately, Warrick had only 51 receptions for 592 yards, a far cry from the yardage totals he compiled at Florida State.
Warrick had the misfortune of playing on a terrible Bengals team his rookie year with some even worse quarterbacks. In fact, the team only threw for six total touchdowns.
But with his athleticism, Warrick should have been able to make the quarterbacks a little better and he did technically underperform his rookie year.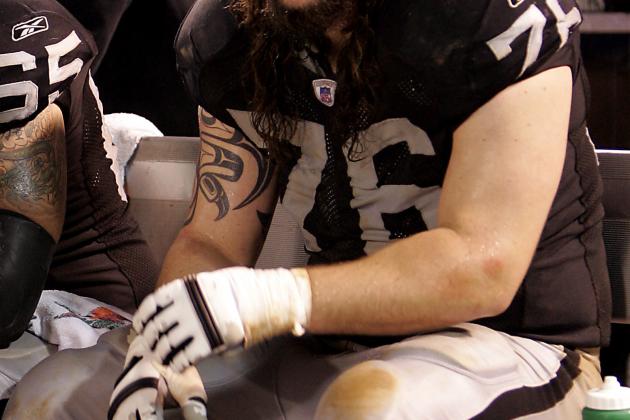 Robert B. Stanton/Getty Images

No one was complaining when the Raiders took Gallery with the second pick in the 2004 draft.
Gallery was considered the best offensive line prospect to come out in years, and Peter King even wrote an article on the Iowa tackle titled "In a League of his Own."
Gallery was projected to be the Raiders' left tackle and block the blind side of quarterbacks for years to come. But in his rookie year, Gallery couldn't escape the right side and never lived up to the hype of the "best offensive linemen in years."
Gallery's career with the Raiders has largely been labeled a bust and rightfully so. Raiders fans will never forget the Gallery pick.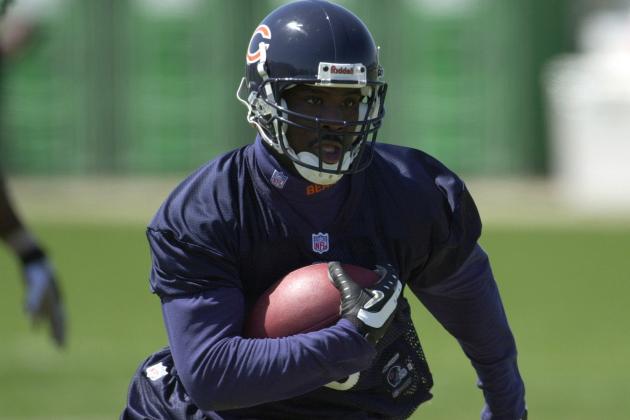 Jonathan Daniel/Getty Images

Heading into the 2001 draft, David Terrell was all but locked in as a top-five pick, so Bears fans were pleasantly surprised to see him available when the team picked eighth overall.
Terrell entered training camp as the team's biggest playmaker at wide receiver and would compete with Dez White for the spot across from Marty Booker.
The spot looked to be Terrell's for the taking, but when all was said and done, Terrell managed only six starts, catching just 34 balls for 415 yards and four scores.
Terrell looked disinterested a lot on the field could never reproduce the success he had at Michigan, much to the dismay of Bears fans everywhere.