Tracking the Likely Rotation Changes in the NBA Finals
June 11, 2012

Mike Ehrmann/Getty Images
Each playoff series is its own distinct organism. Though we've come to know quite a bit about the Miami Heat and the Oklahoma City Thunder over the course of the postseason thus far, the NBA Finals will ultimately be determined by an entirely new set of lessons and revelations in the days to come.
We know how both teams play, but only by watching the series unfold can we fully understand how both clubs play and compete against one another. These finals may feature familiar characters, but their roles in the outcome are ultimately to be determined.
That said, as we gaze into a void that will soon be filled with some brilliant, highly entertaining basketball, we can begin to guess and suppose how certain players' roles might change relative to what they were in their conference finals series.
Rotations are being tweaked as we speak, as Erik Spoelstra and Scott Brooks take aim for a new opponent with new considerations. Here's a look at how some players' roles might be altered, in order to reflect the change in scenery between rounds.
Note: Minutes-per-game numbers cited refer to the conference finals series only.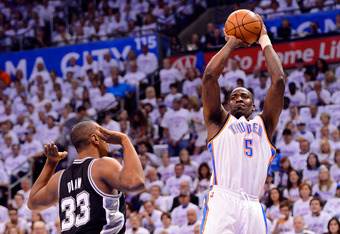 Ronald Martinez/Getty Images
Kendrick Perkins
27.8 minutes per game
Rotational value: Decreasing
Perkins may have been the most straightforward counter the Thunder had for Tim Duncan, but the Heat have no such equivalent. Miami's most consistent post-up options are now Dwyane Wade and LeBron James, leaving Perk to chase around either Chris Bosh, Udonis Haslem or—basketball gods forbid—James.
Considering just how much of a liability Perkins is on the offensive end (particularly against Miami's heavy ball pressure/weak-side zone), that lack of a defensive purpose may be crippling to his minutes.
Russell Westbrook
38.5 minutes per game
Rotational value: Increasing 
Beyond the finals, there is nothing. No reason to save one's legs; no additional opponent beyond the bend. This is the end of the road, and though Westbrook played nearly 39 minutes a night in the Western Conference finals, he should see even more playing time against a Miami defense that will challenge Oklahoma City's ball-handlers in every way possible.
The Thunder don't have many ball-handlers suited to tackling the Heat's pick-and-roll traps, and thus this series may very well come down to how much playing time Brooks allows Westbrook (and, to a lesser extent, Harden).
Derek Fisher
21.8 minutes per game
Rotational value: Increasing
Just a page break away from saying that Westbrook and Harden should make for OKC's only effective ball-handlers in this series, Derek Fisher is noted to have an increased rotational importance.
That may seem backward, but consider Fisher's role from a different angle: Although his ability to break down a pick-and-roll trap may leave something to be desired, Fisher is great as an extra-pass guard and is theoretically effective as an outside shooter—two things that happen to provide a rather direct access to attacking the Heat at a point of weakness.
I'm still not quite sure why Brooks willingly plays Fisher for so many minutes on a game-to-game basis. Supposing that trend continues, he could prove more useful in this series than he did in the last.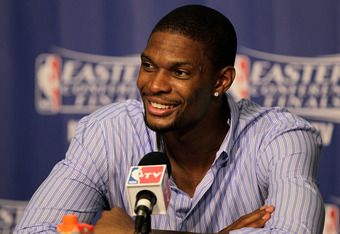 Mike Ehrmann/Getty Images
Chris Bosh
24.7 minutes per game
Rotational value: Unchanged
This one's almost too easy. Injury prevented Bosh from playing many minutes in the Eastern Conference finals, but Miami's crucial interior defender and mid-range shooter should be more or less at full strength when the finals begin on Tuesday.
He may not be any more valuable in this series than he was in the last, but Bosh is sure to see more floor time and thereby make a more profound and consistent impact.
Mike Miller
12.6 minutes per game
Rotational value: Decreasing
All things considered, that a hobbled Mike Miller was able to provide the Heat with any meaningful minutes at all turned out to be a season-saver.
Miami's entire rotation was distorted as a result of Bosh's injury, and with Shane Battier and LeBron James shifting up to defend the likes of Kevin Garnett and Brandon Bass, perimeter help from the bench became absolutely essential. Dwyane Wade was trapped, Mario Chalmers was incredibly helpful but incapable of offsetting Miami's stars on his own and James Jones was a bit too limited to counter Boston's defense. Miller was the only decent option left, and he delivered in a big way when the Heat were pinched.
But now with Bosh back in working form and Battier nudged into a more conventional role, Miller's time for anything more than spot minutes is likely gone. 
Joel Anthony
13.8 minutes per game
Rotational value: Increasing 
The Thunder are among the best in the league at getting to the rim, with each of their three stars capable of handling the ball, breaking down the initial defense, finishing in the paint and/or drawing a foul.
That puts a lot of pressure on an opponent's back-line defenders. Though Anthony was only marginally useful in the Eastern Conference finals, he could see more playing time and an increased role in order to specifically counter Oklahoma City's aforementioned dribble penetration.
In the two regular-season contests between the Heat and Thunder this season, OKC's offense was four points per 100 possessions worse when Anthony was on the floor. He rotates well, he cuts off driving lanes and he contests shots.
Anthony may not be a perfect rotation option, but his influence on a game increases correspondingly with an opponent's offensive assertiveness. Considering just how much more aggressive the Thunder are off the dribble than the Celtics, it's easy to see how Anthony might see the floor a bit more often in the series to come. 
Statistical support for this post was provided by NBA.com.