NBA Finals 2012 Preview: Miami Heat vs. Oklahoma City Thunder
June 12, 2012

Ronald Martinez/Getty Images
There are many contrasts entering the 2012 NBA Finals between the Miami Heat and the Oklahoma City Thunder.
Tonight, both teams will answer many questions in Game 1 at the Chesapeake Energy Arena in Oklahoma City. Tipoff time is set for 8 p.m. ABC will televise every game of the best-of-seven championship series.
The two teams are almost identical in style, but both are intriguing.
Miami has a star-studded cast, while Oklahoma City has arguably the best collection of young talent in the league. They each have the proverbial "Big Three".
Miami's trio of LeBron James, Dwyane Wade and Chris Bosh may get all the headlines, but OKC's Kevin Durant, Russell Westbrook and James Harden can match their South Beach counterparts on any given day.
Many NBA fans, specifically those age 35 and under, will get a chance to settle a much-debated topic: Who is the better player, James or Durant?
The individual matchup between the two basketball icons is one of the most anticipated player duels in the finals since 1991, where Michael Jordan's Chicago Bulls went up against Magic Johnson's Los Angeles Lakers. Chicago won the series 4-1.
Both Durant and James are coming off of splendid playoff performances in the conference finals. Durant averaged 29.5 points during the Thunder's series over the San Antonio Spurs in the West. In the Game 6 finale, he played the entire 48 minutes, scoring 34 points for OKC en route to a 107-99 win.
Meanwhile, James silenced his critics for delivering in clutch situations. The league MVP single-handedly led the Heat past the Boston Celtics in the Eastern finals, averaging 33.6 PPG—including an unforgettable 45 points in Game 6.
This year's NBA Finals matchup is loaded with star power. James, Wade, Bosh, Durant, Westbrook and Harden are six of the league's top scorers in the game. And if it is defense you like, Miami is one of the league's top defensive teams, while OKC has three of the game's top defensive players in Serge Ibaka, Thabo Sefolosha and Kendrick Perkins.
Miami hopes to atone for its flame-out in the finals a year ago against the Dallas Mavericks. The Heat lost to Dallas 4-2. James averaged a dismal 17.8 in the series, and was criticized for his lack of production. On the other side, OKC is in the finals for the first time since the Thunder moved from Seattle in 2008.
The teams split their two games during the regular season where the home team was the victor both times. The Thunder won 103-87 on March 25. Miami won 98-93 on April 4. They also split two games during the 2011 regular season.
Although the finals matchup between the Heat and the Thunder is much more than just LeBron James and Kevin Durant, their individual showdown is must-see television. All eyes will be on James and Durant, but other factors will also be key in determining which team wins the championship.
Here's a breakdown of the 2012 NBA Finals.
Small Forward: LeBron James (Miami) vs. Kevin Durant (Oklahoma City)
Both James and Durant are playing lights-out basketball right now. They have been the best two players in the 2012 postseason so far. James is averaging 30.8 points and almost 10 rebounds in the playoffs. Durant, who finished second to James in the regular season MVP voting, is averaging  27.8 points and almost eight rebounds per game this postseason.
The only area where James has an edge on Durant is playoff experience. James is making his third Finals appearance, while this is Durant's first time. However, Durant is not to be taken lightly. The mild-mannered small forward is wise beyond his age, which for the record, is 23.
Durant won his third consecutive regular season scoring title, joining Micheal Jordan, George Gervin, Bob McAdoo, Wilt Chamberlin, Neil Johnston and George Mikan as the only players in league history to do so.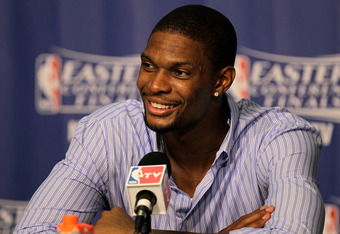 Mike Ehrmann/Getty Images
James was finally able to exorcise his demons in late-game situations against Boston. Winning his first Game 7 spoke volumes about how far James has evolved as a player. Much has not change as far as the Heat's lineup, but James' play has. The opportunity for James is now. This time, he hopes the third time is the charm.
Advantage: Miami
Power Forward: Chris Bosh (Miami) vs. Serge Ibaka (Oklahoma City)
After missing nine games because of an abdominal strain, the Heat's Chris Bosh appears to be back. Bosh scored 18 points—including three from three-point range—in the Heat's 101-88 win over the Celtics in Game 7.
Bosh has logged 14, 28 and 31 minutes in the three games since his return. He struggled miserably from the field (16-for-52) in the first three games of last year's finals. Miami hopes that Bosh will deliver an encore performance like the one in Game 7 of the Eastern Conference finals.
Ibaka is a defensive menace. He led the league in blocked shots this season and made the NBA All-Defensive first team. Offensively, Ibaka's game is limited. However, in Game 4 of the Western Conference Finals, he scored 26 points on 11-of-11 from the floor.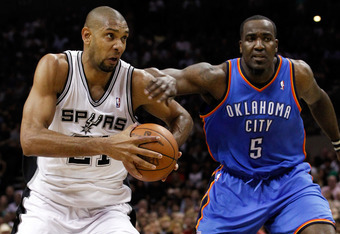 Tom Pennington/Getty Images
If Bosh is hitting from the outside, Ibaka will have to extend his defense from the interior. This will opens things up for James and Wade to attack the basket. However, if Bosh struggles from the outside or aggravates his injury, the momentum swings to OKC.
Advantage: Even
Center: Udonis Haslem or Joel Anthony (Miami) vs. Kendrick Perkins (Oklahoma City)
Other than Dwyane Wade, Haslem is the only other holdover from Miami's championship team in 2006.
Miami has struggled all season at the center position. Haslem has started the last three games, while Anthony and Ronny Turiaf has also started at times in the playoffs.
Meanwhile, Perkins brings championship pedigree to OKC; he won a title with Boston in 2008.
In his first full season with the Thunder, Perkins has provide both muscle and mental toughness. Although he struggles at times offensively, Perkins has the advantage over whomever starts for Miami.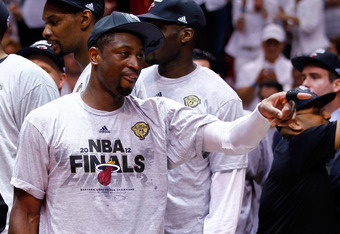 Mike Ehrmann/Getty Images
Advantage: Oklahoma City
Shooting Guard: Dwyane Wade (Miami) versus Thabo Sefolosha (Oklahoma City)
Wade is averaging 22.9 points a game in the playoffs, but has struggled at times.
In Miami's 94-75 Game 3 loss to the Indiana Pacers in the second round, Wade scored a playoff-low five points. He redeemed himself with 41 points in Game 6, as the Heat won the series.
Although Wade plays the 2-guard spot, he will probably be locked up guarding Thunder All-Star point guard Russell Westbrook at times. Miami will need Wade's scoring to complement James.
Sefolosha was instrumental in OKC's playoff series against San Antonio.
After the Thunder fell behind 0-2, head coach Scott Brooks made a defensive change by putting Sefolosha on the Spurs' Tony Parker. Sefolosha used his length and size to slow Parker. The end result was OKC winning the final four games.
Sefolosha is averaging only five points a game, but he scored a playoff career-high 19 in a 102-82 win over San Antonio in Game 3.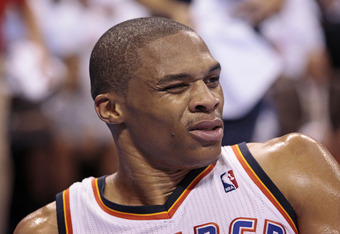 Brett Deering/Getty Images
Advantage: Miami
Point Guard: Mario Chalmers (Miami) vs. Russell Westbrook (Oklahoma City)
All-Star Russell Westbrook has been both brilliant and erratic at times for OKC.
After struggling to find his shooting eye in the first five games of the San Antonio series, Westbrook erupted in the clincher, scoring 25 points on 9-of-17 shooting.
Westbrook is not a true point guard. He turns the ball over at a high ratio (3.3 per game in the playoffs) and forces too many shots. When he plays under control, Westbrook can be handful to opposing defenses.
Oklahoma City's title hopes will depend on the play of Westbrook.
Along with the center spot, point guard has been another sore area for Miami.
Chalmers' game runs hot and cold.
The fourth-year guard has hit for double-digits in nine of 18 games, including a high of 25 against Indiana. However, he has also shot terribly from the free-throw line in the playoffs (69.9 percent), compared to shooting almost 80 percent during the season.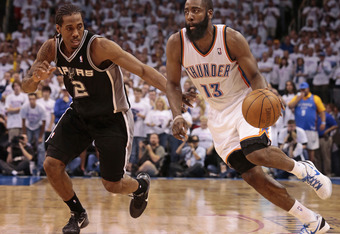 Brett Deering/Getty Images
Any offense from Chalmers, Miami will welcome it. However, much of his time will be spent chasing Westbrook.
Advantage: Oklahoma City
Bench: Shane Battier, Mike Miller, James Jones and Joel Anthony (Miami) vs. James Harden, Derek Fisher and Nick Collison (Oklahoma City)
Miami used Bosh off the bench in the last three games of the Boston series, but Bosh will probably be a starter in the finals. That means Battier, Miller and Jones will have to hit open jumpers from outside when needed.
If Haslem starts at center, the rotation will shorten Miami's frontcourt depth, which has been a problem all season.
Harden presents a major problem for the Heat.
The 2012 Sixth Man of the Year is averaging almost 18 points a game. He has scored in double figures in all of OKC's 15 postseason games. Harden averages almost 26 points per 48 minutes played.
Fisher brings a wealth of experience to the finals. The 37-year-old guard won five championships as a member of the Los Angeles Lakers. In Game 6 against the Spurs, Fisher scored nine points as the Thunder overcame an 18-point deficit.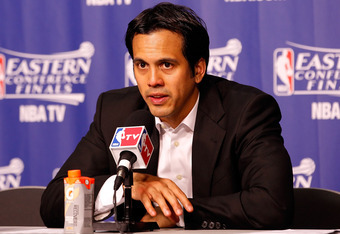 J. Meric/Getty Images
Collison provides relief at both power forward and center. 14-year veteran Nazr Mohammed played sparingly in the San Antonio series, but is another low-post option.
For Miami, much is going to depend on who starts. If the Heat continue to bring Bosh off the bench, the Heat's bench rotation will not change as much.
OKC has more firepower off its bench.
Advantage: Oklahoma City
Coaching: Erik Spoelstra (Miami) vs. Scott Brooks (Oklahoma City)
Spoelstra has the Heat in a second straight final. However, rumors have been flying around that he will lose his job if Miami fails to win the title.
For all Spoelstra has done the past two seasons, he doesn't get enough credit. The pressure of dealing with the trio of James, Wade and Bosh is enormous. Heat fans are starving for another championship and anything less than a title is unacceptable.
Brooks, on the other hand, has the Thunder headed in the right direction.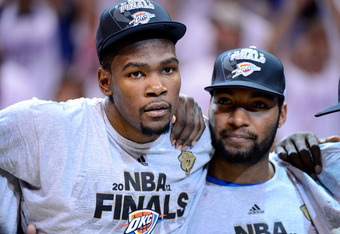 Ronald Martinez/Getty Images
OKC has been on the rise for the past three seasons. Two seasons ago they lost a heart-breaking 4-2 series to the Lakers in the first round. A year ago the Thunder were eliminated in five games by the Dallas Mavericks in the conference finals.
Brooks is highly respected in the coaching fraternity. He was the head man for the West team in this year's All-Star Game in Orlando, leading them to a 152-149 win.
Advantage: Even
Outlook: This series is about as even as one could get. Both teams are well-coached and have talent throughout their rosters.
Miami's experience is an advantage. James, Wade and Haslem are playing in their third NBA Finals each. Other than Perkins, Fisher and Mohammed, no other Thunder player has finals experience.
The showdown between James and Durant is a match made in heaven. They are are the face of the league right now, and both are hungry for a title.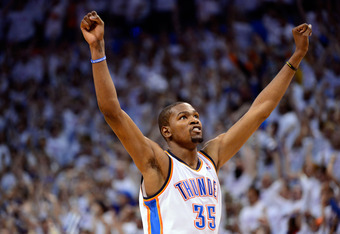 Ronald Martinez/Getty Images
The pressure of winning a championship keeps building for James. James (27) has been compared to Michael Jordan, but Jordan did not win his first title until he was 28. Durant hopes to follow the footsteps of Magic Johnson and Kobe Bryant. Both won a title before the age of 24.
Oklahoma City is unbeaten (8-0) at home in the playoffs.
With the format being 2-3-2, the Thunder will need to win the first two games at home. A loss will put a lot of pressure on the young OKC team to win in Miami.
Miami's playoff run has been brutal. The Heat were engaged in a physical six-game series with Indiana, and the seven-game battle with Boston in the conference finals was emotional.
The playoff road has been extremely tough for the Thunder. OKC has beaten Dallas, Los Angeles (Lakers) and San Antonio. The three teams have combined to win nine titles since the 2000 season.
That playoff run alone has made the Thunder mentally tough.
Prediction: OKC in 6