NBA Rumors: Assessing Latest Buzz Surrounding Top Superstars on the Market
June 11, 2012

Sam Greenwood/Getty Images
While the Miami Heat and Oklahoma City Thunder get set to square off in the NBA Finals, the other 28 teams in the NBA are looking for ways to get themselves there next year. As always, the big buzz around the league, away from the Finals, is whether certain superstars will still be wearing the same uniforms next year.
While it looks like, at least for the next few hours or so, Dwight Howard still wants to play in Orlando, no one knows what will be the case in the future. Howard has changed his status more than a 14-year-old Facebook addict (is there such thing as a casual user?). Brett Favre thinks Howard needs to make up his mind already.
According to a report by Orlando television station WESH 2, Howard still "loves" Orlando and won't be seeking trade.
Other NBA teams are not exactly taking his word for it however, for good reason. This story on SportsDayDFW, a website powered by the Dallas Morning News, does nothing but talk about how the Mavericks are trying to maneuver Howard to Dallas by signing point guard Deron Williams. 
It also brings up the possibility of a Howard trade involving the Brooklyn Nets.
While not necessarily a terrible option, especially if Williams does stay in Brooklyn, Howard probably will want to go to a place that is a winning team already, or at least has had more recent success then losing back-to-back NBA Finals in 2002 and 2003.
The Mavericks seem like a more championship-ready team right now, but you have to consider that even if all goes to plan for Dallas and they are able to sign Williams and trade for Howard, what kind of cap space would they have to sign a quality supporting cast, especially since they'd have to send a lot to Orlando to get Howard in the first place?
The last reasonable suitor for Howard would be the Lakers, but with Andrew Bynum's stellar season this year, they may not be willing to part with him. Also, according to Mike Bresnahan of the Los Angeles Times, the Lakers picked up Bynum's $16.1 million option for next season, but that could just be so they can use him as trade bait, probably for Howard.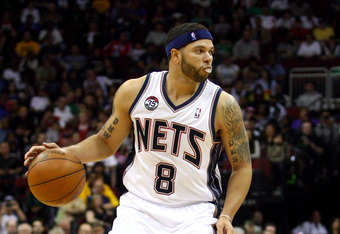 Chris Chambers/Getty Images
Even without Howard, the Lakers are still trying to sign Williams, but they are in an even more binding financial situation then Dallas would be already. According to this story by Bresnahan and Mark Medina, the Lakers are already "so far over the luxury-tax threshold" that signing Williams at all doesn't seem likely.
It seems clear at this point that Howard and Williams are the two prizes that everyone who has a chance is trying to win.
Unrelated to Howard and Williams are the status' of Tim Duncan and Kevin Garnett.
In a blog yesterday, Buck Harvey of the San Antonio Express-News posed the possibility that after the Spurs re-sign Duncan, which to everyone in the sports world is a no-brainer, they may go after Garnett. Harvey pretty accurately identifies Garnett as Duncan's "evil twin," but also recognizes the contributions that Garnett can still make, even at the age of 36. 
If the Spurs can successfully figure out the rest of their free-agent signings, if there's space left under the cap and Boston's Big Three feels their window has closed, it'll be interesting to see if the Spurs make a move for Garnett, a player who could get them over the hump in the tough Western Conference.