U.S. Open Odds 2012: Golfers Worth Betting on at Olympic Club
June 11, 2012

Ezra Shaw/Getty Images
The 2012 U.S. Open will feature 10 previous tournament winners, with Rory McIlroy looking to defend his 2011 title. But there are numerous golfers who are looking to make sure he does not repeat.
With a plethora of talent throughout the field, the U.S. Open, which will be played at the Olympic Club, should have many top golfers competing for the trophy.
Here are a few golfers to bet on when the tournament tees off on June 14.
Lee Westwood
Westwood is currently ranked third in the world—behind McIlroy and Luke Donald—but he could be primed to hoist the trophy when the U.S. Open is finished. He finished tied for third last year after he shot six-under for the tournament.
He has never finished higher than runner-up in a major championship, but this year could be different .
Westwood just finished his warm-up for the Open by completing a five-stroke win at Nordea Masters in Sweden. He finished the tournament at 19-under and found success in a new set of irons and a new putter, according to the Associated Press.
With Westwood coming into the tournament optimistic, he could be primed to capture his first major championship.
Luke Donald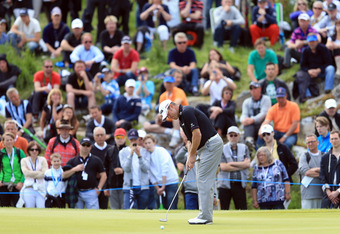 Richard Heathcote/Getty Images
Donald has never finished better than third in his career at majors, yet it's hard to bet against the No. 1 overall player. Nonetheless, he finished tied for 45th in last year's tournament.
Still, Donald has won six times in his last 16 months, which includes an impressive win at the BMW PGA Championship. He won the tournament for the second consecutive year, this time by four shots.
Donald sounded confident after the tournament as well, telling The Telegraph he is building confidence: "Obviously, my next step is to win majors. I feel I am getting closer. These victories are key to taking confidence you need into the big four," Donald said.
Donald needs to come out sharp, confident and seemingly cold-blooded if he wants a chance at the U.S. Open crown on Thursday.
Rory McIlroy
Obviously, McIlroy will be looking to defend his title, but history does not point to him grabbing another trophy this year. There has not been a consecutive winner since 1989, when Curtis Strange captured his second straight trophy.
Along with history, McIlroy will have to deal with the rest of the field and teeing off with both Donald and Westwood.
Nevertheless, if there is anyone in the game of golf who can resist pressure and build it's McIlroy.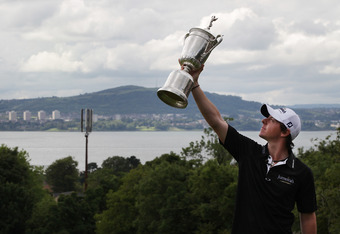 Peter Macdiarmid/Getty Images
After his collapse of epic proportions in the 2011 Masters, McIlroy has bounced back well. In his last tournament at the St. Jude Classic, McIlroy narrowly missed his fourth PGA Tour victory after he double-bogeyed the 18th hole. However, the second-place finish was after McIlroy had missed three straight cuts.
McIlroy won last year's tournament by eight strokes, and he turned in a performance for the ages. It will be hard to bet against McIlroy, knowing that he will be looking to defend his 2011 title, but he will have some serious competition at the Olympic Club.
As if any golfing list would be complete without him. Woods is looking to capture his fourth U.S. Open title and first since 2008. He won the 2008 title after going to a sudden death playoff with Rocco Mediate.
Woods has been unsuccessful in major championships since the 2008 title, and he will look to snap that streak at this year's U.S. Open.
After tying Jack Nicklaus with 73 PGA Tour wins at the Memorial Tournament, he is poised to make his ascent up the leaderboard. With his jaw-dropping flop shot on 16 at the Memorial, Woods looked like he had returned to form with his patented fist pump celebration.
If Woods is truly back to full speed and can perform like the Tiger of old, other golfers could be in for a real challenge at the U.S. Open. However, Woods has finished no better than 23rd in four of his last five majors, and his age is starting to become a factor.
Only four major championships separate Woods from the immortal Nicklaus, and the 2012 U.S. Open would be a great venue for Tiger to return to form.