2012 NBA Mock Draft: Predicting Which Players Have Greatness in Their Futures
June 11, 2012

Chris Graythen/Getty Images
Every player taken in the NBA draft hopes to achieve greatness in their career, but that goal is only attained by a fair few.
While there is no way to legitimately define "greatness," we know what it looks like when a player reaches a certain level of success in the NBA.
This year's draft class has a number of talented players with immense potential—there will be a few players who legitimately become superstars.
Here's a look at an updated first-round mock, with an emphasis on the players slated for greatness in their NBA careers. 
1. New Orleans Hornets (21-45): Anthony Davis, PF, Kentucky
A complete offensive arsenal should come with time, but Davis' combination of size, athleticism and youth will make him a force immediately.
College basketball's player of the year has to deal with a developing team, so his "greatness" may be stunted for some time, but he'll be an All-Rookie player and one to watch for a long, long time.
Expect his to become a dominant defensive force in the league and, at the very least, act as one of the most intimidating shot-blockers in the league.
2. Charlotte Bobcats (7-59): Bradley Beal, SG, Florida
Beal's strength lies in his fantastic shooting stroke, but he's a guy who can handle the ball if needed and crashes the boards.
There is legitimate superstar potential here, but he'll need a point guard that can help him out. We've seen him dominate in workouts as a catch-and-shoot scorer, which is something he didn't get much of a chance to do at Florida when he was on the ball too much.
If Beal ever gets the privilege to play with a serviceable point guard, he'll become a dominant scoring threat in the NBA.
3. Washington Wizards (20-46): Michael Kidd-Gilchrist, SF, Kentucky
Everything Michael Kidd-Gilchrist lacks can be taught, and everything he already has cannot. So, for the team lucky enough to draft him, they'll have a potential superstar on their hands.
MKG loves to get out and run, has the potential to lock down opposing teams' best players and is still just scratching the surface of his potential.
Playing alongside a talent like John Wall could elevate him to another level more quickly than most expect. 
4. Cleveland Cavaliers (21-45): Harrison Barnes, SF, North Carolina
Like Beal, Barnes needs a point guard to help create opportunities, but he could be deadly with the right player running the show.
He has so much potential with his combination of size and skill, but he doesn't always rise to the occasion or dominate the way most expected when he joined the Tar Heels.
If Barnes finally embraces his skill set, toughens up as a rebounder and works to play defense, he could be a genuine superstar in this league.
And, with this rising Cavs team, he could find great success.
5. Sacramento Kings (22-44): Thomas Robinson, PF, Kansas
Robinson is a freak athlete, but he's tapped to be a solid role player at best. He could help a team be great, but how great he'll be remains to be seen.
6. Portland Trail Blazers (via 22-44 New Jersey Nets): Andre Drummond, C, UConn
There is simply too much uncertainty around Drummond to guarantee anything. He has a ton of potential, but will he ever reach it?
7. Golden State Warriors (23-43): Perry Jones III, PF, Baylor
Much of the same goes for PJIII. He had a ton more collegiate success, but he faltered in key spots, and some wonder if he's mentally tough enough to handle stardom in the NBA.
8. Toronto Raptors (23-43): Austin Rivers, SG, Duke
Rivers will have his ups and downs, but he's one of the few kids in this draft who is capable of being a team's top option should he develop completely.
He has the clutch gene, could become a great defender if he learns to reign in his energy and still has a ton of developing to do.
Where he plays will have an impact on his potential greatness, but he's player to watch.
9. Detroit Pistons (25-41): Jared Sullinger, PF, Ohio State
A less-than-stellar athlete who plays below the rim, Sully will be a key role player who can score at a rather consistent clip around the basket.
He won't be a star, but he could be a key player on a successful team.
10. New Orleans Hornets (via 26-40 Minnesota Timberwolves): Kendall Marshall, PG, North Carolina
Marshall is limited as an athlete, but he showed an improving offensive game before suffering a season-ending injury in the tournament.
If he continues to develop a consistent 3-ball, he could be mighty dangerous.
11. Portland Trail Blazers (28-38): Terrence Jones, F, Kentucky
Jones has fantastic potential, but he has no defined position, and there are questions to who consistent he'll be.
His career hinges heavily on how much he works at his craft.
12. Milwaukee Bucks (31-35): Tyler Zeller, C, North Carolina
Although he'll never be a star, you know exactly what you're getting with Zeller as a rebounder, shot-blocker and average scorer. A lack of elite big men in today's league means he could be considered one of the better centers sooner than later.
13. Phoenix Suns (33-33): Damian Lillard, G, Weber State
There is a ton of potential surrounding Lillard as both a scorer and a passer, but the team that selects him knows there is work to be done.
The combo guard's future depends heavily on the team he goes to and the role he plays.
14. Houston Rockets (34-32): Terrence Ross, G, Washington
Ross will start his career as a backup, but he could immediately become one of the more dangerous bench scorers in the league.
If he were to wind up in Houston, he'd get plenty of opportunities early.
15. Philadelphia 76ers (35-31): John Henson, PF, North Carolina
Henson actually has a bit more upside than his college teammate Zeller, but he's still unlikely find greatness as a superstar in this league.
That said, he's an ideal fit for a Sixers team looking to add youth on the block.
16. Houston Rockets (via 36-20 New York Knicks): Meyers Leonard, C, Illinois
There is a lot to like about Leonard, but nearly just as much still to be developed as well. He's a genuine seven-footer, though, and should he put together some true skill he could be come a talent.
17. Dallas Mavericks (36-30):  Quincy Miller, SF, Baylor
Miller's a potential star should he be given the chance to come along a bit slowly. He struggled to come back from a high school injury this season, but he still flashed brilliance at times.
A team like Dallas could use him as a bench scorer early and he could become a star down the line.
This would be a good fit for him and give him arguably the best chance for greatness in his career.
18. Minnesota Timberwolves (via 36-30 Utah Jazz): Jeremy Lamb, SG, UConn
A super-lanky scorer who can take over games at times, Lamb doesn't always play to his potential, and it has affected this draft stock.
If he learns to step up, he could be a star, but he could be no more than a streaky scorer as well.
19. Orlando Magic (37-29): Dion Waiters, SG, Syracuse
This is the floor for Waiters, as some have him as a top-10 pick right now. The 'Cuse guard has great potential as a scorer, but that may be all.
Orlando would be ecstatic if he were to fall this far, but there is reason to believe he's being overrated right now.
20. Denver Nuggets (38-28): Moe Harkless, SF, St. John's
Denver has no immediate needs, so they're a perfect team for Harkless, who still needs some time to put it all together. That said, he can do everything (he needs to work harder on the boards and on defense, but he can do it) and could be a star.
21. Boston Celtics (39-27):  Royce White, PF, Iowa State
This guy is a point-forward who can do everything, but he excels at rebounding. Look for the Celtics to take full advantage of his array of skills, but his main goal, regardless of which team drafts him, will be to crash the board.
22. Boston Celtics (via 40-26 Los Angeles Clippers): Andrew Nicholson, PF, St. Bonaventure
This big man can stretch beyond the arc and has a ton of skills. He could be a better rebounder, but he works on defense and gives the Celtics yet another skilled big man.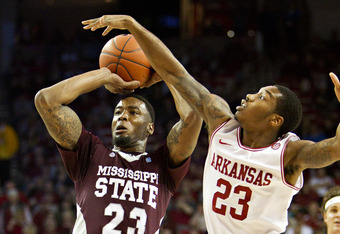 Wesley Hitt/Getty Images
23. Atlanta Hawks (40-26): Arnett Moultrie, PF, Mississippi State
Another super-talented big man, Moultrie could got as high as No. 8 or No. 9, but some teams are still weary of jumping on him.
His ceiling is likely as a good, not great, player, although he could help a playoff team.
24. Cleveland Cavaliers (via 41-25 Los Angeles Lakers):  Doron Lamb, SG, Kentucky
Lamb is likely a career bench player, but he could thrive as an instant scorer if put in the right role.
25. Memphis Grizzlies (41-25): Tony Wroten, PG/SG, Washington
There is a lot to like about Wroten, but he's a me-first player with a busted shot. He could start one day, but he has a ton of developing to do first.
26. Indiana Pacers (42-24): Marquis Teague, PG, Kentucky
Teague, on the other hand, should be a starter one day, but desperately needs time to develop. Going late in the first could ultimately be a huge blessing if he lands in the right situation with the right team.
27. Miami Heat (46-20): Fab Melo, C, Syracuse
Melo fills a huge need for the Heat, but he's as likely to wind up overseas in less than half a year as he is to start in the NBA one day.
28. Oklahoma City Thunder (47-19): Draymond Green, SF, Michigan State
Green will never be a star, but he'll be a phenomenal utility player for a contending team.
29. Chicago Bulls (50-16): John Jenkins, SG, Vanderbilt 
Jenkins' shooting stroke should eventually win him a spot in a starting lineup. A team like Chicago, who are still looking for a youthful option at the 2 spot, can't go wrong investing in him this late.
30. Golden State Warriors (via 50-16 San Antonio Spurs): Jeffery Taylor, SF, Vanderbilt
Jenkins' college teammate, Taylor is a gifted athlete with slashing ability and defensive chops. He'll be a help to a contending team.