Stanley Cup Finals: Why the LA Kings Will Win Game 6
June 11, 2012

Bruce Bennett/Getty Images
The Los Angeles Kings stand on the precipice of a historic collapse. After smashing expectations and obliterating pre-playoff predictions en route to a 3-0 series lead over the New Jersey Devils, uncertainty has now crept into the minds of the Kings and the city of Los Angeles.
Back-to-back wins by the New Jersey Devils have made the 2012 Stanley Cup Finals interesting again. It is the first time since 1945 that a team has forced a Game 6 after trailing 3-0 in a series.
If the Devils win tonight, they will be set up to become only the second team in NHL history to win the Cup after trailing in a series 3-0, with the 1942 Maple Leafs being the other.
Relax Los Angeles—that is not going to happen.
True, I have not been the best in the world at predictions during the 2012 NHL Playoffs.
Then again, who has been?
There are several reasons, however, why Kings fans should feel good about their team's chances to end this drama tonight.
One factor that has to be acknowledged would be the fatigue associated with multiple cross-country flights, two of them in the past four days. It is not easy to fly across the USA to begin with. To do it twice in four days, practice and then play a Stanley Cup Finals game in between must be very tiring.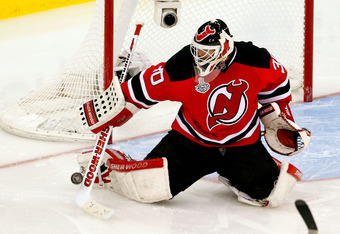 Paul Bereswill/Getty Images
In moments like that, being the home team does have its advantages. No, it is not an end-all be-all type of advantage. This is hockey after all, where as the Kings have shown all playoffs long, home ice does not mean a whole lot.
But it is always better after having flown cross-country for a team to be able to play at home, where familiar routines take place in familiar locations, and where family and friends are close by for moral support.
The Devils, meanwhile, have to play with their backs against the wall, for a third consecutive game, in a very hostile environment for the second time in those three games—3,000 miles away from home.
That is an awful lot to ask of a team, even one with the talent and heart of the New Jersey Devils.
One also has to figure that the Kings will be a little better prepared to handle the scene at Staples Center then they were for Game 4.
As reported by ESPN's Scott Burnisde, the comforts of home may have caused the Kings to be distracted from the job at hand in Game 4.
"Yeah, we don't want any distractions," said Kings' defenseman Drew Doughty. "I think a lot of us before Game 4 were distracted with family members and friends coming in and with the Cup in the building. A lot of those things we just have to put aside," he said.
Beyond that though, the Kings need to figure out how to reverse momentum and get things back on track. That will be the biggest challenge.
Without question, everything seems to be suddenly going the Devils way.
They snapped the Kings' unbeaten road streak.
They finally scored on the power play.
Lady luck is firmly on their side. The game-winning goal by Bryce Salvador in Game 5 is a prime example of that. And the Devils were also the beneficiaries of a disallowed goal, more than one shot that struck iron, a bad play from Jonathan Quick and some shots by the Kings that just flat out missed everything completely.
As a Capitals' fan, I feel like I am writing about my team as that is usually what derails us.
So why should anyone have confidence that it will end tonight and that the Kings will skate the Cup on home ice?
Because if the Kings are going to be champions, this is their moment. Not a Game 7 where they can try and avoid an epic collapse on the road, but here, in Game 6, where they can hoist the Cup in front of the second largest city in the United States.
Aside from the aforementioned advantage of playing at home and having a renewed focus for this Game 6, it has to be noted that the Devils are not really beating the Kings, they are surviving.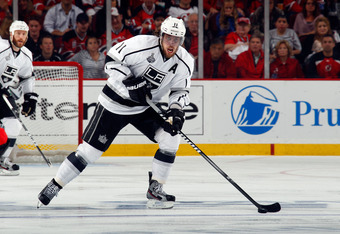 Bruce Bennett/Getty Images
While New Jersey has done much better the past few games of putting shots on Quick, it is still the Kings getting the better scoring chances.
The Kings seem to be generating a few more odd man rushes per game as well. But for some fantastic goaltending by Martin Brodeur, the Cup would already be making its rounds around Los Angeles.
Justin Williams seems to be playing the best for the Kings right now and Los Angeles will need a similar effort from him Monday night if they hope to finally put an end to this series.
But the Kings need Anze Kopitar to reappear and seize control. After Game 3, many were talking about Kopitar actually challenging Quick for the Conn Smythe trophy.
He has just one assist in the past two games.
Ditto for Dwight King, who was so clutch against the Coyotes in the Western Conference Finals but has only one assist to his name here in the Stanley Cup Finals.
If the Kings are to end 45 years of frustration tonight, I would look for Williams, Kopitar and King to lead them.
As for Quick, I do not think the Kings need to worry about him. He made a terrible play on the Devils' first goal in Game 5 and he knows it. I expect a great effort from him tonight.
But what the Kings really need to do in Game 6 is score first. The team scoring first has won every game in this series so far. In Game 6, it will be even more important. If the Kings score first, especially an early goal, it will calm everyone down and plant that seed of doubt in the heads of the Devils.
And that may be what the Kings need to do most of all is to rattle the Devils and damage their confidence. Right now, New Jersey really believes it can win this series and make history.
And perhaps the Devils can continue to keep the high-powered Kings grounded, keep things low-scoring and force a Game 7.
But if the Kings are really going to be champions, then this is their moment to prove that, to show everyone that this team does have the heart of a champion and to show that it can rise to the occasion in the face of adversity.
That's what champions do.
That is what the Kings will do tonight.