Manny Pacquiao's Next Fight: Why Retirement Is Pac-Man's Best Option
June 11, 2012

Kevork Djansezian/Getty Images
Manny Pacquiao's loss prompts one of three choices. Pac-Man can retire, demand a rematch or move on to Floyd "Money" Mayweather.
Retirement is the best option. Pac-Man probably wants another shot at besting Timothy Bradley on the scorecards, but there's no reason he needs to indulge that idea.
Let's take a look at why Pacquiao needs to hang up his gloves after Saturday night's debacle.
Nothing Left to Prove
Pacquiao is 54-4 with two draws and 38 knockouts in his career. He's the only fighter to ever win a world championship in eight different weight classes.
At this point, Pac-Man can't do anything but hurt his resume.
He could fight Mayweather, but what if he loses? Now we're talking about a washed-up Manny coming off of two straight losses. All of the sudden, he's looking at retiring on an uncharacteristic cold streak.
No one, including Pacquiao, wants to see that happen.
Fighting Bradley again wouldn't necessarily hurt his resume. Everyone knows who really won Saturday night's fight. But it goes down as a loss in the record books.
A rematch with Bradley would be like treading water. He could beat Bradley and show everyone what they already know, or he could lose and cast doubt about the first bout.
No Reason to Wait
Pacquiao and Mayweather could talk for another 20 years before agreeing to square off. It just isn't going to happen, and I'm tired of hearing about it.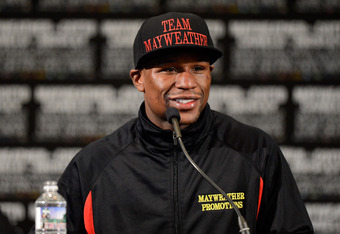 Ethan Miller/Getty Images
Every boxing fan wants to see the sport's two biggest performers in the same ring. But that shouldn't compel Pacquiao to wait around any longer.
The controversy surrounding Saturday's decision could set boxing back for years. Pacquiao would be smart to walk away, move on and pursue other endeavors.
Walking away from boxing now wouldn't look bad for Manny. He's had a long, successful career, and no one is going to count the Bradley loss against him.
Pacquiao has nothing to gain from another fight.