US Open Golf 2012: Which Tiger Woods Will Show Up to Tournament?
June 12, 2012

Scott Halleran/Getty Images
I'll spare you the Slim Shady reference. Tiger Woods is riding a wave of momentum after his victory at the Memorial Tournament, but don't expect similar results at the U.S. Open.
Ever since Woods' epic fall from grace due to off-the-course issues, the golf world has been waiting for Tiger to reclaim his throne as the world's most dominant golfer. The "Is Tiger back?" question pops up every time the guy finishes better than 30th at a tournament.
The answer to that question is no. Even with victories at the Arnold Palmer Invitational and Memorial Tournament, Woods will not be victorious at the U.S. Open.
The aforementioned wins along with his second-place finish at the Honda Classic are impressive, but his past two seasons overall have been mediocre at best.
Woods has finished 15th or worse at every other tournament so far this season, with two 40th-place postings as well as an ugly 73rd-best showing at the Cadillac Championship.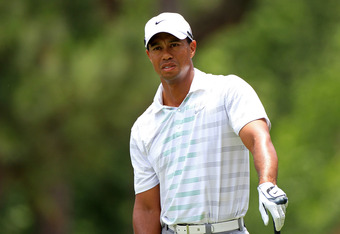 Sam Greenwood/Getty Images
The abysmal outing at the Cadillac came just one year removed from when Woods finished 10th at the 2011 edition of the tournament. That finish would be the Standford product's second-best performance of last year.
Even the strongest of Tiger believers realize that 2011 marked one of the worst seasons in the legendary golfer's career. The former best player in the world played in 10 tournaments; only able to post two top-10 finishes and three in the 100s range.
The issue with Woods is that he's one of the biggest teases in sports these days. Everyone remembers his dominant form throughout the late 1990s and into the new millennium. It's because of his amazing past that people can't simply look at the stats.
In the world of fantasy sports, managers have a saying: "Separate the name from the stats." First-time players are always swayed into drafting big-name under-performers like Alex Rodriguez, Grady Sizemore and Marques Colston because of the weight their names hold (or held) in their respective sport.
A-Rod is probably the closest example to Woods. Even though everyone realizes both athletes' age is creeping close to 40 and their stats have dropped off, people still cannot place accurate expectations on the two.
Woods has the ability to resurrect his past dominance on occasion—he's shown that. The issue is he hasn't shown that enough on a consistent basis.
Given his history over the past few seasons, Tiger won't be taking home first prize at the U.S. Open this year.