Nerlens Noel and Shabazz Muhammad: Who Will Have the Better College Career?
June 11, 2012

Jonathan Daniel/Getty Images
On April 11, the first day of college basketball's national signing period, the nation's No. 2 recruit Shabazz Muhammad announced that he would be a Bruin and attend UCLA next year.  
Just minutes later, the No. 1 recruit in the country, Nerlens Noel, revealed a "UK" logo shaved into his iconic flat top announcing his decision to attend Kentucky.
Both held the pole position as the No. 1 recruit in ESPN's Top 100 rankings at one point, and Kentucky fans were hoping the duo would end up at UK to defend the Wildcats' national title.  But, Muhammad made an honorable decision, splitting ways with Noel and deciding to make his own legacy at a tradition-laden UCLA program, which has been down in recent years.
Now, the question on the minds of college basketball fans from Los Angeles to Lexington is simple: who will have the better college career, Shabazz or Nerlens?
In a perfect world, we would have our answer in the national title game, but we all know it isn't that simple, plus April 8 is a long way away.  So until then, let's take a look at who has the better chance of playing their way to Atlanta in 2013.
On the surface, it looks like the two will face completely polarizing scenarios once they arrive on campus and finally hit the hard court for their respective schools.  In reality, their situations may not be so different.
The Programs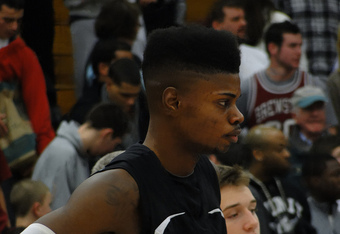 Noel will be facing a rebuilding challenge which could prove to be equally difficult to that of his Bruin counterpart.  Gone is the nation's top player in Anthony Davis, along with six others which represent an overwhelming 94% of the Cats' scoring from last year.  That gargantuan loss makes Kentucky's 2012 national title essentially irrelevant going forward, and makes the road ahead for Noel look even rougher than Muhammad's. 
Noel, a tenacious shot-blocker, will be plugged into the void left by the departure of Davis, UK's swat-happy center who is expected to be taken first overall in this year's NBA draft.  He will be expected not only to defend the rim at Rupp Arena but to defend Kentucky's perch on top of the college basketball world as well.
UK's only significant returner from last season is the sweet-shooting sophomore forward Kyle Wiltjer, who averaged 5 points per game a season ago.  Kentucky will also lean heavily on the services of former NC State point guard Ryan Harrow, who sat out the 2011-12 season in compliance with NCAA transfer policies. Other than that, the cupboard is looking rather bare. 
Muhammad, meanwhile, will attempt to revive a proud UCLA program which has carried a 19-14 average record over the last three seasons and earned only one NCAA tournament berth in that time.  The folks in Westwood view Muhammad as their saving grace—the one that will reestablish UCLA as one of the elite programs in the NCAA.
Luckily for Shabazz, he won't be going it alone, as the Bruins return four of their top five scorers from last year.  UCLA should be set down low with the return of Travis and David Wear and center Joshua Smith.  The big question mark will be replacing the 271 assists lost with the departure of guards Lazeric Jones and Jerime Anderson.  That is where the freshmen will come in.
The incoming Classes
UCLA boasts the No. 1 class for 2012 according to ESPN, while Kentucky sits just behind at No. 2. 
Muhammad's biggest help is expected to come from Kyle Anderson, a 6'7" perimeter star from St. Anthony's, a high school powerhouse in New Jersey.  He could end up being the solution to the Bruins' point guard issues, as he can play any position from point to wing.  His versatility will be vital and will allow UCLA to field one of the tallest starting lineups in the NCAA without being at too much of a loss for speed.  No matter what position Anderson is listed at, he will be a nightmare for most teams to guard.
Oak Hill Academy product Jordan Adams will provide some more depth at the 2-3 slot for the Bruins, allowing them to have an extremely versatile lineup. For many schools, Adams would have been the crown jewel of the class, but in this loaded UCLA class, he is almost an afterthought.  He may not have the immediate impact that Anderson and Muhammad will have, but his talent is not to be forgotten. 
The Bruins' final addition is another big body down low in 6'9" 270-pound center Tony Parker.  The only real knock on Parker is his conditioning, as scouts would like him to shed a few pounds to be able to keep his minutes up in the college game.  The good thing for UCLA is the fact that Parker won't have to play an extraneous number of minutes beyond what he is capable.  One thing the Bruins aren't lacking is depth in the frontcourt.  
Head coach Ben Howland clearly added an excellent class that will make UCLA a complete squad and, at the very least, a Pac-12 conference title contender once again.
As talented as Howland's class is, the one brought in by recruiting-guru John Calipari may be even better.
Along with Noel, Calipari has found two prolific scorers to make up for the colossal losses the Wildcats incurred. 
Before the addition of Noel, small forward Alex Poythress was the highlight of the UK class and is one of the most athletic players coming out of high school this year.  He has the ability to score from almost anywhere on the floor, and he should also be a huge asset on defense, which is vital to the success of any Calipari-coached squad.
UK's second scorer, shooting guard Archie Goodwin, could even be more prolific than Poythress.  Like his future teammate, he is a scoring threat no matter where he is on the floor.  Driving, pulling-up, covering mid-range, shooting 3-pointers; you name it, Goodwin can do it.  
Kentucky's fourth commit, Willey Cauley, will add some much needed depth down low behind Noel and Wiltjer—something that UK lacked during their 2012 title run.
Theoretically, Poythress will be able to fill in for the loss of Michael Kidd-Gilchrist, Goodwin will slide in for Doron Lamb and Noel will replace Davis. Harrow will take the place of Marquis Teague, and Wiltjer will add a different flavor at power forward with his shooting ability to replace both Darius Miller and Terrance Jones.
It sounds nice in theory, but will it be that simple?
The Outlook
Nerlens and Shabazz will both have some very talented players coming to campus with them, and they will both have proven coaches to lead them once they arrive.  
Both schools are probably the most talented in their respective conferences.  The Wildcats and Bruins both have legitimate playmakers, but both squads are still in question about how effective their distributors will be at finding those playmakers.
UCLA has depth that Kentucky simply doesn't and returns more proven players.  Muhammad won't have to completely run the show for UCLA, as he has guys like the Wear twins to lean on for some production and support, which will make it easier for him to find his role in the college game.
At the same time, Kentucky has had success while in the exact same position it is in now, as shown by its elite eight, final four and national title finishes in the previous three seasons. 
It is very difficult to compare these two, very different recruits.  
About the only things they have in common are the fact that they both have pretty cool names and that they'll be under a tremendous amount of pressure from their respective fan bases to win, win and win some more, until they hang a banner among their crowded rafters.
Noel is a defensive, shot-blocking monster, and given the success of Davis in that role last year, he could blossom into the No. 1 overall selection in next year's NBA draft and earn a ton of hardware along the way.
Muhammad is an absolute scoring menace who has the potential to put up points unlike any other collegiate player we have seen in a very long time.
Right now though, Muhammad is in a position to have a better season than Noel because of his unrivaled ability to score and his stronger surrounding cast.
Both squads will undoubtedly contend for a national title, and only time will tell whether Shabazz or Nerlens will come out on top.