Pacquiao vs. Bradley Results: Decision Elevates Timothy Bradley to Superstardom
June 11, 2012

Kevork Djansezian/Getty Images
Timothy Bradley is now a superstar, regardless of whether you believe he won or lost on Saturday night.
The undefeated 28-year-old American's controversial split-decision win over Manny Pacquiao was everything he'd hoped it would be. Pac-Man was simply fighting another fight, but Bradley was hoping to make this his signature win.
Not only did he get the win, but he's now one of the central figures (although no blames lies with him) in one of boxing's most suspicious decisions in some time.
Nearly every one outside of the judges (though, technically, only two of three judges scored the fight in favor of Bradley) thought Pac-Man dominated the fight. Close fights of this nature (though, again, some don't think it was really that close at all) typically give the benefit of the doubt to the champion.
Not this time.
Even though there were no knockdowns and Pacquiao tallied a distinct edge in power punches, Bradley captured the win and has quickly become a household name.
With a career record of 29-0 and the distinction of being the first guy to beat Pacquiao in nearly seven years, Bradley is now of the sport's biggest names. Even if there is some form of inquiry on the judges' decision, Bradley will always be synonymous with Pacquiao, and Pacquiao is an international star.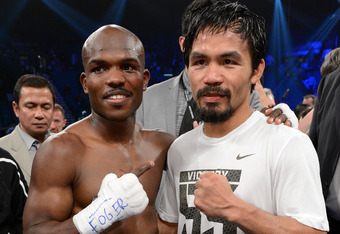 Kevork Djansezian/Getty Images
Boxing has been, steadily declining for some time now, but Bradley's name will now resonate with the likes of Pacquiao and Floyd Mayweather as the biggest stars of the dying sport. As the youngest of the trio, and with the most to gain from a potential rematch against Pacquiao, don't expect Bradley to go anywhere any time soon.