Denmark vs. Portugal: Date, Start Time, Live Stream, TV Info and Preview
June 11, 2012

Lars Baron/Getty Images
As the "group of death" continues, Portugal will look to grab its first victory, as they match up with Denmark at UEFA Euro 2012.
Denmark and Portugal currently occupy the No. 9 and No. 10 rankings according to FIFA, and this game has major implications for both teams.
First of all, a win for Portugal gets them back into contention in Group B and a loss likely seals their fate in the tournament. For Denmark, a win could give them a leg up on Germany, who face off against No. 4 Netherlands.
Regardless, both teams found themselves in a similar situation during the 2010 World Cup qualifiers, with Denmark coming out with a draw plus a victory against Portugal.
Where: Arena Lviv, Ukraine
When: 12:00 PM ET
Live Stream: ESPN3.com
Players to Watch
Denmark features a mix of ages along its roster, with both seasoned veterans and relative newcomers playing key roles.
However, 24-year-old Nicklas Bendtner will play a crucial role during Euro 2012.
After he debuted as an 18-year-old in international play, he has racked up the goals.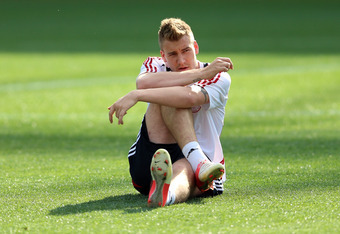 Julian Finney/Getty Images
Bendtner already has 18 goals on the international stage in his career and those goals have come at extremely important times. For instance, Bendtner scored the tying goal against Portugal in the 84th minute of a 2010 World Cup qualifying match. Denmark eventually went on to win the match 3-2, with Bendtner winning Danish player of the year and his goal voted Goal of the Year.
Certainly, he will need to make a major impact if Denmark wants to hold off Portugal.
Portugal boasts an experienced roster with only one player younger than 20. They also feature the second-highest paid soccer player in the world, according to Forbes, in Cristiano Ronaldo.
Ronaldo was on a tear during qualifiers, as he finished tied for third with seven goals scored. Nonetheless, Ronaldo scored only one goal in Euro 2008 after scoring seven in qualifying matches. Ronaldo has also set lofty expectations for himself and his squad, telling Kicker Magazine, "I will only be fully content with my career when I have lifted a trophy with Portugal".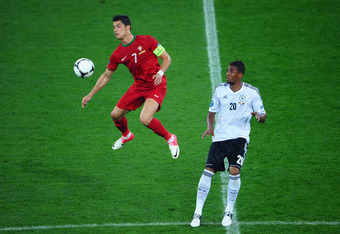 Laurence Griffiths/Getty Images
Well, if he wants to lift this year's trophy, he will need to perform like the superstar he is and lead his team through the tough Group B.
Who Makes it Through the "Group of Death"?
Obviously Germany, who are ranked No. 3 nationally by FIFA have to be the favorite to make it through.
But, Denmark is making their presence felt already after they defeated the Netherlands in the opening match of Group B. If they can draw with Germany and defeat Portugal, Denmark will be poised to advance to the quarterfinals as well.
However, if Portugal can upset Denmark in the upcoming match, they will be tied with Portugal in the standings.
The Germans boast a plethora of veterans on their roster and they will claim an outright lead if they can get past the Netherlands.
Look for both Germany and Denmark to advance to the next round of Euro 2012.
Prediction
Denmark 1, Portugal 0
Ronaldo is obviously the most talented player on the Portugese roster, yet if he fails to make an impact, Portugal will have a hard time finding ways to score.
With talented midfielders and a mix of youth and experience at the forward position, Denmark will find a way to beat Portugal once again.