Denver Broncos: Why Peyton Manning Will Return to MVP Form in 2012
June 11, 2012

Justin Edmonds/Getty Images
After a major injury in the NFL, there are always questions regarding the level of play to which a player can return. Some are able to carry out their come back very successfully, whereas others seem to lose sight of their game altogether.
For example, Tom Brady's performance hardly lagged upon his return from a major knee injury in 2008, while Carson Palmer has failed to reach his full potential since returning from a similar injury in 2006. 
Though quarterbacks rarely see the type of neck injury Peyton Manning is currently dealing with, after watching him work out with the Broncos during OTAs, it's difficult to imagine him not returning to his high level of play in 2012.
In terms of Manning's rehab, it is still an ongoing process. The short answer, coming from offensive coordinator Mike McCoy via DenverBroncos.com's Gray Caldwell, is that "he's fine – he can do everything," meaning Peyton has continued making all of the throws he was capable of before his injury. The only difference this offseason is that the training staff closely monitors his reps throughout practice, making sure he does not push his neck too hard.
The team has been very careful to err on the side of caution in terms of physical reps for Manning, gradually increasing his throws each week while they implement their new offense. However, as always, he has been quick to learn the new system and instrumental in building the team's new offense.
McCoy told reporters during OTAs:
Greek [the broncos trainer] and [Peyton] have sat down and determined how long he can go, how many throws he can make each week. But the mental challenge we're throwing at him, we're throwing everything at him like every other player. His reps will increase as we go.
All in all, Manning seems to be healthy, motivated and in shape. It is just a matter of time before he is physically back to where he wants to be.
As anybody who knows Manning will tell you, he is an extraordinarily hard worker and the epitome of a perfectionist. Because of this, he would not have returned to football if he thought he could no longer play at the same MVP level.
Moreover, since he is such a cerebral quarterback, his play does not demand incredible physicality. He beats teams primarily with his mind and his preparation. The man knows what the defense is trying to accomplish before they even try, recognizes the defensive scheme's weaknesses pre-snap and executes.
Peyton Manning does not get hit a lot, nor does he move around too much in the pocket, and he is patient with his downfield throws, diminishing any unnecessary pressure to his neck and arm. Manning can simply pick apart a defense with extremely accurate five- to seven-yard passes, then break the game open with a deep shot down the field.
If anything speaks to Manning's successful come back to the NFL, it is his intelligence and his style of play.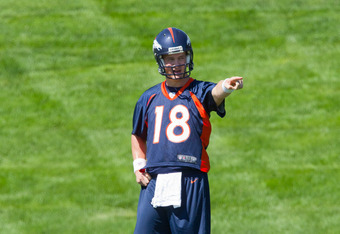 Justin Edmonds/Getty Images
In addition to his "laser, rocket arm," which, according to all of his coaches and new teammates, still looks great, his insane football IQ as well as the level of accountability he demands from his teammates makes everybody on the team better.
The Broncos already have a good offensive line, anchored by Pro Bowl left tackle Ryan Clady, which should only get better under Manning's tutelage. Their developed run game led the league in rushing last year behind veteran Willis McGahee and added a terrific change-of-pace back Ronnie Hillman in the offseason.
The only question to really consider about Peyton returning to his former MVP status this season is how quickly the Broncos' young wide receivers can absorb the offensive and get on the same page with Manning. 
There is no doubt that this transition is a learning process for everyone involved, both players and coaches. Nevertheless, Manning has shown throughout his career that he will not stop working with his receivers until the routes and timing between them is damn near perfect. Every detail and every situation must be addressed for Manning to be content. Therefore, it will be of the utmost importance for the Broncos receivers to keep up with the quarterback's insane work ethic every step of the way.
If the receivers can develop a decent chemistry with Manning this offseason and truly grasp the nuances of the offense, the Broncos should be quite dangerous come the regular season.   
So far, it has been great watching Manning work with the offense during OTAs—making adjustments, building chemistry with the players and clearly not being afraid of making mistakes on the practice field. He uses the team's practice time so effectively and efficiently that it's truly like having another coach out on the field.
He's simply obsessed with football and this passion rubs off on all those around him.
Offensive coordinator Mike McCoy said of Eric Decker and Demaryius Thomas: "[they are] like two little kids in a candy shop." In addition, head coach John Fox stated (via Stuart Zaas of DenverBroncos.com):
[Manning] understands the game.  As much as he's accomplished on the field, the things he does off the field in a leadership role is tremendous…  That's not just with the young players, it's with the veterans.
It is this level of commitment to not only his game, but also that of his teammates, which ensures his future success and drastically improves his chances of a smooth transition back into the NFL.
Manning has even had a major impact on the Denver defense. He is able to expose some of the their weaknesses in practice, so they can make adjustments and/or better disguise what they are doing in games.
And with the level of talent on the defensive side of the ball now, the defense can do the same for Peyton as the team implements their new offensive scheme. Champ Bailey said (also via Zaas) "one thing about the [the receivers], if they get open a little bit, they're open a lot to [Manning]. That's one thing that's a big difference this year."
Conversely, Manning said (via Tyler Everett of DenverBroncos.com), "It's going to be hard to get a more challenging look than going against some of the guys in our secondary, which is only going to make us better." 
Peyton Manning is one of the most respected players in the league for a reason. His talent, intelligence, leadership qualities and, most importantly, work ethic will always put him and his team in a position to win a lot of games. It is this incredible passion for the game and eternal competitiveness that will undoubtedly take Peyton back to the top.
As seen with the Colts last year, the guy is probably the most valuable player in the entire NFL. Even if he does not make a full recovery, which it looks like he will, everything the man does makes a team better, and it should be great for the entire NFL to have him back on the field, raising the level of play.