Free Advice for Tim Tebow: Be Yourself, but Don't Feed the Hype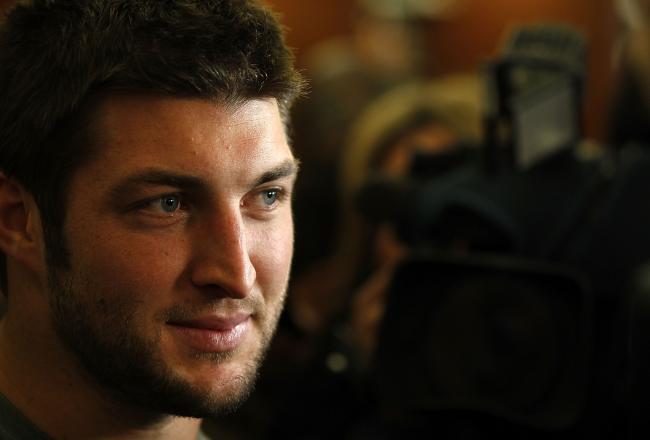 Jeff Zelevansky/Getty Images
When the New York Jets traded a fourth-round pick to the Denver Broncos for Tim Tebow, did the Broncos also include a muzzle? A gag?
Did they include a clause in his contract (you know, one that Mike Tannenbaum may or may not have bothered to read) saying that he wouldn't talk to media?
Did they say, "Remember, Tim: You're not the starting quarterback. That means you need to back out of the spotlight."
None of the above.
When the Jets traded for Tim Tebow, they traded for him and the circus he brings. A blind three-headed circus monkey could have seen this coming, and would probably still draw less at the "oddities" show than the crowd Tebow draws every time he talks.
Why, then, is Tebow the one to blame for the media frenzy?
With the hype of Tebowmania and the mediocrity Mark Sanchez displayed last year, the Jets knew they were getting a quarterback controversy whether they wanted one or not. That much isn't Tebow's fault.
At the same time, there is something Tebow can do: Don't feed the circus animals.
Tebow, the media, the Jets and the fans all know that he is the backup quarterback. We know that Tebow won't have much of a choice but to talk to the media (he hinted that he didn't have much of a choice in his introductory press conference) but he does have a choice in the words he uses.
When asked about his role on special teams, Tebow said, "I get more comfortable every day, whatever it is. At quarterback, or running down there on punt team, I have fun with it," via NYJets.com.
His first answer was "quarterback," despite the question pertaining to special teams. As miniscule as it may seem, those are the kind of things Tebow has to avoid.
He may have a choice sometimes, but he can't control whether or not he talks to the media 100 percent of the time. When that happens, Tebow's going to have to watch his words.
My final advice to Tebow is to memorize this sentence: "I'm just doing what I can to help the team win."
He should write it on the back of his hand. Frame it and hang it on his locker door if he has to.
But whatever he does, he should avoid singling himself out as a leader, even when asked to do so. The leader of the team should be Sanchez, not the backup quarterback.
That means avoiding sound bytes like this, when asked about the difficulties of being a leader as a backup quarterback:
I think sometimes you can let some of the stigmas get in the way. When maybe you are a backup or you're not out there all the time. But I think if you're just yourself you can kind of not really let that bother you and just be who you are and then I think your leadership abilities can kind of take back over and when you are in there, be yourself, encourage guys, be excited, even if you're not in there, still encourage guys, and be someone that hopefully can be a coach on the field, someone that can be encouraging guys, someone that knows everything that's going on. That's something that I try to strive for.
Should Tim Tebow watch his words?
It's fine for him to be himself, encourage his teammates and to be excited (Tebow's favorite word in the English dictionary). But when he starts saying that he wants to be a coach on the field and starts talking about his leadership abilities taking over, that's where a line should be drawn.
But if that line isn't drawn, the Jets have no one to blame but themselves.
Erik Frenz is the AFC East lead blogger for Bleacher Report. Be sure to follow Erik on Twitter and "like" the AFC East blog on Facebook to keep up with all the updates.
This article is
What is the duplicate article?
Why is this article offensive?
Where is this article plagiarized from?
Why is this article poorly edited?