25 Best MMA Fights from the First Six Months of 2012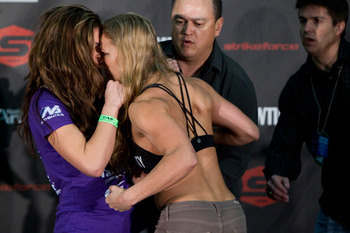 Sherdog
Between the UFC, Strikeforce and Bellator, MMA fans have been treated to heart-pounding bouts in 2012.
From a showdown between Ronda Rousey and Miesha Tate to a thrilling ending to the Josh Thomson-Gilbert Melendez trilogy, Strikeforce continues to deliver despite its decimated roster.
And don't forget about the little guys over there at Bellator producing one memorable brawl after another.
Oh, and as for the largest MMA organization in the world, the UFC continues to do what they always do, put on great fights.
But which fight stands out among the pack?
With so many great fights to choose from, will Strikeforce, Bellator or UFC claim the best fight so far in 2012?
25. Justin Lawrence vs. John Cofer (Ultimate Fighter Live Finale)
Justin Lawrence's official debut in the UFC was one for the highlight reels.
He and John Cofer threw down in the opening main-card bout on The Ultimate Fighter Live Finale, and it turned into a fun kickboxing showcase.
The two engaged in a striking clinic that would ultimately find Cofer lying unconscious on the canvas. Lawrence pushed the pace for most of the bout and in the third round he finally connected with his head-kick combination.
The result was one of the more beautiful/vicious head-kick knockouts in UFC history.
24. Eddie Wineland vs. Scott Jorgensen (UFC on FX 3)
No more than a week ago, Eddie Wineland and Scott Jorgensen laid it all on the line on FX.
Going into their bout fans knew that although both men were coming off losses, they were two of the toughest guys in the bantamweight division, so an exciting scrap was expected. Jorgensen and Wineland didn't disappoint.
Standing and trading in the pocket, Jorgensen and Wineland bruised and battered each other until one of them landed a fight-altering shot. That shot came from Wineland in the second round when he dropped Jorgensen with a gorgeous right hand straight down the pipe.
Wineland finished the fight and became the first man to ever stop Jorgensen under a Zuffa brand.
23. Popo Bezerra vs. Marlon Sandro (Bellator 64)
Popo Bezerra v. Marlon Sandro was a roller coaster ride.
The momentum favored Sandro early, as he took the fight to Bezerra with flying knees and combinations.
However, Bezerra turned things around in the third round with his grappling and perfectly placed right hand that floored Sandro.
Though it came too late, many feel that Bezerra still did enough to receive the decision. After Sandro was given the decision fans chattered about the injustice, but unfortunately those are the breaks when it comes to judging in MMA.
22. Rousimar Palhares vs. Alan Belcher (UFC on Fox 3)
Rousimar Palhares and Alan Belcher's fight at UFC on Fox 3 was great because of the shock-and-awe factor.
Everyone (thought they) knew that once Palhares grabbed a leg on the ground the fight would be as good as over, but Belcher reminded fans just how good he really is.
In the opening minutes of the first round, Belcher found himself on the ground with Palhares attached to his leg. Belcher then pulled off some tremendous escapes and was able to ground-and-pound his way to a first round stoppage.
It was easily the best performance of the night, and may very well be Belcher's best performance inside the octagon.
21. Matt Brown vs. Stephen Thompson (UFC 145)
The hype train was in full motion for Stephen Thompson going into UFC 145. Too bad somebody forgot to notify Matt Brown.
Thompson was riding high off of his head kick knockout debut against Dan Stittgen at UFC 143, but at UFC 145 Thompson found himself in a dogfight with one of the most ruthless competitors in the UFC.
Brown made this fight ugly, and because of that he was able to beat up the promising prospect. Still, Thompson had his moments in the fight and rocked Brown multiple times.
Both fighters gave everything they had, and when the fight concluded Brown would be the one awarded with a well deserved decision.
20. Thiago Alves vs. Martin Kampmann (UFC on FX2)
Martin Kampmann has recently become the king of the comeback.
After coming off of a brilliant comeback KO over Jake Ellenberger earlier this month, he is in contention for a title shot. But as good as his comeback KO against Ellenberger was, it wasn't as good as his comeback against Thiago Alves earlier this year.
Alves was winning the standup battle for the duration of the fight but, as you should know by now, Kampmann is never out of a fight.
The fight was all Alves' until he instigated a takedown with less than a minute to go in the fight, and Kampmann grabbed a hold to his neck and tapped Alves with a guillotine choke. It was sensational.
19. Mike Easton vs. Jared Papazian (UFC on FX1)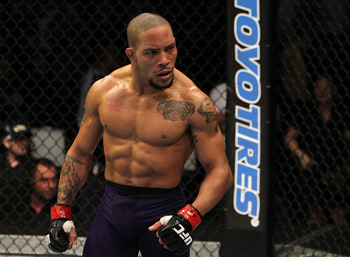 The MMA Corner
You could tell by the way both men were staring at each other, Mike Easton and Jared Papazian was going to be a cut-throat war.
Both men locked up in the clinch throughout the fight, and from there they worked their dirty boxing along with flurries of knees.
Back and forth these two went trading blows and positions in the clinch. Easton would go on to win the decision, and amazingly Easton and Papazian failed to win Fight of the Night from the UFC.
Looking back, I think we can all agree that both men were robbed.
18. Jon Jones vs. Rashad Evans (UFC 145)
It's so rewarding to see a fight that generates a prodigious amount of buzz actually live up to the hype.
That was the case for Jon Jones vs. Rashad Evans at UFC 145. Evans gave Jones his toughest fight to date, and though most of the moments belong to Jones' versatile striking in the clash, Evans tested Jones' chin.
Evans landed a nice head kick in the first round that sent Jones reeling, and he connected with an overhand right in the third that had to give Chuck Liddell bad memories.
But give the champ credit. He weathered the storm, and he controlled the fight with his elbows en route to another decisive victory.
17. Nate Diaz vs. Jim Miller (UFC on Fox 3)
If you claim to be a fight fan and Nate Diaz vs. Jim Miller didn't excite you, you must have been under the weather.
Diaz and Miller are known for bringing the fight to their opponent, so when Diaz and Miller met at UFC on Fox 3, they gave Fox the main event they'd been anxiously anticipating.
Miller is as game as they come, but the night belonged to Diaz. Diaz continues to evolve, and after peppering Miller with pin-point shots in the first and second round he finished the fight with his submission skills.
After submitting Miller in the second round with a guillotine, Diaz became the first man to finish Miller. Considering Miller has faced the likes of Frankie Edgar, Gray Maynard, Melvin Guillard and Benson Henderson, that's quite an accomplishment.
16. Pat Curran vs. Joe Warren (Bellator 60)
One thing's for sure—Bellator creates stars.
From Hector Lombard to Michael Chandler, Bellator's tournament format and commitment to developing their own talent has allowed them to create exciting competitors.
In 2012, this happened yet again with new welterweight champion Pat Curran. Curran faced off against MMA veteran Joe Warren at Bellator 60, and Curran pulled off yet another highlight reel knockout.
After showcasing solid takedown defense and a brutal entourage of knees and kicks, Curran dethroned Warren to become the new title holder.
15. Matthew Riddle vs. Henry Martinez (UFC 143)
All Matthew Riddle does is bang.
At UFC 143 he found a partner willing to brawl with him in Henry Martinez, and what occurred was a bloody affair. Exchanging shot after shot, Riddle delivered another crowd-pleasing fight, and Martinez deserves credit for his willingness to stand and trade as well.
In his post-fight interview with Fuel TV's Ariel Helwani, Riddle referred to his old successful style as boring and that he'd rather have the fight of the night rather than winning anticlimactic bore fests.
"I was 5-1 at some point, but I'd rather be 6-3 in brawls," Riddle said. Fights like these are exactly why Riddle's fan-base continues to grow.
14. Terry Etim vs. Edson Barboza (UFC 142)
You know exactly why this fight is on here.
While Terry Etim and Edson Barboza's kickboxing clinic at UFC 142 excited the purists of the sport, their technical striking might not have excited the casual viewers quite as much.
However, Barboza's spinning back heel kick in the third round was so spectacular that casual and hardcore fans alike lost their mind.
Just when you think you've seen it all with front kicks, jumping front kicks, spinning back elbows and kicks off the cage, Barboza goes and pulls off what very well may be the sweetest move ever exhibited in the octagon.
13. Igor Pokrajac vs. Fabio Maldonado (UFC on Fuel TV Korean Zombie vs. Poirier)
Watching Igor Pokrajac and Fabio Maldonado slug it out in May was like watching someone repeatedly bang two rocks against each other.
These two massive light heavyweights beat each other up for three full rounds, and it looked like it was just another day in the office for them.
I mean seriously, what are their chins made of? Composed of granite or not, both men displayed solid chins as they walked through one another's strikes only to eat a couple more.
Pokrajac walked away with the decision victory, but the true winner of this fight was the fans! That cliche never gets old, right?
12. Andreas Spang vs. Brian Rogers (Bellator 66)
Brian Rogers could very well be the most exciting fighter in Bellator today.
Constantly going in for the kill, Rogers is fearless in the cage. But the same could be said about his opponent at Bellator 66, Andreas Spang.
Spang didn't back down from Rogers flying knees and furious exchanges. In fact, Spang welcomed it.
Spang used Rogers' over-aggressive mentality against him, and in the second round he connected with a perfectly placed right hand that dimmed the lights.
11. Yushin Okami vs. Tim Boetsch (UFC 144)
It was the greatest comeback that Joe Rogan had ever seen, or so he once thought.
After going ballistic on air over Tim Boetsch's remarkable comeback against Yushin Okami, Rogan later announced that he was simply caught up in the moment. That's easy to do when the moment is as great as this.
After being dominated and battered by Okami's jab in the first two rounds, Boetsch went for broke in the third and final round which paid off enormously for The Barbarian.
Boetsch landed his powerful uppercuts on Okami and dropped him in the first minute of the third round. It's no Frankie Edgar vs. Gray Maynard or Anderson Silva vs. Chael Sonnen for that matter, but Boetsch's comeback deserves recognition as one of the greats for his ballsy performance.
10. Brad Pickett vs. Damacio Page (UFC on Fuel TV: Gustafsson vs. Silva)
You have to love fighters like Damacio Page.
Much like Riddle, Leonard Garcia and all the other fighters that go out there and brawl like there's no tomorrow, Page gives fans their money's worth.
But it's caused him to lose three fights in a row with his most recent loss coming against a very talented Brad Pickett. Still, Page and Pickett took home Fight of the Night for their wildly entertaining scrap.
Pickett and Page went after it, but Pickett's technical striking was the difference maker. After dropping Page, Pickett submitted Page with a rear-naked choke in the second round.
9. Frankie Edgar vs. Benson Henderson (UFC 144)
Though it wasn't a brawl, Frankie Edgar vs. Benson Henderson was immensely entertaining.
Once again out sized by his opponent, Edgar used his movement and stick-and-move game plan to try and land shots on Henderson. But this time the size advantage would be too much for Edgar as Henderson's well-versed striking and wrestling allowed him to dictate the pace in this fight.
Following a devastating up kick in the second round that brought Edgar to his knees, Henderson was in the driver's seat. Heck, you know it wouldn't be a Frankie Edgar fight if Edgar wasn't oozing blood and facing adversity.
Once again, Edgar showed the heart of a champion. He battled with Henderson up until the very last seconds of the fifth round, and although his efforts are commended, Henderson was awarded the justifiable decision.
8. Alexis Davis vs. Sarah Kaufman (Strikeforce: Tate vs. Rousey)
When it comes to Women's MMA in Strikeforce, they always deliver.
At a Strikeforce event that garnered sizable buzz, Alexis Davis and Sarah Kaufman waged war with one another on the main card.
Davis and Kaufman stuck in the pocket and played a game of give-and-take, with Davis doing most of the taking. It was sort of like the female version of Forrest Griffin vs. Stephan Bonnar and, believe it or not, Davis was left looking worse than Griffin did in that legendary finale.
Kaufman's performance in the action-packed decision victory earned her a title shot against Ronda Rousey in August.
7. Demetrious Johnson vs. Ian McCall (UFC on FX2)
Just in case you weren't excited about the newly added flyweight division in the UFC, Demetrious Johnson and Ian McCall gave you plenty of reasons to be.
Just as you would expect two fighters that weigh 125 pounds, Johnson and McCall's pace was fast and steady, and I can't stress fast enough.
Johnson won the first two rounds with his combinations and quickness, but McCall dominated the third with his wrestling and ground-and-pound. McCall was so dominant in the third round that he nearly finished the fight, and he was awarded a 10-8 for the round.
Although the fight cards were misread, the judges gave this fight a draw, and what better way to introduce a new weight class in the UFC other than having it's first fight end in controversy?
6. Ivan Menjivar vs. John Albert (UFC on Fuel TV: Sanchez vs. Ellenberger)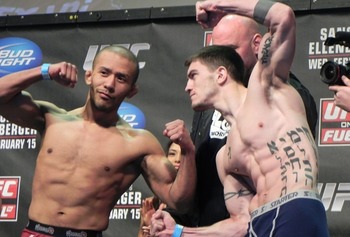 I know what you're thinking. "Really Jake? This fight between Ivan Menjivar and John Albert didn't even make it out of the first round." Yeah, you're right, but it was enticing while it lasted.
No time was wasted between the bantamweights as both men aggressively started their attack from the beginning of the fight. Because of the pressure instigated by Albert, Menjivar was able to take the fight to the ground, but that's where this fight went from good to great.
Albert used a rubber guard to set up an omoplata, and Menjivar hammer-fisted his way out of it. From then on it was a jiu-jitsu clinic, and for guys like me that love some technically-sound jiu-jitsu, it was incredible to watch.
After trading submission attempts, they made their way back to their feet and Albert dropped Menjivar with a flurry of punches, knees and kicks. The fight then hit the ground, and Menjivar shockingly took Albert's back and was able to submit him in the first round. Just like that it was over, but Menjivar and Albert gave fans four of the most exciting minutes you'll most likely see in 2012.
5. Miesha Tate vs. Ronda Rousey (Strikeforce: Tate vs. Rousey)
Miesha Tate and Ronda Rousey know how to get down.
The pre-fight banter was thoroughly satisfying, and the fight between them was even better. Like the Menjivar and Albert fight, this fight only lasted a round, but it was top-heavy with emotions.
Trying to back up their trash talk, neither girl could afford to lose to their adversary.
Tate came out guns blazing throwing wild strikes, and because of that Rousey was able to clinch and take the fight to the ground. They exchanged positions, and Tate found herself in Rousey's patented armbar within the opening minute.
Tate recovered and made her way back to her feet before taking Rousey's back and securing a hook. Both reversed grappling positions until Rousey went for another armbar near the end of the round and Tate refused to tap until it was too late. Just as sudden as the snap in Tate's arm, a champion was born.
4. Lloyd Woodard vs. Patricky Pitbull (Bellator 62)
Transitioning from one arm break to another, Bellator's Lloyd Woodard and Patricky Pitbull held nothing back in their encounter at Bellator 62.
Throwing wild haymakers and exchanging in an instant Bellator classic, these two easily had the best fight in Bellator this year.
Both fighters seemed evenly matched as the momentum shifted back and forth throughout the 155-pound encounter. And just when you thought Pitbull had the upper hand, Woodard pulls off a bone-crushing kimura in the second round.
There's just something about a sport that can make you wince and scream ecstatically all at the same time.
3. Diego Sanchez vs. Jake Ellenberger (UFC on Fuel TV: Sanchez vs. Ellenberger)
Whenever Diego Sanchez is on a fight card he's almost guaranteed Fight of the Night honors.
That was once again the case for Sanchez when he fought Jake Ellenberger in the main event of Fuel's first-ever fight card.
The crowd was rocking as their hometown hero, Ellenberger, engaged in what was yet another exciting Sanchez match. Sanchez pressured as he always does, and Ellenberger punished Sanchez coming in with some right hands straight down the middle.
Sanchez had his moments, but for the most part Ellenberger got the better of the exchanges and won the decision.
2. Gilbert Melendez vs. Josh Thomson III (Strikeforce: Barnett vs. Cormier)
Gilbert Melendez and Josh Thomson were made to fight each other.
As good as Melendez is, Thomson may very well be his equal. In all three wars Thomson and Melendez fought in, the fans saw something truly special.
Better yet, I'm not sure there's a more entertaining trilogy in MMA history than Thomson and Melendez. You could obviously make the case for Quinton "Rampage" Jackson and Wanderlei Silva, but what separates both of these rivalries is the third and final encounter.
Jackson finished Silva quick with a first-round KO while last month Melendez and Thomson fought in yet another five-round classic. Melendez was awarded with a razor-thin decision, and if fight fans have it their way this won't be the last time we see Melendez and Thomson squaring off against one another.
1. Chan Sung Jung vs. Dustin Poirier (UFC on Fuel TV: Korean Zombie vs. Poirier)
What separates Chan Sung Jung and Dustin Poirier's bout from the rest of the pack in 2012 is two words—Korean Zombie.
Though it shouldn't come as a surprise, the Korean Zombie always pulls out his bag of tricks and excites fans with his sprawl-n-brawl mentality. When he met Poirier on May 15, Zombie had himself another instant classic.
From takedown attempts turned full mount sweeps, to flying knees, to submission attempts, Jung kept the thrills coming.
But give credit to his dance partner, Poirier. Poirier was in danger of losing this fight early in the fight, but he regrouped and stunned the Korean Zombie in the third round with his stiff jab.
After brawling with Poirier at the end of the third and landing a perfectly-placed uppercut in the fourth, the Korean Zombie's relentless pace caught up with Poirier.
After dropping him with strikes, Jung sunk in a Brabo choke that turned Poirier's lights out possibly earning him a title shot against the featherweight champion down the road. Could 2012 be the year of the Zombie?
Keep Reading