Novak Djokovic: Adjustments Djoker Must Make to Win at Wimbledon
June 11, 2012

Clive Brunskill/Getty Images
Novak Djokovic will barely have time to lick his wounds from an exhaustive French Open before taking the court at Wimbledon.
The world's No. 1 player was pushed to the brink of elimination twice at Roland Garros before rallying to stay alive long enough to take on nemesis Rafael Nadal in the final.
Djokovic was good enough to take one set from Nadal (the only set Nadal lost in the entire tournament) but wasn't nearly good enough to defeat the now seven-time French Open champion.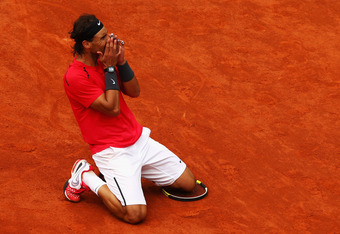 Clive Brunskill/Getty Images
Nadal's brilliance on the clay is well documented, but he's struggled against Djokovic on every other surface since the start of 2011. Djokovic knocked off Nadal in the finals at Wimbledon, the US Open and the Australian Open (the previous three majors) before losing this morning at the French Open.
But even though Djoker found a way into the final at Roland Garros, he'll be hard pressed to make a run at a repeat Wimbledon title if he plays the way he did these past two weeks.
Four of Djokovic's six match wins at Roland Garros were in straight sets, but the three that weren't were grueling battles—until the final, that is.
Nadal dominated Djoker for most of the match, mostly because the Serbian star allowed the Spaniard to break his serve. Djokovic wasn't nearly good enough on a first-serve basis throughout the tournament, and it forced him into trouble often.
In fact, Nadal's championship point came on a double fault from Djokovic—a truly fitting ending for the world's No. 1 star.
Djokovic has the athleticism and talent to handle anything put in front of him. He saved four match points to force a fifth set against Jo-Wilfried Tsonga in the quarterfinal and has shown time and time again the resilience to live to play another set.
But if he is going to make a push for a second straight Wimbledon title, he's going to have to start putting down his first serve.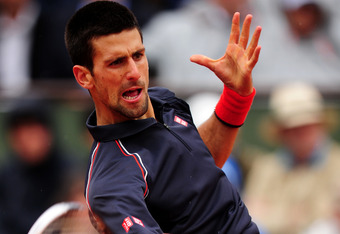 Mike Hewitt/Getty Images
Accompanying that adjustment must be consistent play and an emotional check. We should've known immediately that things weren't completely on for Djokovic when unseeded Potito Starace forced Djoker to win 7-6 (7-3) in the very first set of the tournament. 
He rebounded in the second and third rounds but then went the distance in both the fourth and quarterfinal rounds.
It is no coincidence that the younger Djokovic was better in the semifinal against the older Roger Federer after the Swiss star was forced to rally from two sets down to advance.
And then it all came to a head in the final, and Nadal was simply too good.
Djokovic won't have momentum on his side, so he'll need to keep a clear head and play well early and often. Too often in the French, he dug himself a hole, and that style of play will eventually catch up with him.
He's still the No. 1 player in the world for a reason, so expect him to figure things out.
And don't be surprised at all if it's Djokovic and Nadal in the final early next month at Wimbledon.