NHL Rumors: Analyzing Which Reported Stars Are Most Likely to Be Moved
June 11, 2012

Jim McIsaac/Getty Images
With the NHL season nearing its conclusion, possibly tonight if the Kings can finally finish off the Devils, our focus turns toward the offseason. Every team that doesn't win the Stanley Cup is going to be looking to make moves that will help get them one, or at least put them in a position to compete for one. The question is, how do they go about doing that?
The simple answer is improving their roster. While the answer may be simple, the process is anything but. Beyond the obvious competition on a team-to-team basis, organizations are also forced to deal with a salary cap that can prove unforgiving if they mismanage their finances.
With all that said, there are a few big names that have been thrown around quite a bit when talking about offseason moves for a lot of teams.  Arguably the three biggest names are Ryan Suter, Zach Parise and Rick Nash.
Ryan Suter
Suter should have roughly 25 teams seeking his services. I say should because the guy is that kind of talent.
Even with names like Matt Carle of the Flyers and Dennis Wideman of the Capitals possibly hitting the free agent market as well, Suter is still considered the consensus No. 1 prize among defensemen. For any basketball fans out there, think of him as the Anthony Davis of this year's free-agent pool.
The Detroit Red Wings made the biggest move in the Ryan Suter sweepstakes when they traded defenseman Brad Stuart to the Sharks. While simply moving Stuart out of town does not necessarily mean they are certain to sign Suter, when coupled with the retirement of all-galaxy defenseman Nicklas Lidström, a gaping hole has appeared in the blue line of the Red Wings.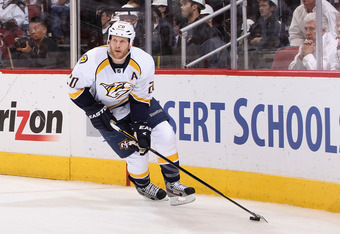 Christian Petersen/Getty Images
According to Ted Kulfan of the Detroit News, Red Wings GM Ken Holland says the team will be "active" in finding replacements for Lidström and Stuart.
ESPN's Craid Custance also tweeted that if Suter doesn't work out for the Red Wings, Carle or Devil Bryce Salvadore could be very real options for the Red Wings.
Another possibility, according to Kulfan, is Anaheim's unsigned draft pick Justin Schultz, but the Red Wings will probably be more interested in adding a proven talent over a draft pick.
Admittedly, the talk of Parise's movements has been somewhat subdued because of the Devils' run to the Stanley Cup Finals, but even with them in the Finals, his name is still being tossed around quite a bit, and you should expect to hear it a lot more after the season is officially over.
Zach Parise
While Suter is certainly the best defenseman free agent, Parise will be the best forward available. According to Larry Brooks of the New York Post, the Rangers are interested in acquiring Parise's services.
Another possibility is the Blackhawks, according to Adam Jahns of the Chicago Sun-Times. The Hawks need to add a little depth to take some of the scoring pressure off Jonathan Toews, Patrick Kane, Patrick Sharp and Marion Hossa.
Expect to hear about a lot more teams trying to sign Parise once the Stanley Cup ends, though.
Rick Nash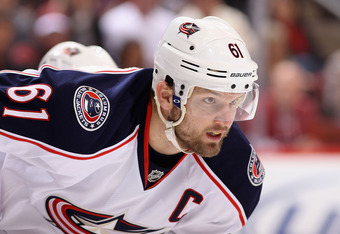 Christian Petersen/Getty Images
I'm really just hoping that the entire Rick Nash Saga comes to an end this summer. It started last offseason when the Blue Jackets were thinking of moving him to clear up some cap space, but then they didn't. 
Then they were awful the entire season and were going to move him to get some younger players at the trade deadline, but they didn't.
Now let's just hope that they don't waffle on this anymore and that they actually pull the trigger.
Nash has generated a lot of interest from teams around the league. The Rangers have been making an effort to get him since he went on the market last year and, according to Brooks, are still interested.
The Sharks also appear to be another possible destination for Nash, as Kevin Kurz of CSNBayArea suggests that the decrease in available and worthy replacements for Steve Mason, along with the Sharks' abundance of options in net, may cause the Blue Jackets to send Nash west.
One option that creates the most buzz, not just for Nash, is Philadelphia. According to Howard Eskin of WIP-AM 610 in Philadelphia, James van Riemsdyk is delaying having surgery on a torn labrum because the surgery might put a trade on hold.
Flyers beat writer Dustin Leed clarified Eskin's comments when he tweeted that the "trade" he referenced was in fact for Nash. However, Leed then tweeted that the Flyers are more interested in securing a top defenseman, possibly to replace Matt Carle, which begs the question, is Ryan Suter a target for Philadelphia as well?
Only time will tell where these three will end up playing next season, but I can assure you that the deals they make will reshape the landscape of the NHL.