Rafael Nadal Will Reclaim Wimbledon After Record 7th French Open Win
June 11, 2012

Clive Brunskill/Getty Images
Rafael Nadal will bounce back on the grass at Wimbledon this summer after regaining some valuable momentum at Roland Garros with his win over men's world No. 1 Novak Djokovic in the rain-delayed French Open final.
The four-set win, 6-4, 6-3, 2-6, 7-5, gave Nadal his record seventh French Open title and, perhaps even more importantly, a great deal of confidence that he can use to return to the top of men's tennis this July.
Nadal had lost three consecutive men's major tournament finals to Djokovic before Monday's dominant victory on the Paris clay. Clearly the Djoker was in Rafa's head after a near six-hour battle in Melbourne last January at the Australian Open, in which Djokovic won in five hard-fought sets.
That loss was the last Nadal has suffered at the hands of Djokovic, as he has topped the world's best three straight times this season on clay.
Nadal now has faith that he can outlast Djokovic in a slam final. Nadal's struggles with the Serbian player began close to a year ago, when he entered the final at Wimbledon 2011 as the reigning champion, only to come up short to Djokovic in four quick sets.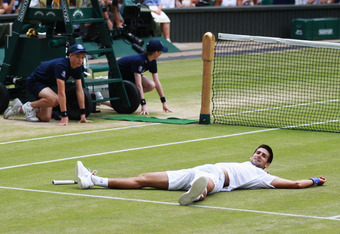 Julian Finney/Getty Images
Nadal's loss to Djokovic at the 2011 U.S. Open final was yet another setback in the Spaniard's brilliant career, which now features 11 Grand Slams. 
The good news for Nadal heading into the grass season is that he still leads Djokovic 2-1 on grass courts and holds a five-match lead on him all-time. Nadal is also a two-time winner at Wimbledon; he defeated Roger Federer in the 2008 final and Tomas Berdych in 2010. 
The stars aligned perfectly for Rafa on the clay this season, just as many thought they would. Nadal has his swagger back and must now hold serve on the Wimbledon grass this summer if he is truly to compete for Djokovic's No. 1 ranking.
Wimbledon is Rafa's second-best slam tournament statistically (behind only the French Open). Nadal boasts a 87.5 win percentage there and has at least made the final in each of his last five visits to London. 
Nadal and Djokovic will certainly be the favorites to make the final this summer at the prestigious slam tournament, but after a dominant performance against the No. 1 men's tennis player in France, Rafa is poised to sweep Europe this summer. 
Follow Patrick Clarke on Twitter for more take on Wimbledon 2012.