Boston Red Sox: Predicting When Each Top 10 Sox Draft Pick Reaches the Bigs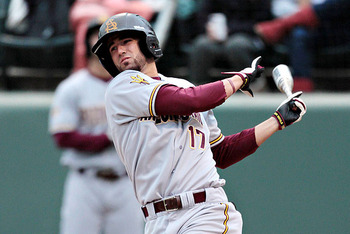 Red Sox first round pick Deven Marrero leads a strong draft class.
The Boston Red Sox used the majority of their early picks in the 2012 MLB draft on pitching, restocking their farm system with young arms they sorely needed. Of their first 10 selections, eight were pitchers.
The time for hype and projecting what these young players will become has come to an end, though.
The newest members of the franchise will now enter the process of signing a contract and reporting to one of the Sox' minor league affiliates, beginning a long journey that fans and the team alike hope will culminate in them reaching the MLB level.
While it's highly unlikely that all 10 of the Sox's top picks will reach the majors, it's equally true that several of these players will likely make an impact either as everyday big leaguers or as potential trade chips. Because of their history of drafting so effectively, the Sox can expect this to be the case with more of their prospects than the average team.
Although it is looking well ahead into the future, it's not too soon to think about when we might be seeing some of the 2012 Red Sox draft class at Fenway Park. Here are projections for each of the Sox' first ten picks:
Deven Marrero, SS, Arizona State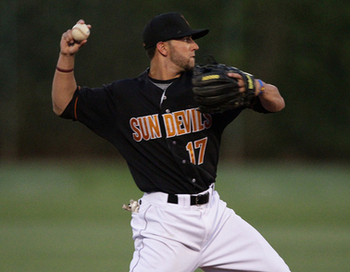 Marrero's path to Fenway Park is a complicated one; he is certainly a talented enough player that the Sox made him their top selection (24th overall) in this year's draft, despite the fact that two of their top position player prospects (Jose Iglesias and Xander Bogaerts) are also shortstops.
Marrero's biggest asset is his defense. The 2011 Pac-10 Defensive Player of the Year, he has both the range and excellent arm strength to play shortstop on the professional level.
Considered a surefire top-five pick heading into the 2012 season, Marrero's poor performance at the plate was the primary reason he was available at No. 24.
While he may require some work to adjust his hitting mechanics and return to his form of 2011, Marrero is a huge talent who will eventually make his way to the majors.
Predicted arrival: April 2016
Brian Johnson, LHP, Florida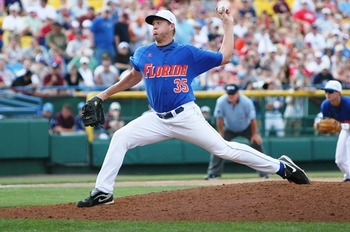 Johnson projects as a quintessential crafty left-handed starter. Although he will not blow batters away with high velocity, he will be able to get big-league hitters out by mixing his pitches and relying upon his guile to keep them off balance.
His ability to eat innings and pound the strike zone make Johnson a near-lock to pitch in MLB down the road. The Sox have liked bringing in these safe, college-aged pitchers to fill out their farm system, figuring that what they sacrifice in youth, they get an equal return in experience.
Johnson fits with this philosophy, and his very high "floor" makes him a promising prospect right away.
Predicted arrival: June 2014
Pat Light, RHP, Monmouth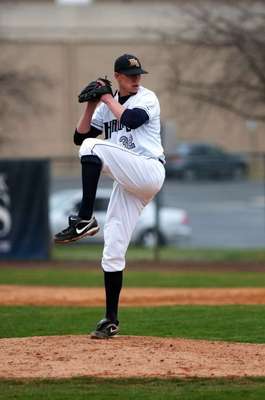 A big body with a big arm, Light likely projects as a reliever for the Sox. He possesses a fastball that can reach 96 MPH and a slider that has developed nicely over the last year or so.
Although Light also throws a below-average changeup, he relies fairly heavily on his two primary pitches. Because of this and concerns about his durability due to his mechanics, his likely destination is the bullpen.
He may initially be given a chance to start, but a move seems inevitable unless he can correct these two glaring weaknesses.
Still, though, with two excellent pitches, Light has a good shot at pitching in the majors going forward.
Predicted arrival: September 2015
Jamie Callahan, RHP, Dillon HS (South Carolina)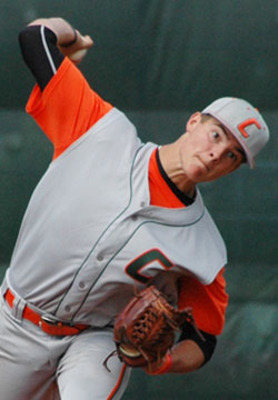 University of South Carolina commit Jamie Callahan may not come to the Sox right away, if at all. He could be difficult to convince, due to his ongoing need to correct some mechanical flaws in his delivery that would slow his progress in the Sox's system.
He certainly has the tools to succeed, though. Last season the right-hander struck out 113 hitters in just 50.0 innings, pairing a mid-90s fastball with a devastating hammer curve.
The Sox would love to bring a talented strikeout pitcher such as Callahan through their system, and they would not have used this high pick on him if they didn't think it were possible.
Predicted arrival: Goes to college
Austin Maddox, RHP, Florida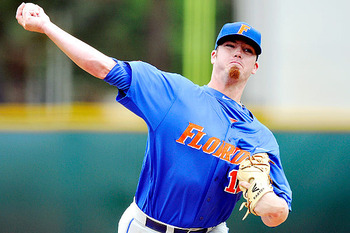 Maddox has the ability to both pitch and hit, although it appears that he'll be making the switch to reliever full time with the Sox. The right-hander spent time as the closer for Florida, recording 12 saves this past season.
He pairs a strong mid-90s fastball with exceptional control, having walked only four of the 196 batters he faced this season when intentional walks are excluded. This excellent mix makes it likely that as a reliever Maddox will rise quickly in the Sox' system.
He may not be the closer of the future, but it seems likely he'll be an effective MLB reliever sooner rather than later.
Predicted arrival: September 2014
Ty Buttrey, RHP, Providence Senior HS (North Carolina)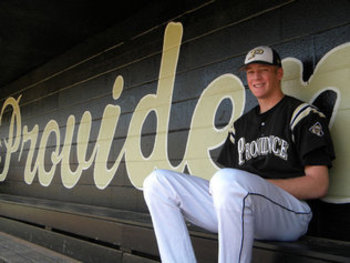 Buttrey is currently committed to the University of Arkansas and seems to be a tough sign for the Sox. The prep player caught a lot of attention this past season as his velocity quickly jumped into the lower-mid 90s, although he was unable to sustain that pace over the course of the season.
His mechanics are scouts' primary concern about the young right-hander; his difficulty in repeating his delivery makes him susceptible to both inconsistent results and injury. Time spent in college would likely be a huge help in that regard.
Although they'd love to sign Buttrey and get him in their system due to his potential, it's unlikely the Sox will be successful.
Predicted arrival: Goes to college
Mike Augliera, RHP, Binghamton University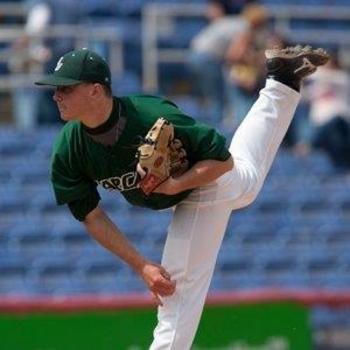 The career wins leader at Binghamton University, Augliera certainly has the track record of success that the Sox look for in their pitchers. He is another pitcher with excellent control, having walked just seven over 82.2 innings of work in 2012.
The fear with Augliera is that his advanced age makes his window to break into the big leagues much smaller than a typical player. He is 22 years old, which, although young in real life, is relatively ancient for a developing pitcher.
He'll need to progress quickly if he wants any shot at a sustained big-league career.
Predicted arrival: June 2015 (if ever)
Justin Haley, RHP, Fresno State
Haley is a huge physical presence on the mound with his 6'5", 225-pound frame. He worked both as a reliever and a starter for Fresno State last season, going 7-4 with a 3.28 ERA in 22 appearances for the Bulldogs, including 12 starts.
He has relied most heavily on his fastball and curveball, and his changeup is a pitch he needs to continue refining. This two-pitch tendency means that unless he can find a bit more consistency with his changeup, Haley is likely ticketed for the bullpen.
Predicted arrival: April 2016 (if ever)
Kyle Kraus, RHP, University of Portland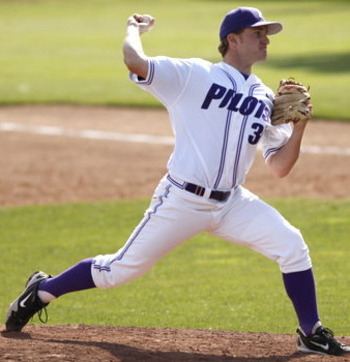 Kraus is a phenomenal control pitcher, having walked only 14 batters in 111.0 innings pitched this past season. He does not strike out a lot of hitters, either, logging just 61.
Despite a fastball that tops out in the mid-80s, Kraus has been incredibly effective at keeping the ball in the park. Last season, he did not allow a single home run.
Because of his control, he'll immediately be effective in the minor leagues. What will determine what (if any) impact Kraus will have on the MLB level, though, will be how he fares as the hitters improve and he is forced to adjust his repertoire to match them.
Predicted arrival: June 2016 (if ever)
Nathan Minnich, 1B, Shepherd College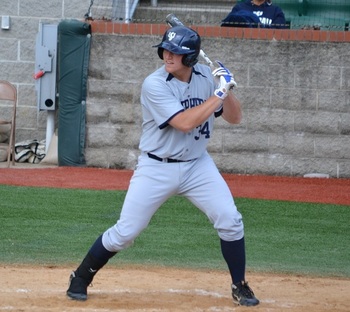 A prolific hitter at Division II Shepherd College, the 21-year-old Minnich was the Tino Martinez Award winner for D-II's top player in 2012. His .487 average, 21 home runs and 1.625 OPS clearly show that he has the ability to mash at the plate.
He also has excellent plate discipline, having drawn 62 walks against 24 strikeouts in 152 at bats last season. At 6'3" and 240 pounds, the burly slugger already has the body of a big-league first baseman/DH.
The great unknown here is how Minnich will fare against elite competition. Division II is good, but there's no comparison with even minor-league pitching. Expect a significant adjustment period.
Predicted arrival: April 2017 (if ever)
Keep Reading

Boston Red Sox: Like this team?