NBA Free Agency Rumors: Latest Buzz on Kevin Garnett, Ray Allen and More
June 11, 2012

Mike Ehrmann/Getty Images
The NBA has yet to crown a champion, but the buzz of free agency is already underway. With that said, here is the latest news on Kevin Garnett, Ray Allen and other notables from the 2012 free agency class.
The Boston Celtics fell short in the Eastern Conference Finals to the Miami Heat, and consequently, Kevin Garnett may never sport a C's jersey again.
Garnett is now an unrestricted free agent after earning $21.2 million this season, per HoopsHype.com. Garnett won't garner such a lucrative contract ever again, but that doesn't mean he won't draw interest from other NBA teams.
According to Buck Harvey of the San Antonio Express-News,  the 36-year-old could be a fit for the San Antonio Spurs:
"Some will have more money to offer than the Spurs will. Some might have more young talent to put around him. All the Spurs could give Garnett is the closest thing to what he had in Boston, a veteran core with a chance to contend."
If center Tim Duncan re-signs with San Antonio, the idea of KG joining up with another future Hall of Fame big man is tempting. However, Sports Illustrated's Chris Ballard reports that Duncan doesn't like the way KG does business.
"This information comes from very reliable sources, who talk about how KG has made a career of trying to punk Duncan, baiting him and slapping him and whispering really weird smack into his ear," said Ballard.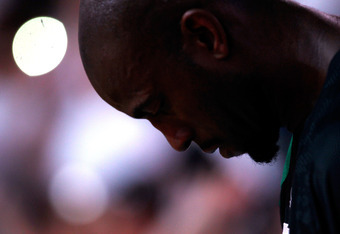 Mike Ehrmann/Getty Images
Garnett on the Spurs is no match made in heaven, but at least Duncan wouldn't be the victim of Garnett's defensive harassment anymore.
A return to the Celtics could be another option for Garnett, however, the team may want to rebuild with loads of money coming off the books.
"I have no insight into what Garnett may be thinking, but my guess is that if he does play next season, it's going to be in Boston," said ESPN Boston's Peter May.
May reports that roughly $25 million will be cleared up in cap space this offseason, which would certainly be enough to retain the 16-year veteran who averaged 19 points and 10 rebounds this postseason.
It's just a matter if whether or not general manager Danny Ainge wants to go in that direction.
Ray Allen
Ray Allen battled bone spurs this past season and needs surgery, reports Boston.com's Gary Washburn and Frank Dell'Apa. Injury aside, Allen could still be a valuable asset for an NBA team.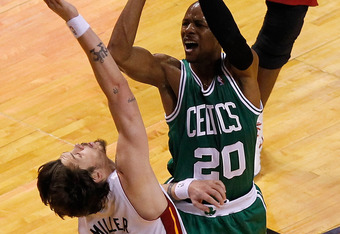 J. Meric/Getty Images
HoopsHype.com's data indicates the sharpshooter earned $10 million this year. Yet, like Garnett, Allen won't be in the market for another huge payday at age 36.
According to Chris Mannix of Sports Illustrated, Allen is rumored to be considering the New York Knicks and Miami Heat. Here's what Mannix voiced via Twitter:
Prediction: KG retires, Ray Allen walks (Miami, NY are atop his list, I'm told), Pierce is dangled in a trade.
— Chris Mannix (@ChrisMannixSI) June 10, 2012


Mannix's prediction is exactly that—a prediction. However, his speculation is food for thought at this time.
ESPNBoston.com's Peter May pondered the idea of Allen packing his bags:
"Allen, I think, is more likely to go, even though he has become a fixture in the Wellesley community, has a son who gets juvenile diabetes treatment at a top-notch facility in Boston and embodies what the Celtics are all about. His health will be a concern to any suitor, especially after surgery. So he may not be late-summer signee once he gets medical clearance."
His son's health will play a factor, but it remains to be seen if that will sway him from playing elsewhere.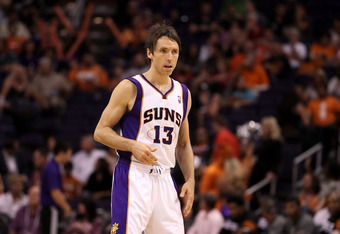 Christian Petersen/Getty Images
Steve Nash
Steve Nash has enjoyed quite a run with the Phoenix Suns, but that may be coming to an end. Steve Kyler of Hoopsworld.com writes that Nash could potentially be dealt via a sign-and-trade agreement, which would leave the point guard with several suitors.
However, Nash is currently an unrestricted free agent and ESPN.com's Marc Stein reports that the 38-year-old is looking for a three-year deal.
A very loyal player, Nash may ride out the rest of his basketball career in Arizona. Yet, the team is not a legitimate contender and could use some pieces to fit their puzzle in exchange for their star.
Tim Duncan
The San Antonio Spurs have little to be concerned about when it comes to their 1997 No. 1 overall draft pick.
CBSSports.com's Matt Moore reports that Tim Duncan is not going to leave the team this offseason, despite being a free agent. Duncan told the media that he's a "Spur for life."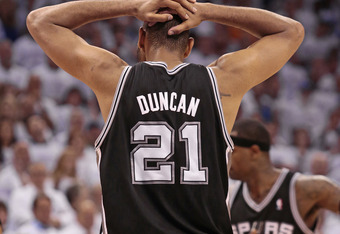 Brett Deering/Getty Images
At this point, it's hard to argue with him. At age 36, Duncan's NBA career is winding down, and his relationship with coach Greg Popovich has produced a countless amount of victories.
Deron Williams
The Brooklyn Nets face an uphill battle when it comes to retaining Deron Williams.
Williams has a player option for $17.8 million, cites Mark Medina of the Los Angeles Times. However, the Nets must add some talent in order to keep their point guard in town. During the 2011-2012 season, the Nets were 22-44.
Could Williams be a Los Angeles Laker next season? According to his conversation with Mark Medina, there's only one way that's possible.
"I know they don't have any money to just go out and sign me," Williams told Medina. "It'll have to be some kind of deal."
Zach McCann of ESPN.com asked Williams about his free agency matters, yet the the 27-year-old didn't reveal much:
"I still don't know, man. It's still up in the air, and I'm still weighing my options. I can't even talk to teams until July 1, so I got some thinking to do, some praying to do, and hopefully a decision will come here."
Williams could stay with the Nets, or he could go elsewhere—it's up in the air for now.
In Conclusion
Although the rumor mills are in full swing, the fates of NBA free agents like Kevin Garnett, Ray Allen, Steve Nash, Tim Duncan and Deron Williams will be put on hold until July 1.
As for now, there's still an NBA Finals series to be played.