Redrafting the 2008 NFL Draft
Brian A. Westerholt/Getty Images
While the 2008 NFL draft featured several very good players, the draft class as a whole was below average. The first round featured as many as 13 players who could be considered busts. Guys like Vernon Gholston and Derrick Harvey are seen as some of the worst choices in history.
The class is bolstered by the likes of Matt Ryan, Jake Long and Chris Johnson. These three players are franchise stars and perennial Pro-Bowlers. However, the list of elite players in this draft isn't very long, making it difficult to put together this re-draft.
No. 1 Miami Dolphins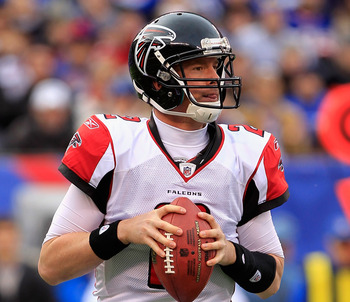 Chris Trotman/Getty Images
Pick: Matt Ryan, Quarterback
A quarterback's job is to win football games, and in Matt Ryan's four-year career he has 43 career wins. The Miami Dolphins' decision to select Jake Long over Ryan has left a lasting scar on this franchise. Long is a very good football player, but four years later Miami is still searching for the long-term answer at quarterback.
Ryan isn't only an excellent football player, he also has the personality to be the face of a franchise. Adding Ryan would have increased the team's win total and its ability to market the team and fill seats.
I'm sure Miami regrets passing on Ryan, but at least they were able to land an elite left tackle. This makes the decision a little less painful.
No. 2 St. Louis Rams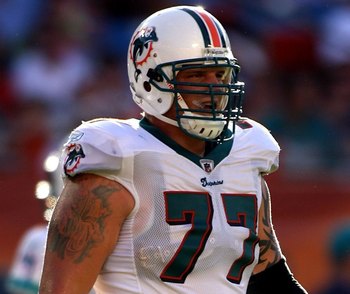 Marc Serota/Getty Images
Pick: Jake Long, Offensive Tackle
The St. Louis Rams would have benefited from the opportunity to land Jake Long. Adding him would have given them an immediate replacement for an aging Orlando Pace. It also would have helped them avoid selecting Jason Smith with the No. 2 pick in the 2009 draft.
Long has developed into one of the game's more talented left tackles while Smith has failed to live up to expectations. Chris Long was the actual pick for the Rams and he's had a nice career, but a greater impact would've come from adding Long.
No. 3 Atlanta Falcons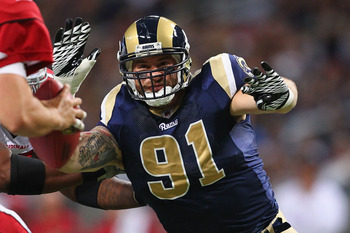 Dilip Vishwanat/Getty Images
Pick: Chris Long, Defensive End
Chris Long didn't have immediate success, but he's finally put it all together. In the last two seasons, Long had a total of 21.5 sacks. This was accomplished despite the Rams not having a strong supporting cast. The Atlanta Falcons' defense would benefit from such a talented pass-rusher.
Obviously, the team would love to still be able to land Matt Ryan, but he's already off the board in this re-draft. Long wouldn't be a bad consolation prize. He and coach Mike Smith would work well together. Adding Long wouldn't have sparked a dramatic turnaround for Atlanta, but he would be a nice piece to the puzzle.
The combination of Long and John Abraham would've caused opposing offenses a great deal of trouble.
No. 4 Oakland Raiders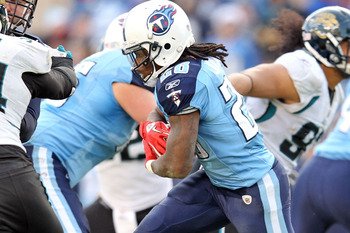 Andy Lyons/Getty Images
Pick: Chris Johnson, Running Back
This seems like a match made in heaven. The Oakland Raiders (under Al Davis) loved players with speed and Chris Johnson had the top 40-yard dash time at the NFL Combine. Selecting Johnson over Darren McFadden makes even more sense after what has happened over the past four seasons.
McFadden is a tremendously talented player, but injuries have prevented him from making a consistent impact. Johnson's career has been a different story, as he has proven to be a major playmaker.
I wonder if JaMarcus Russell's career would have been different if Johnson was selected instead of McFadden.
It's a proven fact that young quarterbacks benefit from the presence of a strong running game. Johnson would have taken a lot of pressure off Russell and could have helped to extend his career.
No. 5 Kansas City Chiefs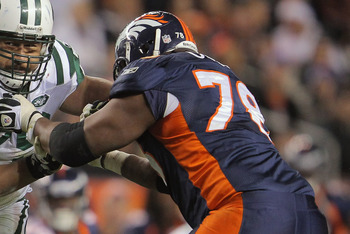 Doug Pensinger/Getty Images
Pick: Ryan Clady, Offensive Tackle
Ryan Clady was one of the steals of the 2008 NFL draft, as he's proven to be an elite offensive tackle. Heading into this draft, the Chiefs had a major need at tackle position. Landing Clady would have been a major win. However, they decided to make Glenn Dorsey the No. 5-overall pick.
Dorsey is a solid contributor but has failed to live up to the expectations that come with his draft status. The Chiefs would have gotten a lot more value had they selected Clady. This would have allowed them to go a different direction with the No. 15 pick.
In 2008, the Chiefs used that No. 15 pick to select Brandon Albert. He has had a good career, but is a little exposed playing left tackle. He's better suited to play on the right side or even at guard. The Chiefs' line play would be much better if they featured Clady instead of Albert on the left side.
No. 6 New York Jets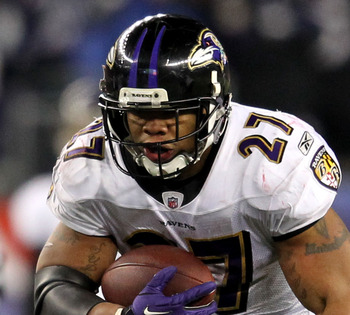 Jim Rogash/Getty Images
Pick: Ray Rice, Running Back
How much better would the Jets' "ground and pound" look with Ray Rice in the backfield? His combination of quickness and strength would allow the Jets to run the type of offense Rex Ryan prefers. Rice would provide a major upgrade over the inconsistency of Shonn Greene.
Rice is a consistent performer, rushing for more than 1,000 yards in each of the past three seasons while averaging 4.6 yards per carry for his career. To feature a run-heavy game plan, an offense needs a running back who can move the chains.
This is a big jump up the board for Rice, who was selected in the second round at pick No. 55. He's easily one of the bigger steals of the 2008 draft. The Ravens' offense wouldn't be the same without Rice on the roster.
Of course, this pick has some fame attached, as it was the pick the Jets used to select colossal-bust Vernon Gholston.
No. 7 New Orleans Saints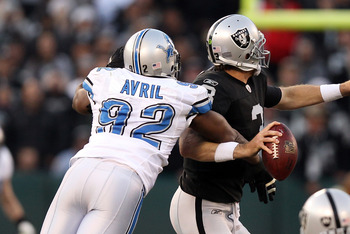 Ezra Shaw/Getty Images
Pick: Cliff Avril, Defensive End
Cliff Avril's quickness and tenacity have allowed him to develop into one of the better pass-rushers in the NFL. However, his potential wasn't immediately recognized, which is why he fell to the third round. However, in this re-draft, Avril is a lock to come off the board in the top 10.
The Saints used this pick to select Sedrick Ellis, but they would be much happier with Avril. Combining him with Will Smith would have helped Gregg Williams generate pressure without having to send so many blitzers.
As for Ellis, he takes a major slide in this re-draft. Continue reading to see just how far he drops.
No. 8 Jacksonville Jaguars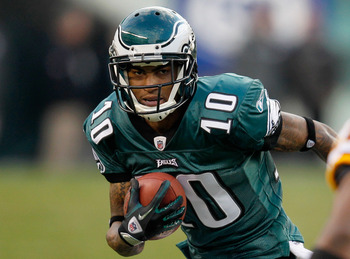 Rob Carr/Getty Images
Pick: DeSean Jackson, Wide Receiver
Attitude and size concerns are what led to DeSean Jackson's drop into the second round. However, redoing this draft it's hard to keep him out of the top 10. He's such an explosive athlete and playmaker that it would be impossible for the Jaguars to pass on him.
An offense that boasts Maurice Jones-Drew and Jackson would feature a ton of explosive plays. Jackson's presence would keep opposing defenses from bringing extra men in the box to shut down Jones-Drew. I can't imagine the type of production we would see from Jones-Drew if he didn't have to deal with eight men in the box.
The Jaguars' need for a pass rush led them to select Derrick Harvey in 2008, which means that they would consider Cliff Avril if he hadn't come off the board one pick earlier. However, either player is a major upgrade from the debacle that was the Harvey pick.
No. 9 Cincinnati Bengals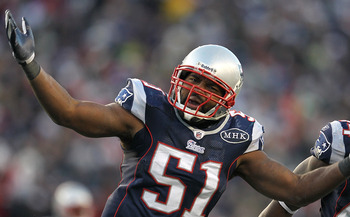 Jim Rogash/Getty Images
Pick: Jerod Mayo, Linebacker
Heading into this draft, the Cincinnati Bengals were looking to upgrade their linebacker corps. They decided to selected Keith Rivers, but injuries prevented him from living up to expectations. In a re-draft, Cincinnati would likely target Jerod Mayo to fill their linebacker void. Mayo's career has been far more productive. He won the Defensive Rookie of the Year award.
Injuries are an unfortunate part of the game that makes it hard to fault the Bengals for their pick. Rivers is still a talented player and is looking to resurrect his career with the New York Giants.
As for the Bengals, they could've used a healthy Rivers, who could have been a highly productive leader of the defense. Instead, they were forced to select Rey Maualuga in the second round of the 2009 draft. Maualuga has produced some, but off-the-field issues keep his overall potential in question.
No. 10 New England Patriots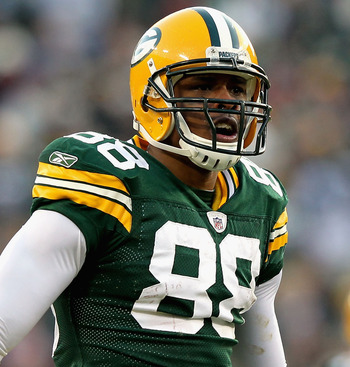 Jamie Squire/Getty Images
Pick: Jermichael Finley, Tight End
Aaron Hernandez is a good football player, but the Patriots offense would look more explosive with Jermichael Finley and Rob Gronkowski on the field. Adding Finley in 2008 would've jump-started the Patriots' successful use of the tight end position.
The major difference between Aaron Hernandez and Finley is size. Finley is two inches taller. That extra two inches increases his ability to create mismatches. It doesn't seem like a lot, but defensive backs struggle more with every extra inch.
In the actual 2008 draft, the Patriots added Jerod Mayo, but he's already off the board in this re-draft. Mayo is an important part of their defense, but there isn't another linebacker worthy of the No.10 selection.
No. 11 to No. 20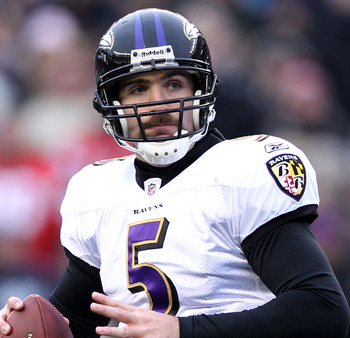 Elsa/Getty Images
11. Buffalo Bills—Joe Flacco, Quarterback
Ryan Fitzpatrick has done a good job, but nobody could've predicted his success. However, his future is still uncertain and Joe Flacco offers much more upside.
12. Denver Broncos—Matt Forte, Running Back
Adding Matt Forte in 2008 would've prevented the Broncos from selecting Knowshon Moreno, who has been a major disappointment. Forte's ability to make plays as a runner and receiver is something all offenses can utilize.
13. Carolina Panthers—Brandon Albert, Offensive Tackle
Jeff Otah was the original pick. Injuries have stopped him from reaching his full potential. However, Brandon Albert would look great lining up opposite Jordan Gross.
14. Chicago Bears—Jamaal Charles, Running Back
Chicago needed to improve its running game. Jamaal Charles would have been an explosive addition. Nothing helps a stagnant offense like adding a home run-hitting running back.
15. Kansas City Chiefs—Glenn Dorsey, Defensive Tackle
The Chiefs needed help along the defensive line, but selecting Dorsey at No. 5 was a reach. He brings much more value here at No. 15.
16. Arizona Cardinals—Duane Brown, Offensive Tackle
Duane Brown has quietly developed into an effective left tackle. Adding him to the Cardinals' roster would've allowed Levi Brown to shift to right tackle.
17. Detroit Lions—Brandon Carr, Cornerback
The Detroit Lions are still in search of a top-notch cornerback. Brandon Carr would have quickly solved their problems defending the pass.
18. Baltimore Ravens—Darren McFadden, Running Back
Ray Rice is off the board, so the Baltimore Ravens need to focus on bringing in another running back. Darren McFadden is injury-prone but still a talented player.
19. Carolina Panthers—Jonathan Stewart, Running Back
Jonathan Stewart doesn't get enough credit for his ability to make plays. Even though he splits time with DeAngelo Williams, Stewart is an important part of the Carolina Panthers' offense.
20. Tampa Bay Buccaneers—Carl Nicks, Guard
Carl Nicks' massive free-agent contract would've looked a lot different had be been selected in the first round.
No. 21 to No. 31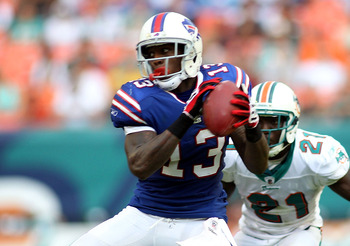 Marc Serota/Getty Images
21. Atlanta Falcons—Demetrius Bell, Offensive Tackle
Demetrius Bell is an underrated left tackle. We'll finally get to see that this year when he works with Howard Mudd. Atlanta originally used this pick on Sam Baker, but Bell is more athletic and has greater upside.
22. Dallas Cowboys—Tyvon Branch, Safety
The Dallas Cowboys' problems in the secondary didn't just surface last season. They should have addressed the issue years earlier with someone like Tyvon Branch.
23. Pittsburgh Steelers—Calais Campbell, Defensive Line
Calais Campbell is one of the best 5-technnique linemen in the NFL. There wouldn't be as much talk about an aging Steelers defense with Campbell on the roster.
24. Tennessee Titans—Jordy Nelson, Wide Receiver
More dependable offensive weapons might have helped keep Vince Young in Tennessee.
25. Dallas Cowboys—Brandon Flowers, Cornerback
Again, Dallas could have helped solve a major issue by addressing the secondary with someone like Brandon Flowers.
26. Houston Texans—Dominique Rodgers-Cromartie, Cornerback
The Houston Texans might have made a playoff appearance much earlier had they paid enough attention to their secondary.
27. San Diego Chargers—Mike Jenkins, Cornerback
Mike Jenkins' career has had its ups and downs, but there's no deny his talent.
28. Seattle Seahawks—Red Bryant, Defensive Line
Red Bryant's impact on the game doesn't show up in the stat book. His ability to hold his ground at the point of attack is where his true value lies.
29. San Francisco 49ers—Stevie Johnson, Wide Receiver
A playmaker like Stevie Johnson would've helped the development of Alex Smith.
30. New York Jets—Kenny Phillips, Safety
Kenny Phillips might still be a bit of a reach in the first round, but Rex Ryan's defense calls for solid play at safety.
31. New York Giants—Curtis Lofton, Linebacker
Several years of linebacker issues could have been avoided with the addition of Curtis Lofton.
No. 32 to No. 42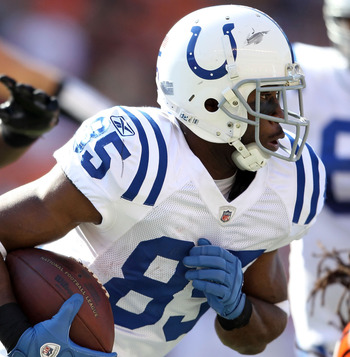 Andy Lyons/Getty Images
The fall of Sedrick Ellis is the biggest thing to note at the top of the second round. However, several players rose up the board like Ahtyba Rubin, Pierre Garcon and Cary Williams. The most underrated move might be Terrell Thomas landing in Kansas City.
32. Miami Dolphins—Sam Baker, Offensive Tackle
33. St. Louis Rams—Ahtyba Rubin, Defensive Tackle
34. Washington Redskins—Pierre Garcon, Wide Receiver
35. Kansas City Chiefs—Terrell Thomas, Cornerback
36. Green Bay Packers—Mario Manningham, Wide Receiver
37. Atlanta Falcons—Rashard Mendenhall, Running Back
38. Seattle Seahawks—Jason Johnson, Defensive Line
39. San Francisco 49ers—Aqib Talib, Cornerback
40. New Orleans Saints—Jeremy Zuttah, Guard
41. Buffalo Bills—Cary Williams, Cornerback
42. Denver Broncos—Sedrick Ellis, Defensive Tackle
No. 43 to No. 53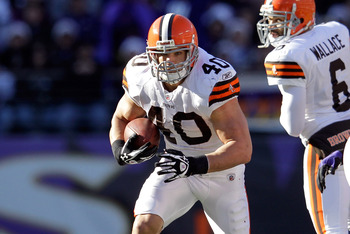 Rob Carr/Getty Images
The middle of the second round features some big names like Peyton Hillis. The Detroit Lions could've used his powerful running style this past season. Earl Bennett landing in Philadelphia is a good fit,. Bennett is one of the more underrated receivers in the NFL.
43. Minnesota Vikings—Eddie Royal, Wide Receiver
44. Chicago Bears—David Hawthorne, Linebacker
45. Detroit Lions—Peyton Hillis, Running Back
46. Cincinnati Bengals—Thomas DeCoud, Safety
47. Philadelphia Eagles—Earl Bennett, Wide Receiver
48. Washington Redskins—Fred Davis, Tight End
49. Philadelphia Eagles—Erin Henderson, Linebacker
50. Arizona Cardinals—Dan Connor, Linebacker
51. Washington Redskins—Felix Jones, Running Back
52. Jacksonville Jaguars—Kyle Arrington, Cornerback
53. Pittsburgh Steelers—Joe Mays, Linebacker
No. 54 to No. 63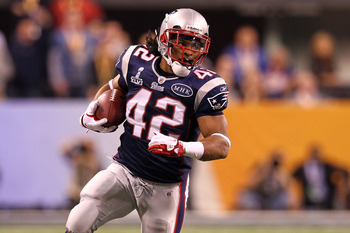 Al Bello/Getty Images
The back end of the second round features some former first-round picks in Chris Williams, Keith Rivers and Gosder Cherilus. All are talented players who have failed to live up to their first-round billing. If the talent in this draft was greater, they would've continued to fall.
54. Tennessee Titans—Mike Tolbert, Running Back
55. Baltimore Ravens—Josh Morgan, Wide Receiver
56. Green Bay Packers—BenJarvus Green-Ellis, Running Back
57. Miami Dolphins—Davone Bess, Wide Receiver
58. Tampa Bay Buccaneers—Tracy Porter, Cornerback
59. Indianapolis Colts—Pat Sims, Defensive Tackle
60. Green Bay Packers—Gosder Cherilus, Offensive Tackle
61. Dallas Cowboys—Chris Williams, Offensive Line
62. New England Patriots—Keith Rivers, Linebacker
63. New York Giants—Orlando Scandrick, Defensive Back
No. 64 to No. 74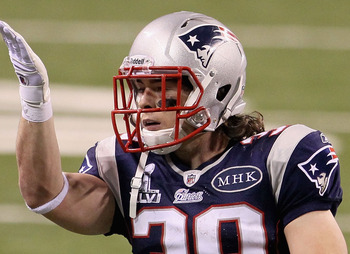 Jeff Gross/Getty Images
Danny Woodhead landing in the third round speaks more about the lack of talent in the 2008 draft than his potential as a player. However, there are some interesting pieces like Kellen Davis and Jolonn Dunbar in this group. Both players still have a bright future as they continue to develop.
64. Detroit Lions—Charles Godfrey, Defensive Back
65. St. Louis Rams—Harry Douglas, Wide Receiver
66. Miami Dolphins—Jolonn Dunbar, Linebacker
67. Carolina Panthers—Kellen Davis, Tight End
68. Atlanta Falcons—Jonathan Goff, Linebacker
69. San Diego Chargers—Tim Hightower, Running Back
70. Chicago Bears—Craig Steltz, Safety
71. Baltimore Ravens—Josh Sitton, Offensive Line
72. Buffalo Bills—Kroy Biermann, Defensive line
73. Kansas City Chiefs—Danny Woodhead, Running Back
74. Carolina Panthers—Eric Foster, Defensive line
No. 75 to No. 85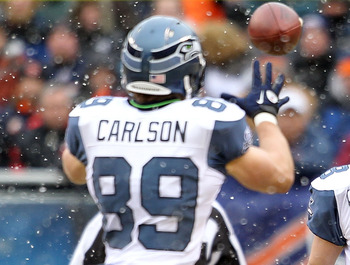 Andy Lyons/Getty Images
Of this group, John Carlson has had the biggest impact and still has the most upside. Others like Philip Wheeler and Kendall Langford are more situational players. However, someone like Eric Walden still has some upside. He's still developing and could end up putting together a good-looking career.
75. San Francisco 49ers—Chad Rinehart, Guard
76. Kansas City Chiefs—John Carlson, Tight End
77. Cincinnati Bengals—Mike McGlynn, Center
78. New England Patriots—Philip Wheeler, Linebacker
79. Houston Texans—Kendall Langford, Defensive Line
80. Philadelphia Eagles—Leodis McKelvin, Cornerback
81. Arizona Cardinals—Jerome Simpson, Wide Receiver
82. Kansas City Chiefs—Andre Caldwell, Wide Receiver
83. Tampa Bay Buccaneers—Kevin Smith, Running Back
84. Atlanta Falcons—Dwight Lowery, Cornerback
85. Tennessee Titans—Eric Walden, Defensive Line
No. 86 to No. 99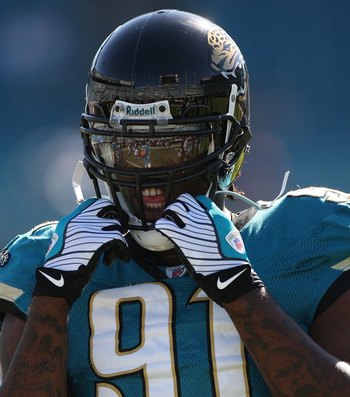 Sam Greenwood/Getty Images
The players of note in the end of the third round are Jeff Otah and Chad Henne. Otah has first-round talent but injuries have derailed his career. If he's ever able to put together a full season, he could be successful.
Henne's struggles have been due in part to his landing with the Miami Dolphins. His development might have looked different had he landed in Atlanta.
86. Baltimore Ravens—Reggie Smith, Defensive Back
87. Detroit Lions—Early Doucet, Wide Receiver
88. Pittsburgh Steelers—Ryan Torain, Running Back
89. Houston Texans—Ryan Mundy, Safety
90. Chicago Bears—Jeff Otah, Offensive Tackle
91. Green Bay Packers—Barry Richardson, Offensive Tackle
92. Detroit Lions—John Sullivan, Center
93. Indianapolis Colts—Jacob Tamme, Tight End
94. New England Patriots—Antwaun Molden, Cornerback
95. New York Giants—Reggie Corner, Cornerback
96. Washington Redskins—Tom Zbikowski, Safety
97. Cincinnati Bengals—Dennis Dixon, Quarterback
98. Atlanta Falcons—Chad Henne, Quarterback
99. Baltimore Ravens—Derrick Harvey, Defensive End/Linebacker
Keep Reading