Ukraine vs. Sweden Euro 2012: Players Who Must Step Up for Ukraine to Win
June 11, 2012

Handout/Getty Images
Every match at Euro 2012 is crucial for Ukraine as they embark on their quest to come out of Group D alive, but none is more important than the kickoff match against Sweden on Monday. 
Even with the home crowd behind them, it will be a challenge for the hosts to knock off a Sweden squad that has won four in a row, particularly considering the bout with food poisoning that has ravaged the team over the last week. For Ukraine to have any hope of advancing past England and France, kicking off their first-ever Euro with a victory over Sweden is an absolute must.
Here's a look at the players who will be the most crucial to Ukraine's chances of winning on Monday (ESPN, 2:45 p.m. ET).

Anatoliy Tymoshchuk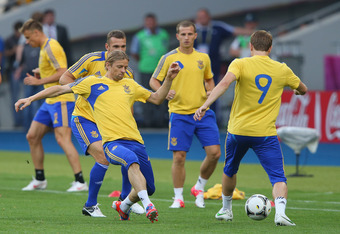 Alex Livesey/Getty Images
The midfielder is going to be the key to any upset the host nation is able to pull off at Euro 2012 because of his experience and his defensive-minded approach. His 116 game appearances are the most of any player on the team, and he has the leadership skills to engender fusion between the newbies and the veterans on the squad.
Tymoshchuk is well aware that his team is a long shot considering the strength of the other squads in his group, but he also understands the factor that will allow Ukraine to emerge victorious. It's not that he has to do everything himself; he has to help the rest of the team understand the value of teamwork.
He told the Associated Press:  
We have one of the strongest groups, so any team can be our main rival, and every match is important. We have to play to our strong points—commitment, fighting qualities, organization and discipline.
Artem Milevskiy
He's a veteran forward who could bring a much-needed scoring touch to the Ukrainian side after tallying seven goals in 43 games. This squad is going to need to formulate some serious offense to have any hope of knocking off Sweden, and Milevskiy could be the guy to bring it. Scoring isn't all he's good for, either: Milevskiy is just as capable of creating offense for his teammates as he is of getting the job done himself.
The 27-year-old has spent his entire career with Kiev, and Euro 2012 could be exactly the kind of big stage he needs to truly thrive.
Andriy Shevchenko
If there's anyone on the team who can use the advantage of experience even better than Tymoshchuk, it's Shevchenko, the most recognizable face on the squad.
At 35 years old, he knows that he's not going to be quite as effective on the field as he might have been in his heyday, but he can still have a resounding impact on his team because of the knowledge he has gleaned throughout the course of his career as Ukraine's all-time leading scorer.
Shevchenko is one of those rare players who can still have a massive impact on the field without even being in the lineup because he can provide the composure and in-depth knowledge that will be crucial to the younger players' success. And as he is considering possible retirement after Euro 2012, you can bet that he'll do everything he can to make sure his first and only Euro trip isn't a quick one.