Belmont Stakes 2012: Union Rags' Finish Saves Race from Being Disappointment
June 11, 2012

Alex Trautwig/Getty Images
Up until just days before the 144th running of the Belmont Stakes, horse racing fans thought they could potentially witness the first Triple Crown champion since Affirmed. I'll Have Another's sudden injury dashed those dreams, but Union Rags made sure to give fans their money's worth.
Hall of Fame jockey Mike Smith, who rode Bodemeister and Paynter in the sport's three biggest races, was probably the only person at the track Saturday who didn't fully appreciate Rags' impressive victory.
Smith saw the Kentucky Derby and Preakness titles slip away from him and Bodemeister thanks to late heroics by I'll Have Another. Saturday at the Belmont, Union Rags took a page out of Another's book and pulled off a late push to first that left Smith as runner-up once again.
After switching jockeys between the disappointing seventh-place finish at the Derby and the victory at Belmont, Union Rags redeemed himself and brought excitement to the race.
While the last 45 seconds of the latest horse race saw the likes of Unstoppable U and My Adonis running just steps behind Paynter, if Rags doesn't make that gallop into first place the race would have been a dud.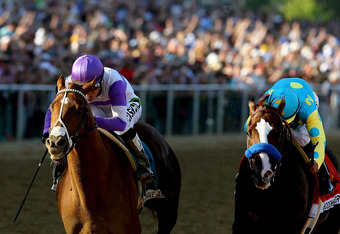 Matthew Stockman/Getty Images
The reason I'll Have Another was so popular during his brief time atop of the sport was just as much about how he won the Derby and Preakness as it was about simply winning those races.
People like myself enjoyed watching Another storm from a few lengths behind Bodemeister to squeak out the victory.
Everyone likes a good fourth-quarter comeback, and those two victories were about as close as horse racing can get to one.
There was no better way for Union Rags to erase the dark cloud that hung over the Belmont after the Triple Crown hopeful's withdrawal than to win in the same fashion as this year's Derby winner.
As much as part of me would have been happy to see Smith and Paynter get that well-deserved victory, Rags took that race from decent to thrilling. Smith and his horse lead the way almost the entire race and while that's impressive, it's also boring to those watching.
Nobody wants to watch a race that lasts less than three minutes where the first length has the same three horses in the same top three positions as the podium does at the end.
Union Rags and jockey John Valazquez not only secured the horse's first big victory but a place in Belmont history with that dramatic finish.