Pacquiao vs Bradley: Bob Arum Calling for Investigation Will Fuel Intrigue
June 11, 2012

Kevork Djansezian/Getty Images
Bob Arum stands to make a ton of money from a Manny Pacquiao-Timothy Bradley rematch, but he still hasn't gotten over Saturday night's decision.
According to a Yahoo! Sports report from Kevin Iole, Arum refuses to even consider a rematch until there is an investigation into the scoring of Pacquiao's split-decision loss in Las Vegas.
The promoter, who happens to promote both fighters said (via Iole):
"I want to investigate whether there was any undue influence, whether the [Nevada Athletic Commission] gave any particular instruction and how they came to this conclusion," said Arum, who at the post-fight news conference was adamant the result was a mistake but not the result of any chicanery. "But the whole sport is in an uproar. People are going crazy."
Crazy indeed.
The 115-113 split decision victory for Bradley came as a complete shock to almost everyone in the ring.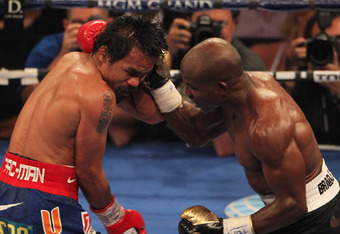 Jeff Bottari/Getty Images
In a fight with no knockdowns and a huge advantage in power punches going to Pac-Man, the fight all but assuredly belonged to the defending champion.
Arum was even quoted after the fight saying (via ESPN), "Can you believe that? Unbelievable. I went over to Bradley before the decision and he said, `I tried hard but I couldn't beat the guy.'" 
Even Bradley didn't think he won? 
As things stand now there is no telling what comes next. Naturally, the first thought is a rematch, but Arum is adamant on figuring out what went wrong Saturday before putting anything together.
This situation needs no more hype, but Arum's insistence on an investigation will only fuel this fire. He'll likely drag it out just long enough to milk the most out of the potential rematch as well.
With Floyd "Money" Mayweather away for the time being, and Bradley now the hottest name in the sport, there is no question which fight comes first.
And with the added controversy now surrounding the fight we can expect it to be even bigger than Saturday's night brawl.