NHL Free Agency: 5 Teams That Can Improve the Most Through Free Agency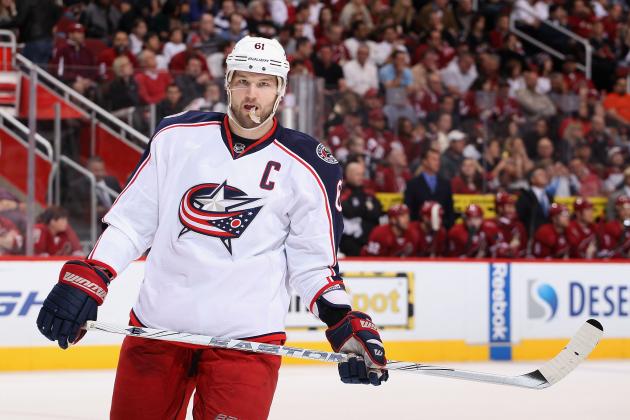 Christian Petersen/Getty Images

As depressing a thought as it may be, the fact remains that the end of the NHL season is quickly approaching us. With the Kings only one win away from ending the Stanley Cup Final and the Devils now only two away, we are truly coming dangerously close to having to become bigger baseball fans for the time being.
However, the big news this offseason, as it is every year, will be the moves every team who doesn't win the Stanley Cup makes in order to get there. Some will have to accept that they aren't all that close and just try to put a competitive team on the ice, and some may be one or two moves away from putting themselves in position to make a run at the cup themselves.
Here are five teams, and the potential free agents they'll need the most in order to make it to the top of the NHL mountain.
Begin Slideshow

»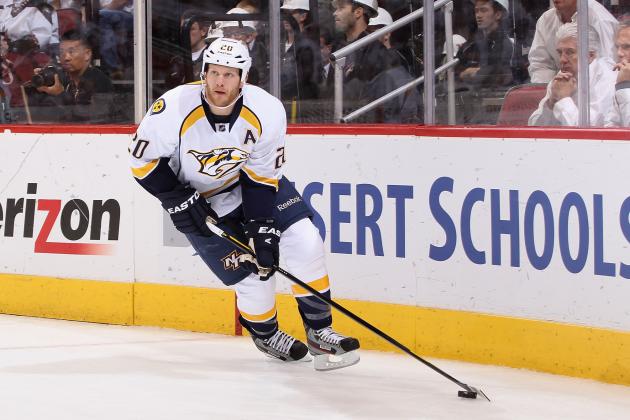 Christian Petersen/Getty Images

The Detroit Red Wings found themselves in familiar territory this season, setting the record for consecutive home victories and making the playoffs for the 21st straight season. However, in a move that's been a little too familiar since 2008, they lost in the playoffs and are now saying goodbye to another legend.
It started with Steve Yzerman stepping down, then Chris Chelios followed suit, but now their rock on the blue line for the last two decades is hanging up his skates.
I am of course talking about Nicklas Lidström.
On top of that, far-less-legendary-but-still-quite-good defenseman Brad Stuart is heading back to San Jose. That's a lot of talent and a lot of depth to lose for a team that was knocked out in the first round of the playoffs this year.
What's the best way to make sure they don't get knocked out by the Predators again next year? Take one of their best players.
Signing Ryan Suter would serve two purposes. First, while Nick Lidström certainly isn't easy to replace, this signing would go a long way toward taking the next step for the franchise. Suter is the kind of player that could be the new Lidström, a rock on the blue line for years to come.
With the Predators' current free-agent situation and the amount of money they'll have tied up in other players or that they'll be saving for other players, Suter won't be back in Nashville next season. The second purpose would be that it weakens a division rival—one who knocked you out of the playoffs this season.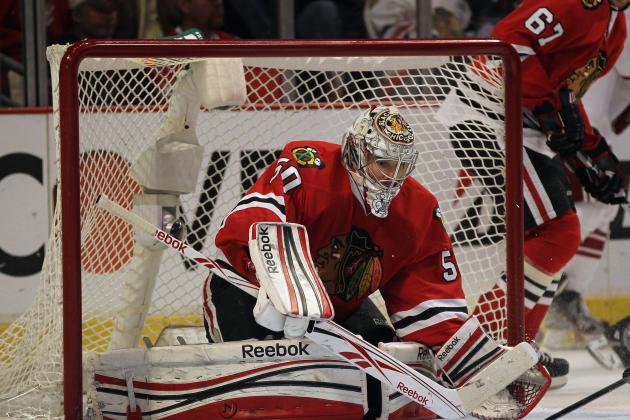 Jonathan Daniel/Getty Images

The Blackhawks were a bit of an anomaly this season. They were second in the Western Conference in goals scored and second-to-last in goals allowed, ahead of only the talentless Columbus Blue Jackets. Even with that...impressive (?) stat line, they were still able to make the playoffs as the sixth seed and seemed to be playing a favorable matchup against the Phoenix Coyotes.
Too bad no one told Phoenix.
As we all know, the Blackhawks were eliminated in six games and were ousted from the playoffs.
The problem all season was goaltending. Corey Crawford was inconsistent at best and held the Blackhawks back. I don't mean to heap all of the blame on to Crawford, as the defense wasn't always jumping on grenades trying to help, but two of the losses in the Phoenix series were on incredibly soft goals that he had no business giving up.
From this point, there's good news and bad news for the Blackhawks.
The good news is that they're finally getting rid of Cristobal Huet's heinously bad contract ($5.625 million cap hit last season, zero minutes played). That will certainly free up a ton of money to go after another goalie.
The bad news is that the only name worth aggressively pursuing in this year's class of goaltender free agents is Martin Brodeur, who is definitely not the long-term answer, and the Blackhawks probably couldn't lure him away from New Jersey with a king's ransom.
So how do they improve?
They get another solid blueliner to try to improve the defense so Crawford, or whoever is in goal next season, isn't being leaned on so heavily. One name that pops up is Bryce Salvador, a good defensive defenseman who apparently does have the capability to score, as we're seeing this postseason.
Signing Salvador would go a long way toward improving a defense that looked sluggish at times this season and wasn't helped by suspect goaltending throughout.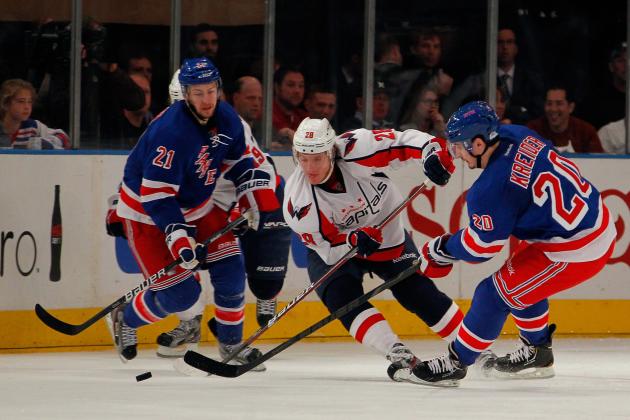 Paul Bereswill/Getty Images

I may be nitpicking here, but it seems to me that a team that had 109 points heading into the playoffs should not be having a hard time scoring (unless they're playing Jonathan Quick...sorry, Vancouver fans).
When the Rangers signed Brad Richards last offseason, it was supposed to solve their problem of not scoring enough. Obviously it helped, as the Rangers made it further than they have in recent history, but if you watched them this postseason, you saw that they had a hard time consistently scoring both on the power play and at even strength.
There have been a ton of huge rumors about who the Rangers may try to get in order to increase their scoring. Zach Parise's name has been thrown out there. Rick Nash still seems like it might get done.
Watching this team, though, I'm not sure a playmaker like Parise or a Nash is going to accent the Rangers' play all that well.
If not them, then who?
Alexander Semin, but I'll add that this works only if the price is right. If the Rangers are forced to pay him another $6.7 million like the Caps did this year, there's no reason to try to get this done.
But if the Rangers can get him for a discount, he'd serve as a needed scoring threat and sniper as Marion Gaborik's backup essentially. Not to mention I think Semin's production would increase drastically under a coach like John Tortorella.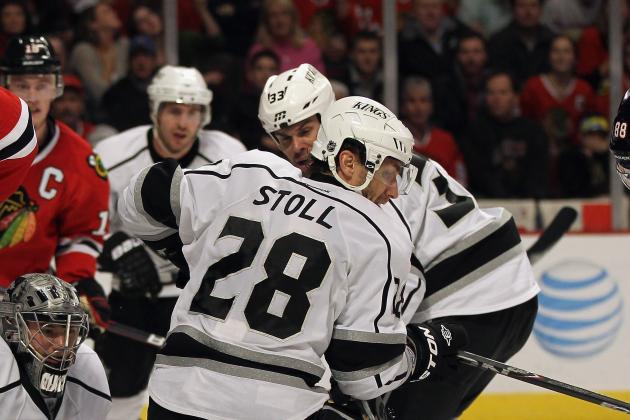 Jonathan Daniel/Getty Images

Again, I might be nitpicking, but as we all saw in the postseason, the Coyotes are capable of playing as well as any team in the league. The issue for them has been finding consistent scoring. Luckily, during the postseason, playing with Mike Smith in goal meant that if you scored once, you stood a good chance to win (again...unless you're playing Jonathan Quick).
So why not take a page out of the Red Wings playbook (that I've written for them, not their actual playbook) and snag a player from the team that eliminated them from the playoffs and also happens to be a division rival.
I think Jarret Stoll was overpaid in Los Angeles because they expected him to put up the kind of numbers he did in Edmonton, and that isn't easy to do. Fortunately for the Coyotes, the Kings won't want him back on a bloated contract and the Coyotes could use some point production.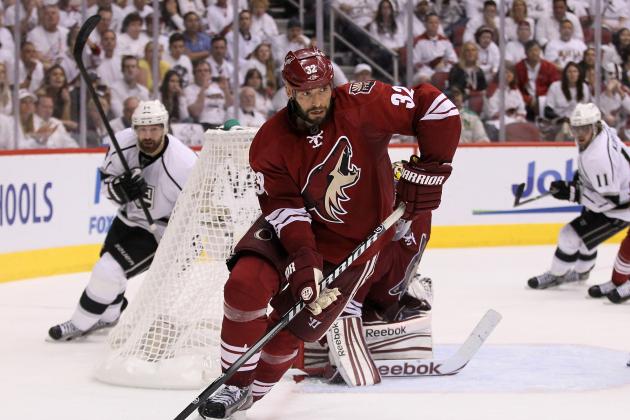 Jeff Gross/Getty Images

The Penguins got eliminated for a very simple reason: They could not stop the puck from going into their net. In six games against the Flyers, the Penguins gave up 30 goals, almost double their regular season goals against average of 2.7.
That average was good enough for 15th in the league during the regular season, so we know that they aren't entirely inept defensively. The issue is that their defense and goaltending completely fell apart when it mattered the most. They've already acquired Tomas Vokoun to address their lack of depth at goalie—now they need to add a big name to the defense.
Michal Rozsival is that name. I know that the price he commands is hefty considering the Penguins are currently trying to lock Sidney Crosby up to a long-term deal as well. However when you consider the total truth of the situation, locking up a player who has sat out significant portions of the last two seasons with concussions hardly seems like a safe investment.
Meanwhile, locking up a great defender to play even if your concussion-prone superstar can't makes more sense to me.