Pacquiao vs. Bradley Fight: Judges Not to Blame for Pac-Man's Loss
June 11, 2012

Jeff Bottari/Getty Images
After the controversial decision loss to Timothy Bradley, Manny Pacquiao's promoter Bob Arum verbally attacked the judges who scored the fight and demanded an investigation.
Judges C.J. Ross and Duane Ford scored it for Bradley, 115-113, while Jerry Roth was more along the lines of the majority and scored it for Pacquiao, 115-113.
While those calls can be easily argued against, they aren't beyond the realm of possibility considering the way Manny fought. Pacman was stalking and playing defense for the first two minutes of a round before attacking for the final minute like an animal.
If a judge felt that Bradley won the first two minutes and lost the last minute, they could conceivably award the round to the challenger. The problem was that Manny wasn't doing enough damage at the end of the fight to hold on to a win.
The Los Angeles Times is reporting on the status of the requests to investigate the fight's outcome:
The executive director of the Nevada State Athletic Commission said he anticipates no discipline or review of the judges who awarded Palm Springs' Timothy Bradley a controversial split-decision victory over Manny Pacquiao on Saturday night.

"I had Manny ahead, but that's fine," Keith Kizer said. "All I can say is I think every judge should strive to get better. Every fighter who loses a close fight like that wants to look at the judges."
Not exactly the vote of confidence you'd want from the executive director, but he's exactly right; judging a fight is completely based on one person's view of the fight.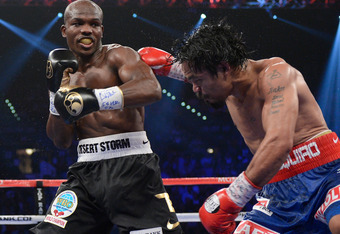 Kevork Djansezian/Getty Images
Just like an umpire in baseball who gets the call wrong sometimes, ringside judges are looking at the fight from one view with no replays and expected to react to the action.
The boxing world can't underestimate the power replaying the big moments between rounds can have on the public perception of a round or an entire fight.
While it was clear to those watching at home that Manny was landing clean lefts at will, Pacquiao punches so fast that his powerful shots could be missed in the heat of the moment.
The judges obviously got this one wrong, but to blame them for Pacquiao's loss is foolish; Pacman lost that fight on his own. The decision shouldn't have been theirs to make.
Check back for more on boxing as it comes, and don't miss Bleacher Report's Boxing page or listen to Ring Rust Radio for all of the hot topics.