Washington Capitals: Why Winning Stanley Cup Is a Must for Alex Ovechkin in 2013
June 11, 2012

Bruce Bennett/Getty Images
When owner Ted Leonsis and his Washington Capitals drafted an 18-year-old Russian prodigy named Alex Ovechkin, the organization had one goal in mind: to eventually win a Stanley Cup. 
The end of the Capitals' 2011-12 season, which came in a Game 7 loss to the New York Rangers in the Eastern Conference semifinals, marked the seventh straight season in which the club fell short of that goal.
Yet Washington's shortcomings are hardly the fault of its 26-year-old superstar.  In each of his seven seasons in the league, Ovechkin has led the Capitals in both goals and total points.  Ovechkin has also carried his extraordinary ability into the Stanley Cup playoffs, leading his team in postseason scoring in each of the past five seasons.
While the Capitals 37-season history remains void of a Stanley Cup victory, Washington's support for Ovechkin has not dwindled.
In early January of the 2009-10 season, the Capitals team and organization showed their appreciation for Ovechkin by naming him captain.  Since then, Ovechkin has been the Capitals faithful leader.
Even though his production has dipped slightly in recent years, Ovechkin's job is not in any danger.  Ovechkin is currently wrapped up in a 13-year, $124 million deal that he signed back in 2008 (via ESPN.com).
Capitals fans love Ovechkin and were ecstatic when the organization was able to make him the league's first player to agree to a deal in excess of $100 million.  Barring a total collapse in performance, Ovechkin will likely remain in D.C. for the remainder of his contract, whether he brings a Stanley Cup victory to the nation's capital or not.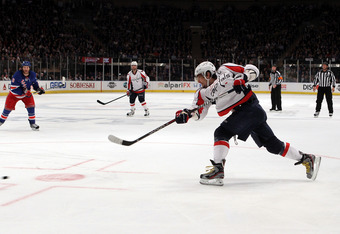 Bruce Bennett/Getty Images
With such comfortable job security, some may argue that a Stanley Cup championship in 2013 may not be a very pressing matter for Ovechkin.  However, if Ovechkin doesn't want his legacy to slip out from beneath his skates, winning the Stanley Cup next season becomes more important.
While Ovechkin continues to add onto his astronomical career totals with each passing season, he will be forever considered as the Dan Marino of the NHL if he doesn't get his name etched into Lord Stanley's cup.
In today's sports world, regardless of the sport, success is defined by championships rather than statistics. 
Take a look at the NBA, for example. LeBron James is the league's most scrutinized player despite winning an MVP award in three of the past four seasons.  James will attempt to silence his doubters in the coming week, as his Miami Heat team is about to enter the NBA finals.
A similar complex is present in the NFL.  Regardless of regular season success, a quarterback is largely viewed as unproven until winning the Super Bowl.  Ovechkin is undoubtedly the "quarterback" of his Capitals squad but has little postseason success to show for it.
Ovechkin, like James, came into the league surrounded by an unprecedented amount of hype.  When a prospect enters the professional ranks with the type of excitement that Ovechkin garnered, the bar is raised and the player is faced with incredibly high expectations that can only be satisfied with a championship.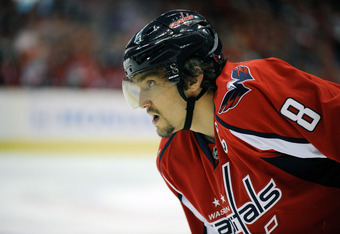 Greg Fiume/Getty Images
If Ovechkin wants to fulfill his legacy as one of the game's all time greatest players, he needs to hoist a Stanley Cup—and he needs to do it soon.
Wayne Gretzky, hockey's greatest player of all-time, made it to the finals for the first time in only his fourth season in the NHL.  His Oilers fell to the New York Islanders in that series, but Gretzky responded by leading his team to four Stanley Cup championships over the next five years.
Gordy Howe and Bobby Orr, two more of the NHL's greatest players, won championships early in their careers.  Howe won his first Stanley Cup in his fourth season in the NHL in 1950 before going on to win again in 1952, 1954 and 1955.  Orr also earned his first Stanley Cup victory in his fourth season (1970) and then again two seasons later (1972).
Not only is Ovechkin faced with the daunting task of emerging from the shadow of the best players to ever play the game, he also needs to separate himself from the best in today's game.
A year after Ovechkin was drafted first overall, the Pittsburgh Penguins selected a player with similar potential, Sidney Crosby, with the first pick in the draft.
In 2008, Crosby led his Penguins team to the Stanley Cup finals in only his third season in the league, but was ultimately defeated by the Detroit Red Wings in six games.  Crosby returned to the Stanley Cup finals a year later and on his second trip, Crosby was victorious.
Despite playing only 63 games in the past two seasons, Crosby is still a stride ahead of Ovechkin, in many fans' minds, as the NHL's best current player due to his two finals appearances and his Stanley Cup victory in 2009.
Realistically, the Washington Capitals can never be too upset with Ovechkin if he never ends up delivering a Stanley Cup title, as long as he continues to be a prolific scorer for the rest of his career.  On the other hand, Ovechkin's time to prove that he is one of the game's all-time greats may be running out.  A Stanley Cup victory in 2013 is just what Ovechkin needs to solidify his name next to Gretzky, Howe and Orr.