U.S. Open Golf 2012: Everything You Need to Know About the Olympic Club
June 11, 2012

Jamie Squire/Getty Images
The U.S. Open will return to the Lake Course of the Olympic Club in San Francisco, California this week.  2012 marks the fifth time that the course will hold the US Open, as the club previously hosted the Open in 1955, 1966, 1987 and 1998.  
The course will play as a par 70 this year and will measure 7,170 yards. The course rating is 76.5, and the slope rating is listed at 145.  The course originally opened in 1924 and was designed by Willie Watson.  It was heavily modified by Robert Trent Jones in preparation for the 1955 U.S. Open.  It has undergone further renovations over the years to keep up with increasing distances by pro golfers.
Notable U.S. Opens at the Olympic Club
The Olympic Club has hosted some of the toughest and most notable U.S. Opens in history.  In 1955 Jack Fleck pulled off one of the greatest upsets in golf history.  He tied the legendary Ben Hogan and defeated him in an 18-hole playoff.  The largely-unknown Fleck denied Hogan from winning his fifth US Open.  Amazingly, the two men tied after 72 holes with a staggeringly high score of seven over par.  
In 1966, Arnold Palmer was teeing off on the 10th hole with a seven-stroke lead over Billy Casper.  Palmer fell apart, shooting a 40, and allowed Casper to tie him.  Casper went on to win in a playoff while Palmer would never win a U.S. Open or another major again.  Finishing third was Jack Nicklaus at five over par, seven strokes behind Palmer and Casper.
The 1987 rendition saw another legend come close but fail to win.  Tom Watson entered the final round with a one stroke lead but would fall by one shot to Scott Simpson.  In 1998, Payne Stewart entered the final round with a four-shot lead, but Lee Janzen would go on to win with a score of even par.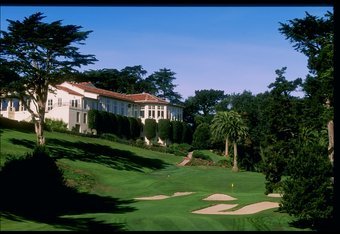 Jamie Squire/Getty Images
Lake Course Design
The course should live up to its reputation as a stern test of golf.  I would be very surprised if scoring is much better than even par at this year's Open.  The Olympic Club will open with a stretch of six holes that could perhaps be the toughest opening stretch in major championship history.  It will feature par fours of 520, 498 and 490 yards.  In addition, there is a 247-yard par three.  
The easiest holes of the stretch are two par fours of 430 and 428 yards.  However, these holes are no pushover.  A golfer could make it through this stretch at three-over par and will have played a generally solid stretch of golf.
This opening stretch will break many players, it is not unfathomable that scores of six over par could be recorded.  If you manage to survive the opener without your score imploding, there will be a couple of holes where birdies or even eagles can be attained.  
The seventh hole is a reachable par four of only 294 yards.  If the green is missed and you fail to land in a bunker, this hole will turn into a scramble to save par.  There is also the par-five 17th which measures only 505 yards.  It follows the par-five 16th, which is one of the longest in golf history at 670 yards.  It is a true three-shot hole in an era where few still exist.
Like almost every U.S. Open, the fairways will be pinched in and surrounded by heavy rough. The Olympic Club is a tree-lined course that will require precision off the tee in order to have a realistic chance on your approach shot.  Additionally, several greens slope severely, notably the 18th, which drew the ire of several players in 1998.
The USGA does not want another U.S. Open with scoring like the 2011 edition.  Rory McIlroy won at 16 under par, the record low for a U.S. Open.  He and the rest of the field benefited from a course softened by rain.  
That will not be the case this year in San Francisco, as the course will be rock hard with danger lurking on every single hole.  The U.S. Open will return to its place as the toughest test of golf this year.