Rangers Trade Scenarios: 3 Deadline Moves Texas Could Make to Solidify AL Lead
June 11, 2012

Thearon W. Henderson/Getty Images
Since their 15-4 near-nuclear start to the season, the Texas Rangers have played sub-.500 baseball and have seen their double-digit lead in the AL West shrivel to just three games.  
The hard-charging second-place Los Angeles Angels of Anaheim are finally playing up to their presumed potential. 
The Angels have been winning even without their ace, right-hander Jered Weaver, who was placed on the disabled list with back stiffness a few weeks ago. 
The Rangers have had their share of recent injury news as well.
First, it was right-hander Neftali Feliz with an elbow issue. Next it was lefty Derek Holland, due to a stomach virus coupled with shoulder fatigue.
Now it appears that bullpen stalwart Alexi Ogando might need time on the DL after straining his groin legging out an infield single yesterday.  
Ogando is scheduled to undergo an MRI this morning to assess the damage—his next scheduled spot start is for next Saturday. 
With two members of their starting rotation injured, the Texas Rangers might find themselves in need of a trade to fill-in some holes and keep the Angels at bay.
Here's a look at some possible moves the Rangers could make to offset injury and strengthen their team.
Left-handed Bullpen Arm
Ogando's spot start had already left the bullpen short of a key contributor. Now with an aching groin, the Rangers need to find an arm for the bullpen as well as the rotation. 
They don't necessarily have to make a trade; they could promote from within the organization. 
In-house options would include a move of left-hander Robbie Ross (6-0, 1.30 ERA) from the bullpen into the rotation. This would leave the bullpen without a left-handed arm.  
Triple-A lefty Martin Perez is on the Rangers' 40-man roster and seems a likely candidate to replace Ross should he move into the rotation. 
Perez (5.40 ERA) has struggled for the Round Rock Express and might not be viewed as ready for the big leagues just yet. A possibility for promotion into the rotation would be Perez's teammate and fellow southpaw Michael Kirkman—who could also be a bullpen arm as well. 
Possible Trade 
The Rangers have the strongest farm system in the big leagues, according to Baseball America.  Rather than attempt an in-house promotion, they could package together some prospects for a potential bullpen booster—preferably a left-hander. 
Rangers right-hander Koji Uehara, who has failed to live up to high expectations after joining the Rangers last July in a trade deadline deal with Baltimore, could be packaged with some low-tier prospects to get a left-handed late-inning arm the Rangers could use down the stretch.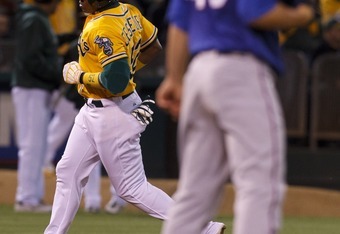 Jason O. Watson/Getty Images
Rotation Workhorse
The Rangers signed free agent Roy Oswalt almost two weeks ago when Neftali Feliz was placed on the disabled list.
Even with the pickup of Oswalt, the Rangers are still in need of another starter—especially if Ogando misses some time.
Trade Possibility
Chicago Cubs right-hander Matt Garza as well as the Milwaukee Brewers' righty Zack Greinke are two names that come up often in trade scenarios. 
Both are set to be free agents after this season, and both have been aggressively sought after in the past by Texas. Each would command a king's ransom in prospects. 
Likely, the names the Cubs and Brewers would be inquiring about would be of the Jurickson Profar, Mike Olt and Martin Perez variety. 
The rewards would be obvious and immediate if the Rangers could reel in either of those two starters, but the loss of talent could prove quite costly down the road. 
The Rangers don't really need a top-of-the-rotation stud—even with their recent rash of injuries. A veteran innings-eater that would enable Scott Feldman's return to the bullpen would be a nice addition for Texas.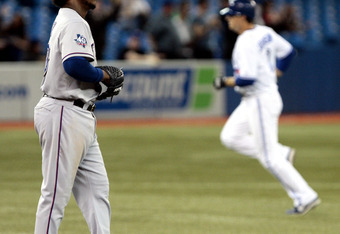 Abelimages/Getty Images
Right-handed Bench Bat
Brandon Snyder (.308/.357/.564) and Alberto Gonzalez (.267/.267/356) are the Rangers' bench bats this season. Both are right-handed and both have been more than serviceable. 
That being said, Snyder and Gonzalez aren't starters for a reason. 
Should either be forced into a full-time role due to an injury, the offense would suffer considerably.
A more reliable right-handed bench option would be ideal for the Rangers to acquire via a trade unless they decide to promote from within, with, say, a Mike Olt type. 
An ideal type of bat would be a right-handed version of David Murphy—someone capable of aptly filling in as well as coming into a game as a pinch-hitter on occasion.
Trade Possibility
Mitch Moreland could be moved to make room for a right-handed bat.
Moreland possesses eye-popping raw power but has yet to fully harness it in his three seasons with the Rangers.  
Moreland—a left-handed batter—is much better than Michael Young and Mike Napoli at first base and is also a capable right fielder.  
Via trade, Moreland could net the Rangers an additional starter for the rotation, a late-innings bullpen piece or a quality right-handed bench bat.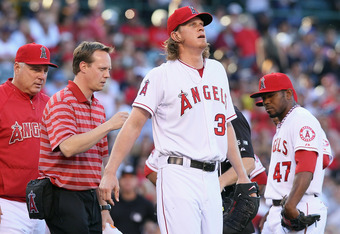 Jeff Gross/Getty Images
I don't think the team is going to move Moreland though, as it appears the Rangers' belief in the burly first baseman is still quite high.
Final Analysis

The Los Angeles Angels of Anaheim are clearly better than their rough April showed.
With Mark Trumbo's continued assault on American League pitching, and the exciting emergence of stud prospect Mike Trout, the Angels will likely be nipping at the Rangers' heels well into September. 
Regardless, the Texas Rangers are clearly a superior team.  And even without any moves being made, the Rangers—if they can avoid further injury—are essentially a lock to make their third straight playoff push.