Philadelphia Eagles: 5 Biggest Offseason Transactions and How They Help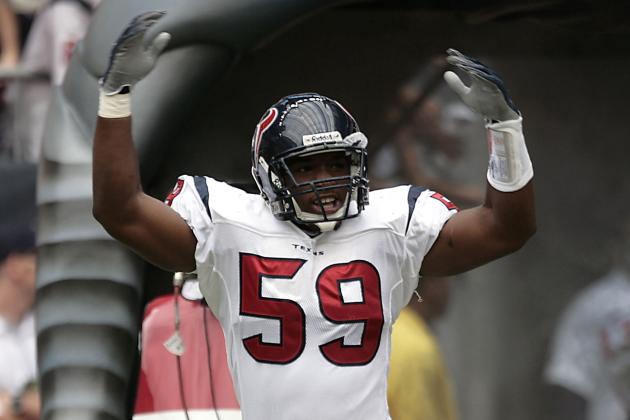 Bob Levey/Getty Images
DeMeco Ryans headlines a small, but important, class of new Eagles this season.
The Philadelphia Eagles were supposed to be the "Dream Team" of the 2011 NFL season.
With Michael Vick coming off a career year, and the big offseason acquisitions of Nnamdi Asomugha, Jason Babin, Dominique Rodgers-Cromartie and others, Andy Reid and Eagles fans everywhere were excited for what looked to be a great season.
That's not how it worked out. The Eagles season quickly took a wrong turn and left them with an 8-8 record, no playoff berth and many fans wondering if the offseason acquisitions were all they were built up to be.
This offseason, the Eagles have taken a more conservative approach. However, that does not mean they haven't made major decisions that should have a major impact on the upcoming season.
Here are five offseason transactions the Eagles made and why they're important.
Begin Slideshow

»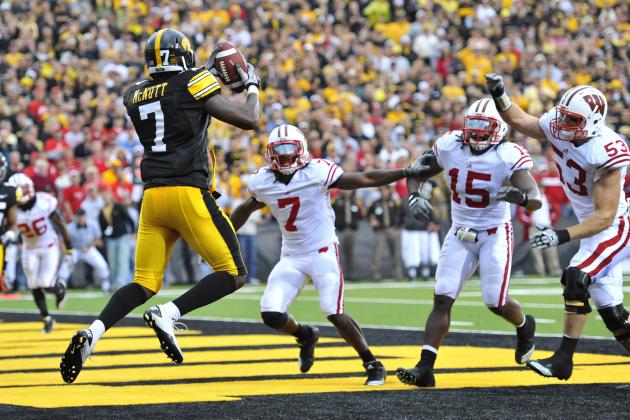 David Purdy/Getty Images
6th Round pick Marvin McNutt adds a redzone target to Micheal Vick's arsenal.
Drafting Marvin McNutt might not seem like a big move for an Eagles team that already has two talented wide receivers in DeSean Jackson and Jeremy Maclin, as well as an offense that—on paper—shouldn't need help scoring.
To start the season, it's true that McNutt will probably be no higher than No. 4 on the depth chart.
Where he will show his value is in the red zone.
Inside the 20 yard line, the Eagles were in the middle of the pack as far as efficiency goes. That needs to change.
At 6'3", McNutt provides a bigger target for Vick. He also has good hands and the ability to get open in traffic.
This is a contrast to DeSean Jackson's style. Jackson is a shorter receiver who excels in using his speed to stretch the field and pull away from defenders, which does not translate well to the shortened field presented by being in the red zone.
Jackson only pulled in two receptions in the red zone last year, which is a pretty terrible stat for a team's No. 1 receiver.
A possible solution to this problem is putting McNutt on the field instead of Jackson when the team are close to the end zone. This would allow him use his height to present matchup problems for the defense. Furthermore, it would allow Jackson get a break from the physical play associated with a short field.
McNutt should be a strong red-zone option for the Eagles this year, helping them get the job done after they've marched most of the way down the field. He should have a respectable amount of touchdowns for a rookie.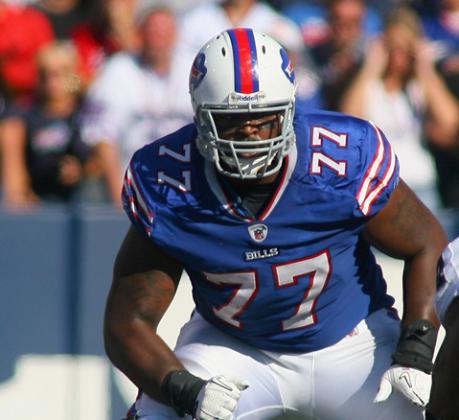 Demetress Bell will have to do his best to fill the big shoes of Jason Peters at Left Tackle
Last season, one of the bright spots for the Eagles was the play of left tackle Jason Peters. Peters was able to handle some of the best pass-rushers in the NFL without help from his teammates. That's important in a division featuring the defensive line of the New York Giants, the pass-rushing linebackers of the Washington Redskins and sack-artist DeMarcus Ware of the Dallas Cowboys.
Sadly, for both Peters and Eagles fans, the tackle tore his Achilles tendon this offseason. As a result, a gaping hole was left on an offensive line that helped lead LeSean McCoy to a career year. This hole needed to be filled if the Eagles wanted to repeat last year's rushing success.
In response to the injury, the Eagles signed the man who replaced Peters when he left the Buffalo Bills, Demetress Bell. Bell will need to be solid at the very least if the Eagles' line is going to hold up.
Since Vick is left-handed, the left tackle spot isn't his blind side as with most quarterbacks. Even so, Bell will need to play well on an offensive line that will feature two second-year players in Jason Kelce and Danny Watkins.
Bell should be solid, but I expect there to be a significant drop off between his play and the play of Peters. That being said, he's better than anyone the team had on the roster and he should keep the line at an acceptable level of play.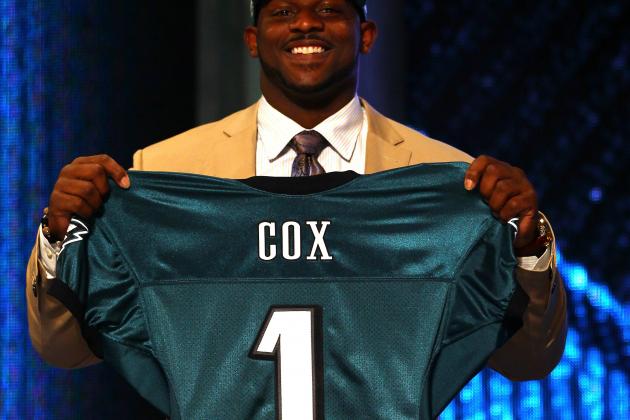 Al Bello/Getty Images
Fletcher Cox will need to have an immediate impact on the defensive line to live up to his 1st round pick expectations.
Anyone who watched the Eagles defense last year could quickly spot their biggest flaw; their run defense. To remedy this, the Eagles set out to draft difference-makers for their front seven, adding first-round pick defensive tackle Fletcher Cox and second-round pick Mychal Kendricks.
Cox is an athletic, 300-pound defensive lineman that should have instant impact in run defense as someone who can plug up the middle of the line. Although the Eagles already had three talented defensive linemen on the team, none of them are run-stopping specialists. If Cox can fill that role, the Eagles defense will be that much better.
Kendricks is a smaller linebacker who excels at making tackles, which is something that the Eagles struggled with last year. Philadelphia's linebackers as a whole were pretty bad in 2011, which means any help they can get makes the defense better. As long as Kendricks can be a fundamentally sound tackler that reacts well in the run game, he should be able to be an immediate contributor on the defense
Rob Carr/Getty Images
DeSean Jackson seemed distracted by his contract situation last year and it showed in his performance.
Before last season, Eagles wide receiver DeSean Jackson had gained the reputation of being an explosive and electric playmaker with the speed to take every play to the house. His presence on the offense made the Eagles a more dangerous offensive team, and his deep-play ability had to be honored by defenses.
However, come last offseason, Jackson wanted a new contract. Feeling that he had outplayed his rookie deal, the receiver staged a mini-holdout from some offseason activities.
While Jackson ended up playing the full season, he looked like his mind was somewhere else. He looked more focused on not getting hurt and ruining his chances of a big payday than on making a big play.
This year, that shouldn't be an issue. The Eagles gave Jackson a five-year extension. His mind should be solely on football, and hopefully that translates to a return to the exciting playmaker we saw before last year.
LeSean McCoy was facing the same problem this offseason; he had outplayed his rookie contract and wanted more money, but was still under contract. Instead of letting things drag out, the Eagles locked McCoy up for five more seasons. They gave him the money he wanted to prevent a Jackson-like decline.
Given how important McCoy was last year, anything like that would have been catastrophic for the Eagles offense.
Both Jackson and McCoy will need to have big years for the Eagles if they want to succeed, but there is no reason why they shouldn't both be very successful.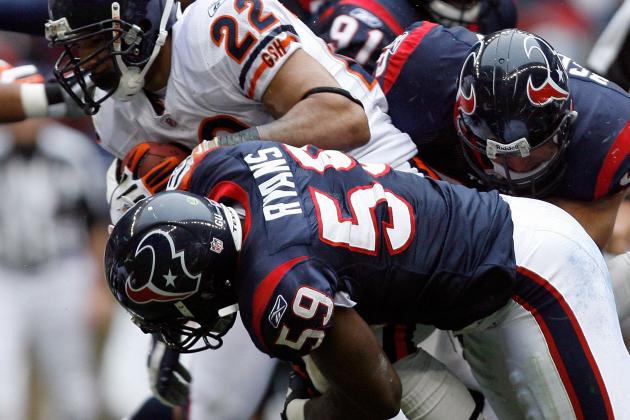 Harry How/Getty Images
The Eagles defense needed a strong middle linebacker as well as a defensive leader, and DeMeco Ryans should fill both roles.
The most glaring weakness the Eagles had last year was at linebacker, and specifically the middle linebacker position, which is key in a 4-3 defense. They tried and failed to find a player in-house that could play the position effectively.
The defense also lacked leadership. Ever since Brian Dawkins left the Eagles, they have struggled to find an identity. On many plays last year, the defense looked like it lacked communication and coordination.
To rectify these problems, the Eagles traded a fourth-round pick to the Houston Texans for middle linebacker DeMeco Ryans.
Ryans was a captain on the Texans. He gained the reputation of a tough-tackling linebacker who was very effective against the run. His last two seasons have been less productive than his early career due to injury and a cut back in playing time, which is why the Eagles were able to get him for only a fourth-round pick.
That being said, Ryans has now had a full season to recover from his injury. Aside from his injury-shortened season in 2010, he has started 16 games every year he has been in the NFL.
The former Rookie of the Year found himself in the same boat as Mario Williams this past offseason. The talented defensive players were let go because they no longer fit the Texans defense as well as they had before it switched from a 3-4 to a 4-3.
Being back in a 4-3 should do wonders for Ryans' numbers. This is good news for the Eagles, because their defense should be vastly improved if they can get the production and leadership they need out of the middle linebacker spot.