NBA Free Agency 2012: 7 Factors That Will Dictate Where Steve Nash Lands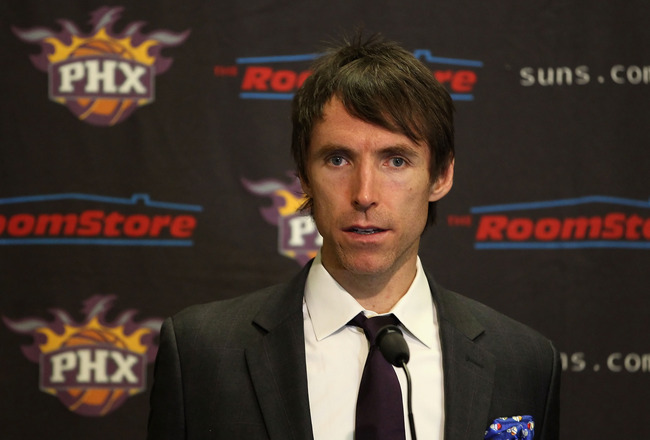 Christian Petersen/Getty Images
Steve Nash has been the face of the Phoenix Suns franchise for almost a decade, but all eras end and his run with the Suns could end this offseason. Nash is an unrestricted free agent and is seriously considering leaving the desert to contend for titles in his last couple years. Read on for seven factors that will dictate where the two-time MVP signs.
Length of Contract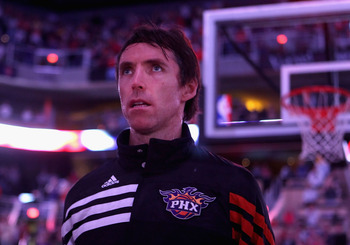 Christian Petersen/Getty Images
Steve Nash has declared his desire for a three-year contract, even though he will turn 39 years old next season and time is not on his side. Still, at his age, Nash is one of the best point guards in the game and the most unselfish player in the league.
How many teams will be willing to give him a three-year deal considering he will be 41 years old by the end of the deal? Nash keeps himself in great shape, but it's tough to predict how effective he would be at the end of his deal.
The only comparable player at that age would be John Stockton, who played his last season at 41 years old. Stockton had per game averages of 10.8 points and 7.7 assists that season. Those numbers would be great stats for Nash.
Teams That Are Willing to Trade for Him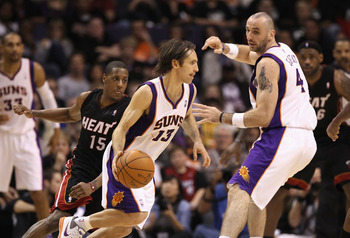 Christian Petersen/Getty Images
The Phoenix Suns have finally realized they might actually lose Steve Nash this offseason, and the team has agreed to execute a sign-and-trade with Nash should he choose to play elsewhere.
This would be great for both Nash and the Suns, as both parties would benefit. Nash could get a higher salary and the Suns could get some sort of value for losing Nash.
While this is great for the Suns and Nash, it might not be great for his potential suitors like the Miami Heat and Dallas Mavericks. Both teams don't have a ton of resources to give up for Nash.
Moves the Suns Make to Better the Roster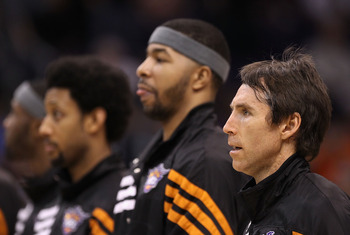 Christian Petersen/Getty Images
Nash has stated he wants the team to better the roster and will not re-sign if he doesn't see improvement. It's really quite simple. Get more talent on the team or Steve Nash will not be a Phoenix Sun next season.
The draft and free agency will be even more critical for the Suns knowing Nash will be watching every move to make sure the team takes his request seriously.
His Desire to Play for a Title Contender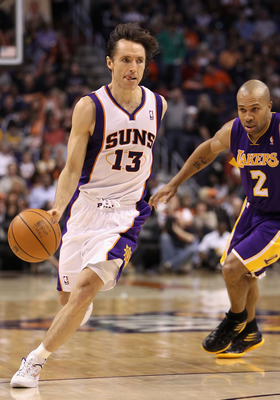 Christian Petersen/Getty Images
It's no secret Steve Nash wants to contend for an NBA title, and the Phoenix Suns can't offer him that with the current roster. That certainly doesn't bode well for the Suns and will be a huge factor if Nash leaves the team.
Time is simply not on his side, and he doesn't want to end up on the list of best NBA players to never win a title.
Moves Contenders Make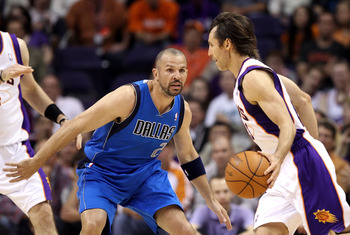 Christian Petersen/Getty Images
Steve Nash's eventual landing spot could end up coming down to other what else happens in free agency and with trades. Potential Nash suitors like the Dallas Mavericks, Indiana Pacers and Atlanta Hawks could make moves and either shrink or increase the market for Nash.
The Mavs could sign Deron Williams, therefore making Nash irrelevant. The Pacers could go with a younger player and continue their strong nucleus. The Hawks could trade Josh Smith for a package of talent and not need the aging Nash.
In the end, Nash will have to wait to see how the offseason goes before signing with a team.
How Willing He Is to Leave Phoenix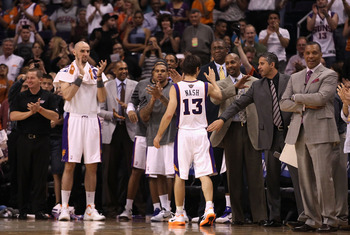 Christian Petersen/Getty Images
Steve Nash has called the desert his home for 10 of his 18 seasons and has developed a close bond with the community. That might be an understatement considering he is adored by the community and is the face of Phoenix franchise.
It's going to be tough to leave the team that drafted him and the place he has spent the majority of his adult life. No matter how enticing an NBA title is, he will have to be comfortable with leaving Phoenix.
While he has said he will leave if improvements aren't made to the roster, it's one thing to talk the talk and another to walk the walk.
How Serious the Suns Are About Re-Signing Him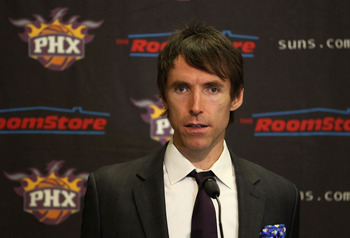 Christian Petersen/Getty Images
The Phoenix Suns have had the fortune of having Steve Nash be the franchise player for quite a while now and have seen how valuable he is to the team. They know better than anyone what he brings to a team and what he is worth.
Management has said all the right things regarding future, but many think the team should move on and start a youth movement. Despite all the talk that they would like him back, that might be counterproductive for the franchise because the team is just not good enough right now.
The worst spot to be in sports is mediocre, as the team is torn between contending and failing. This is where the Suns are right now—not bad enough to gain top notch talent but not good enough to contend for a title. The team will stay there, with or without Nash, unless major moves are made.
If anything, the fact management is willing to do a sign-and-trade with Nash shows how realistic his departure is and how management might start that youth movement.
Keep Reading

Phoenix Suns: Like this team?