Euro 2012: Previewing a Critical Group A Fixture Between Poland and Russia
June 12, 2012

Epsilon/Getty Images
There have been eight matches in Euro 2012 as we head into the second day of Group A fixtures. The first day of matches on June 8 gave us a quick peek of what to expect from the tournament's first group.
The opening match in Warsaw between Poland and Greece was memorable. Poland got an early lead through Robert Lewandowski and appeared poised to run away with their first win in Euro history. But the humidity that was caused from a closed roof hurt the home side, making it hard for them to attack. This problem caused UEFA to order that the roof must remain open for all remaining matches.
Poland were lucky not to lose in the second half. Greece exploited the Polish defense with some fresh players in the second half, along with the decision to attack down the middle of the pitch. This led to the tying goal and Wojciech Szczęsny's dismissal on an missed tackle in the open field.
If Przemysław Tytoń did not stop Giorgos Karagounis' penalty, Poland would be beating a drum of desperation going into the second matchday of the tournament. But a 1-1 draw is a fair result considering the relative equilibrium of the match.
About an hour after the opener, Russia took to a rainy pitch in Wrocław. But weather did not play a major role for the participants.
From the beginning of the match, Russia flat-out dominated. Russia went into the match using a brilliant counterattacking strategy that was aided by a ridiculous 26 defensive interceptions, more than three times the total by the Czech Republic.
Some clinical runs on the wings, which led to all four Russian goals, aided this strategy. Russia's offense did have their fair share of luck, but they understood that the Czech right back Theodor Gebre Selassie lacked experience against top-level attackers like the Russians. This allowed for the attacking intent for the attackers to be that much easier.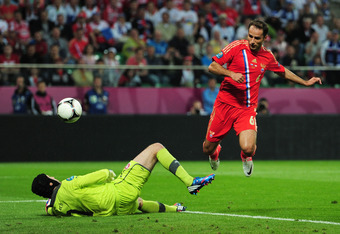 Jamie McDonald/Getty Images
Russia did deserve to be 4-1 winners after again showing their true colors. This makes the Russians just that much harder to handle for the remainder of the tournament.
But the results alone from the first day of matches does not draw attention to what will take place in Poland's capital during these second days of matches.
Though they now only share a border of 210 kilometers, Russia and its culture has long extended its way into Polish life.
Russia and Poland have fought each other in numerous wars throughout the last millennium. Russia has held a large amount of control in the affairs of the country in the past, with the most notable example in contemporary eyes being the stranglehold of its neighbor following World War II.
The effects of communism are still felt in Poland down to the present. Poland still is a country that relies heavily on agriculture, and many of the homes are made in the style of Soviets.
Poland's rise out of communism has allowed the country to start building skyscrapers across Warsaw. But today, the largest building in Poland's capital is still the Palace of Culture and Science, built during the 1950s by Soviet workers as a testament to Joseph Stalin.
After the fall of communism, Russia has continued to remain a force in Poland, though not nearly as much as it did during the late 20th century.
But Poland and Russia still remain linked to this very day. Two years ago, then-Polish president Lech Kaczynski died while flying to Russia. This past year, Kaczynski's twin brother pushed allegations that Russia were responsible for the death of the fifth president of the Republic of Poland. Russian reports have suggested that the plane crash was due to pilot error, not an assassination attempt.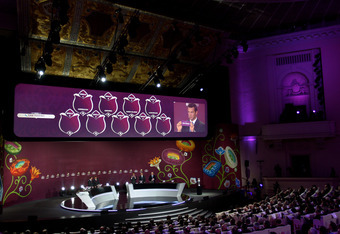 Michael Steele/Getty Images
Even in these European championships there has been controversy surrounding Russians and Poles. After Russia won their first match, scores of Russian fans were seen attacking stewards, which led to the Russian FA getting charged by UEFA for "improper conduct."
To make matters even more interesting, today is Russia's independence day (or Russia Day). There are plans for Russian fans to march from central Warsaw to the stadium, which could be viewed as provocative by many Poles. Russian fans have purchased nearly 10,000 tickets for the fixture.
Considering Warsaw's city security chief Ewa Gawor has said that police would intervene as soon as "anyone breaks the law," there will be plenty of pressure in Warsaw today. 
The history and current political situation between these two neighbors provides one exceptional backdrop heading into this match.
That history has also been present on the pitch, with Poland having faced the USSR/Russia 15 times in internationals, but they have only faced each other three times since the fall of communism.
All time, the USSR/Russian side has defeated Poland in seven of their 15 matches. Poland has only won three times in her history against the world's largest nation. But since 1991, both sides share a 1-1-1 record against their foe.
The last time that Russia and Poland faced each other was during a 2-2 draw that took place in Moscow in which nine Russian players and four Polish players participated on their respective national team squads.
Much has changed for each respective program in the past five years. Russia has become a European power that can play with anyone. Poland are in a national rebuilding mode that they hope will blossom during Euro 2012.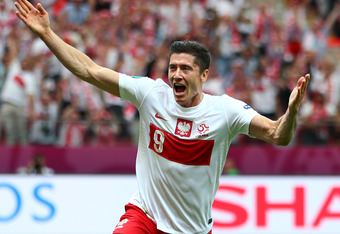 Michael Steele/Getty Images
Recent fixtures for both sides indicate that this will be a very entertaining fixture. Here are those results.
Poland
Poland 1 Greece 1. (June 8; first match of Euro 2012).
Poland 4 Andorra 0 (June 2; Friendly).
Poland 1 Slovakia 0 (May 26; Friendly).
Poland 1 Latvia (May 22; Friendly).
Poland 0 Portugal 0 (Feb. 29; Friendly).
Russia
Russia 4 Czech Republic 1 (June 8; first match in Euro 2012).
Italy 0 Russia 3 (June 1; friendly).
Lithuania 0 Russia 0 (May 29; friendly).
Russia 1 Uruguay 1 (May 25; friendly).
Denmark 0 Russia 2 (Feb. 29; friendly).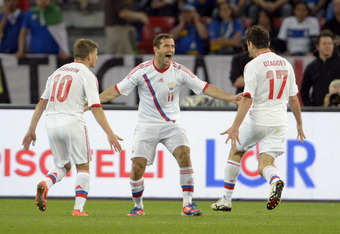 Claudio Villa/Getty Images
These friendlies show two sides that have played some strong football in recent weeks.
Poland have only lost once in the past 12 months, which includes sides like Mexico, Germany, Bosnia-Herzegovina and Portugal. Using a strong counterattacking philosophy and their three Borussia Dortmund stars (Lewandowski, Jakub Błaszczykowski and Łukasz Piszczek), Poland have decimated their opponents, especially from the right.
Greece felt the impact of the Polish attack from the right wing. Looking at the first 17 minutes of the match, you could see that all three Dortmund players are dominating the match through the right wing. This led to the first goal of the match.
Poland will likely continue to use the same 4-2-3-1 formation that was utilized against Greece.
Tytoń
Piszczek Perquis Wasilewski Boenisch
Polanski Murawski
Blaszczykowski Dudka Rybus
Lewandowski
Poland will keep all of the same starters that they used during their opening fixture. Tytoń will start in goal because of Szczęsny's suspension for a red card. Dariusz Dudka did not make an appearance during the first match because manager Franciszek Smuda made no substitutions except for the one after Szczęsny's red card, which has caused criticism of the Polish manager.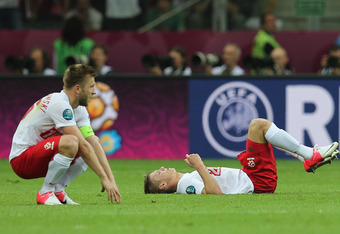 Alex Grimm/Getty Images
After Dudka made an appearance with Smuda at yesterday's press conference, it is increasingly likely that the most experienced member of the Polish squad will start tomorrow.
Meanwhile, Russia have continued to strengthen as a team, and their wins against Denmark and Italy indicate that they will be a tough side to beat. Russia have also used a counterattacking strategy to win their matches, but they have put more pressure on their opposition than the Poles have.
This was apparent throughout their match with the Czech Republic. Though Russia did not have a major statistical advantage in any department other than goals scored, their counter-attacks worked to perfection. By scoring two quick goals, Russia set the tone early enough that they set a foundation for their two late goals.
Russia will likely keep the same 4-3-3 formation that they used against the Czechs.
Malafeev
Anyukov Berezoutski Ignashevitch Zhirkov
Zyryanov Denisov Shirokov
Dzagoev Pavlyuchenko Arshavin
It appears that Vyacheslav Malafeev will remain as the starting keeper after an impressive five-save performance against the Czech Republic. But if the Zenit keeper has a poor match, expect Russia's No. 1 keeper, Igor Akinfeev, to start against Greece in the group finale.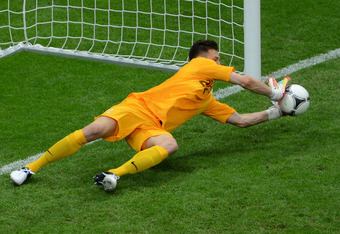 Shaun Botterill/Getty Images
Roman Pavlyuchenko was impressive coming off the bench. In just 16 minutes, the former Tottenham striker had a goal and an assist. He also completed all nine of the passes that he attempted. Pavlyuchenko would replace Alexander Kerzhakov, who missed on all seven of his shot opportunities and only completed 58 percent of his passes.
Now only in his second Euro, Pavlyuchenko has tallied four goals. Russia will probably bank on his experience during the tournament's progression.
That experience that Pavlyuchenko had came from the amazing run Russia had four years ago in Austria and Switzerland. Incredibly, Poland has still yet to win a match in the Euros.
Poland could have won their match against Greece. But their inability to hit the target hit the host nation hard when 14 of their 17 shots missed the net.
If Poland are going to get a result against the best side in their group, they will need Lewandowski to have a fantastic performance. The third-highest goalscorer in the Bundesliga this past season, Lewandowski had a strong enough match against Greece that he was named UEFA's man of the match. But the Warsaw native will have to do more in his home city in order to get Biało-czerwoni into the quarterfinals.
Lewandowski has his work cut out. During Russia's 15-match unbeaten run, they have conceded just five goals.
Poland has also been strong defensively. In 2012, Poland has conceded just one goal, which came against Greece five days ago. 
Ultimately, this fixture looks like it will be a defensive struggle. Both nations could boast that they are presently among the top defensive sides in the world.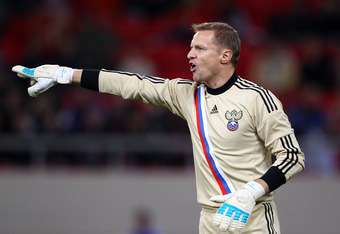 Julian Finney/Getty Images
It is suspect to say that Poland are weaker without Szczęsny. Outside of his red card, the Arsenal keeper was responsible for Greece's other goal and he did not look sharp at all. Meanwhile, Tytoń was fantastic on short notice and will probably play well again in this fixture.
If Poland's defenders can hold off the Russian attack, the host nation will probably not lose. But considering that they had plenty of problems against Greece, they will have their work cut out to stop the Russians.
Russia will score goals, but Poland are still dangerous and with an open roof at a stadium that they have already played in, they should perform much better than they did against the Greeks.
Due to this, Poland will generate enough chances to also score and considering they have never lost to Russia/USSR in a meaningful match, Biało-czerwoni can pull out a surprising draw,
Poland 1 Russia 1