Euro 2012: 4 Superstars Who Will Disappoint Their National Teams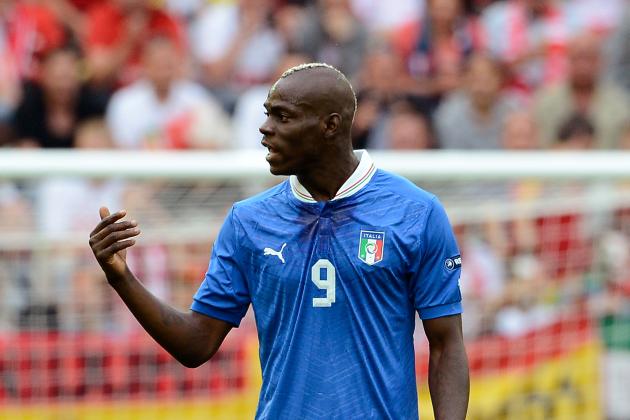 Claudio Villa/Getty Images

Different stars bring different styles of play to a national team. Often lackluster performances are attributed to pressure, lack of support, injury avoidance strategies and drama.
Euro 2012 is the hot spot for star players to shine and earn the respect of fans and media, nations, managers and other clubs. From Mario Balotelli to Robin van Persie, here is a list of superstars that could disappoint their national teams this June.
As the transfer window opens the day of the Euro 2012 final, many superstars who are looking to alter or retain their club careers may be more focused on how they are perceived rather than how their team performs. Could these circumstances ruin the chances for Portugal, Italy, Czech Republic and Netherlands to win the Euros? Let's take a look.
Begin Slideshow

»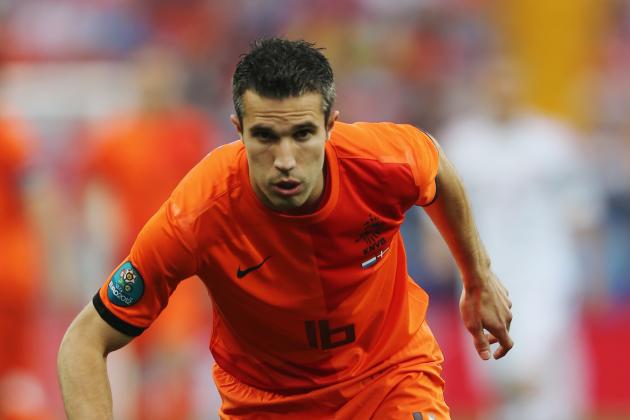 Ian Walton/Getty Images

One of the most talked-about footballers in the world, Robin van Persie will have all eyes on him.
Considering his fantastic form it was no surprise that Van Persie was the man that led Holland in Bert van Marwijk's 4-2-3-1 formations. Although he failed to score, the first match does not provide enough evidence that a footballer will fail to hit the net next time.
As a Netherlands admirer I had watched Netherlands take on Uruguay in a 3-2 victory at the World Cup semifinal in South Africa. Although Holland had won, I had found myself surrounded by Dutch supporters screaming in fury over Van Persie falling down near the penalty area and ruining great chances.
On Yahoo! Sports' recap of Holland's first Euro match, the reporter Jack Bezants wrote,
"Oh dear Robin van Persie, far from his finest moment. Sneijder finds him with a delightful through ball and the Arsenal forward looks to strike first time with his lethal left foot, but kicks the air and falls over."
It can only be imagined that Dutch fans were again left disappointed. Let's hope he regains his footing in the second match this Wednesday.
Bert van Marwijk must consider changing his formation as the Arsenal captain may be letting the pressure to perform and the uncertainty over his future club career affect his focus on the pitch. Nevertheless, Van Persie will score in this tournament, but he will need his teammates to work support him in front in order to distract the defenders while the striker breaks through.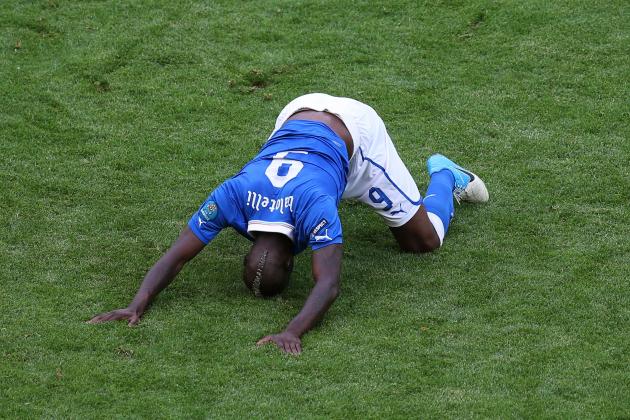 Alex Grimm/Getty Images

Why always him?
The uncontrollable talent Mario Balotelli is a fabulous player in the world of football. His drama queen and bad boy reputations may be overly reported on, but there is no doubt that he has the skills and goals to prove he is one of the best players in Europe.
The 21-year-old Italian was one of the forwards for Italy's 3-5-2 formation on Sunday against Spain and had the opportunity to shine for his national team.
However, the striker was consistently blocked from scoring by Sergio Ramos and Gerard Pique who had man-marked him all over the pitch. Balotelli saw Iker Casillas block two fantastic chances in the game. Despite being subject to racism from a group of Spanish supporters, the player did not complain and carried on playing.
"There's nothing to discuss about Mario in terms of football, because he's a pure talent—one of the few players who can make you win matches," Italy captain Gianluigi Buffon said Saturday (via. The Globe and Mail).
Although Balotelli tries his hardest to perform for the national team, he has yet to truly prove himself. He has often let his emotions overshadow his clear judgment and if the racism continues next match then Italy may see Balotelli disrupt their game in order to respond to the abuse.
If Balotelli disrupts the next match to walk off the pitch or is shown the red card then Italy will be down to ten men. Such situations are always plausible with Mario Balotelli on the pitch.
"I need to be sure that I have always 11 players on the pitch," Machester City manager Roberto Mancini said after Balotelli's red card against Arsenal (via. The Globe and Mail). "With Mario, it's always a big risk. Every time we risk one (man) being sent off, even if he can also score in the last minute."
Despite the negativities surrounding the talented player, lets hope the Italian No. 9 does not waste his talent at the Euros.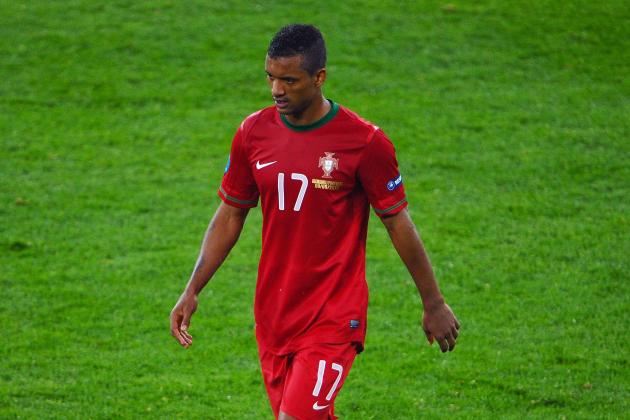 Laurence Griffiths/Getty Images

Nani had been subject to criticism regarding his performance for Portugal in their first match against Germany.
The Manchester United star forward had regular mediocre performances for his national team in the past. The 25-year-old has played 54 games for Portugal, and has scored 13 times. He was a late inclusion for the important match as he had just returned from an injury.
"It is normal and the criticism has been going for some time. It is easier to criticise than to help." Nani said in a post-match press conference on Monday (via. SuperSport) "I just think about the national team, if we can give the people some joy, all the better; but if we cannot, we need to know that we gave our best. We are not machines."
When in form, his mystifying tricks with the ball, fast pace and accurate crosses are frightening to the opposition. His overall performance for Portugal has immensely improved as he scored twice and consistently provided passes into the penalty box from the wing against Iceland (in a 5-3 win) during a Euro qualifying match.
Hopefully one day the winger will distance himself from inconsistent performances and shine for his national team. For now Nani continues to disappoint his national team.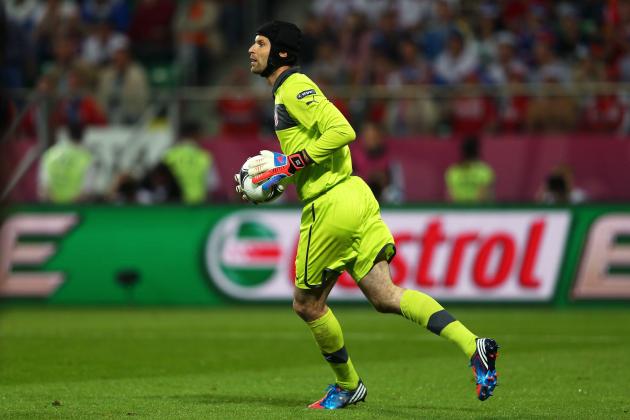 Clive Mason/Getty Images

The Chelsea goalkeeper is one of the most recognizable figures in European football. Petr Cech is a contender for the best goalkeeper in the English Premier League.
The Czech Republic were hammered by Russia in a 4-1 loss at their first match at the Euros. Although the goalkeeper made some fantastic saves throughout the match, the loss can be attributed to their poor defensive display. At Chelsea, Cech had an impressive line of defence to rely on, thus the poor defending will not be easy to adjust to. The Czech star may be faced with more one-on-one situations than he is used to.
However if Greece scores multiple goals against Czech Republic to win the match then the blame will fall on Petr Cech. While Iker Casillas and Joe Hart makes fantastic saves for their national team when their sides' defenses fail in avoidable situations, Petr Cech will not be able to direct the blame towards his defenders.
Hence, Petr Cech could be Czech Republic's disappointing superstar this summer.