MLB Trade Scenarios: One Blockbuster Deal to Fix Each Buyer's Biggest Problems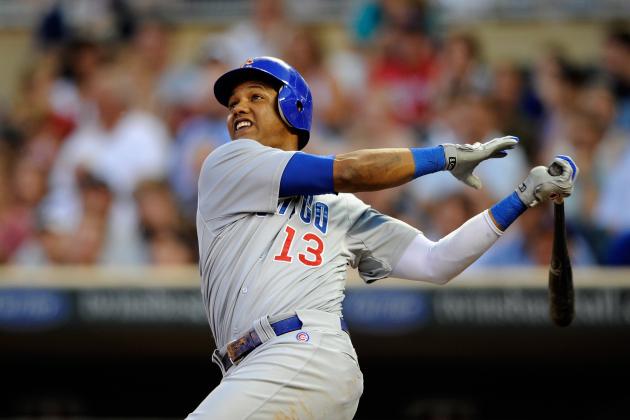 Hannah Foslien/Getty Images

If you had only one wish...
That's the thought behind this article, as we take a look at the teams who will likely be in contention as the trade deadline approaches.
No matter how good a team is or where they appear in the standings, each of them has at least one weakness that they would love to address. In a perfect world, they would deal with that weakness by simply asking a team that's flailing in the standings to give up the player they need in order to properly upgrade.
But in Major League Baseball, a perfect world doesn't exist.
Selling teams will likely be asking for the world for their players, and more than likely will request the first-born of the requesting team's general manager as well.
As W.C. Fields once said, there's a sucker born every minute, and selling teams inevitably find those suckers.
Where else would Jeff Bagwell be traded for Larry Andersen?
But I digress. For the purposes of this article, we'll put together one blockbuster trade that would properly address the biggest need for each buying team.
Do any of these trades have any shot in hell of actually happening? Probably not, but hey, this article wasn't written in a perfect world by a perfect author, either.
Begin Slideshow

»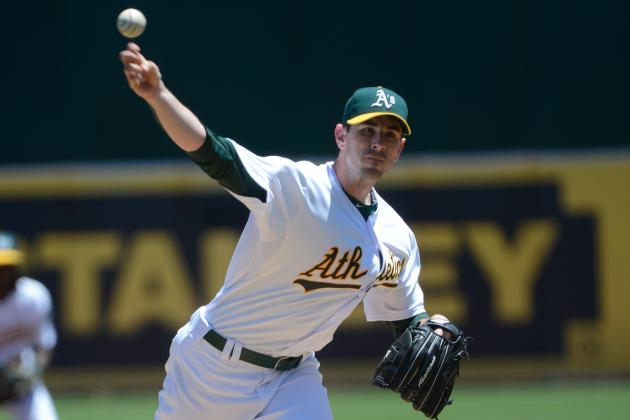 Thearon W. Henderson/Getty Images

Trade Scenario: Oakland Athletics trade starting pitcher Brandon McCarthy to Atlanta Braves for pitching prospect Sean Gilmartin and catching prospect Christian Bethancourt.
With a 4.17 ERA for the starting rotation, the Braves could use a solid option. McCarthy gives them that option without having to put pressure on current prospects to help out down the stretch.
Gilmartin can add to a nice stable of pitching prospects in Oakland, and hey, Brian McCann is the starter in Atlanta for a long time, so Bethancourt isn't going anywhere there.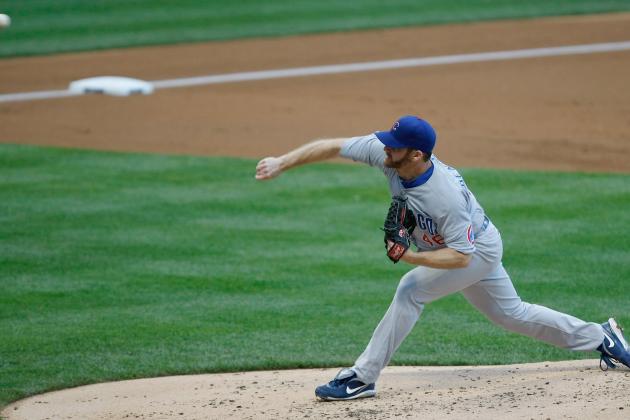 Scott Boehm/Getty Images

Trade Scenario: The Baltimore Orioles acquire starting pitcher Ryan Dempster from the Chicago Cubs for pitching prospect Dan Klein and infield prospect Billy Rowell.
The Baltimore Orioles are eight games above .500 and sitting just one game out of first place in the AL East, but the starting rotation is held together with duct tape, 11th in the American League with a 4.63 ERA.
In a perfect world, Dempster waives his no-trade rights for the chance to help an underdog make the playoffs. He's pitching his guts out in Chicago, and they're not going anywhere—why not do it for a team that has a shot?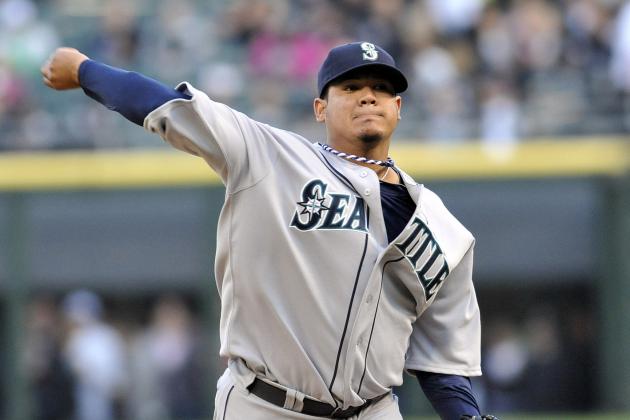 David Banks/Getty Images

Trade Scenario: The Boston Red Sox acquire starting pitcher Felix Hernandez from the Seattle Mariners for shortstop prospect Jose Iglesias and first baseman/left fielder Lars Anderson.
The Boston Red Sox starting rotation is in trouble, especially if they're heralding the return of Daisuke Matsuzaka from a year off due to Tommy John surgery. Since John Lackey isn't available to save the team, they need to do something, and fast.
King Felix could rule the roost in Boston with a trade, and the Red Sox are one of the few teams that can easily absorb the roughly $50 million still owed to him through the 2014 season.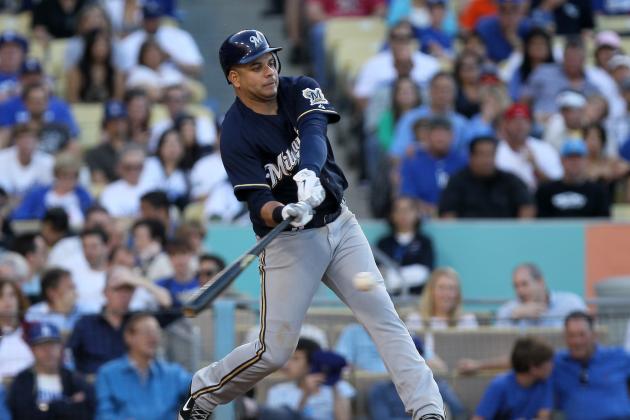 Stephen Dunn/Getty Images

Trade Scenario: The Chicago White Sox acquire third baseman Aramis Ramirez from the Milwaukee Brewers for third baseman Brent Morel and pitching prospect Jake Petricka.
Chicago White Sox manager Robin Ventura has his White Sox clinging to a half-game lead over the Cleveland Indians in the tight AL Central, and for a team that was thought to be re-tooling or re-building or whatever it is they called it over the offseason, they're now a team in contention.
A change of scenery could be just the medicine needed for Ramirez, who has struggled somewhat out of the gates in his first season in Milwaukee.
Since it could be very likely that the Brewers will be selling and re-tooling themselves, getting rid of Ramirez' contract could be a first step, and a step that could also help the White Sox, who have seen their current third basemen hit just .166 with zero homers.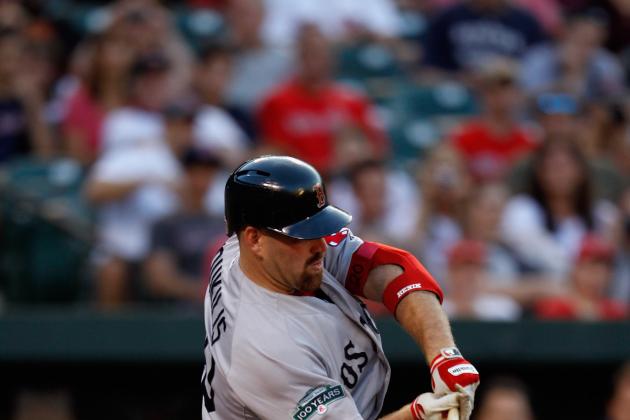 Rob Carr/Getty Images

Trade Scenario: The Cincinnati Reds acquire third baseman Kevin Youkilis from the Boston Red Sox for pitching prospect Daniel Renken.
At this point, no one really knows when or if third baseman Scott Rolen will return to Cincinnati. While Todd Frazier has done an excellent job filling in, the chance to acquire Youkilis is just to good to pass up.
Youkilis is from the Cincinnati area, so it will be a homecoming of sorts, and with his additional pop in the lineup, first baseman Joey Votto will get added protection as well.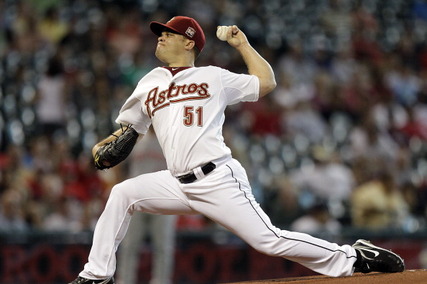 Bob Levey/Getty Images

Trade Scenario: The Cleveland lndians acquire starting pitcher Wandy Rodriguez from the Houston Astros for pitching prospect Zach Putnam and outfield prospect Luigi Rodriguez.
The strength of the Cleveland Indians pitching staff has thus far been their bullpen. Their rotation could use some help. Enter starting pitcher Wandy Rodriguez.
Rodriguez would give the Indians a great threat at the top of the rotation and, with the tight race in the AL Central, could prove to be the piece that gets them over the top.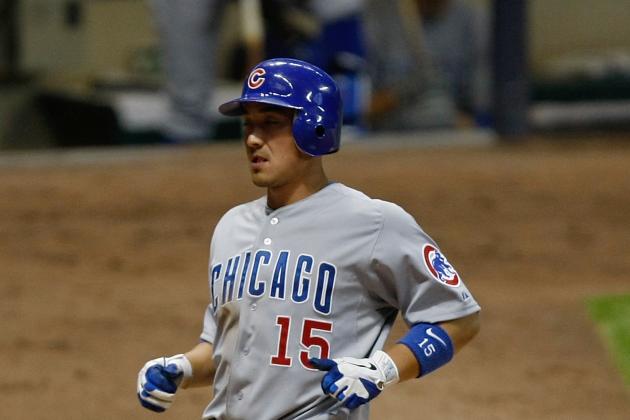 Scott Boehm/Getty Images

Trade Scenario: The Detroit Tigers acquire second baseman Darwin Barney from the Chicago Cubs for catching prospect James McCann and relief pitcher Collin Balester.
The Tigers are desperate to find a second baseman that can not only hit but provide a long-term solution as well. Since the Cubs have essentially said that everyone on the team is available except for pitcher Jeff Samardzija, Barney would be a perfect solution for their problem.
Barney is hitting .268 with three HR and 17 RBI, a far cry better than current Tigers' second basemen, who have contributed a collective .174 average with two homers and 13 RBI.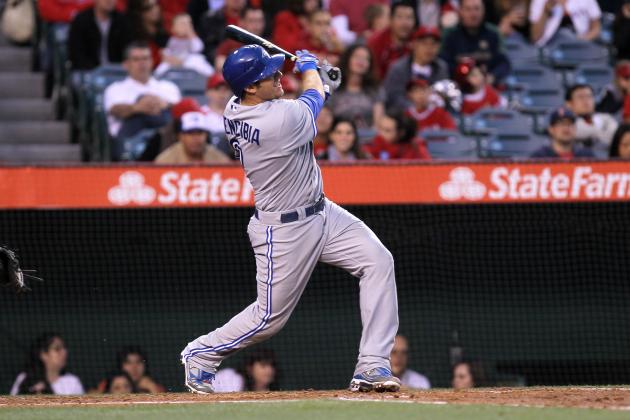 Stephen Dunn/Getty Images

Trade Scenario: The Los Angeles Angels acquire catcher J.P. Arencibia from the Toronto Blue Jays for pitching prospects Ariel Pena and Orangel Arenas.
The Los Angeles Angels are finally starting to gel, winning 14 of their last 18 games and sitting just three games behind the Texas Rangers in the race for the AL West Division title.
An obvious position of weakness for the Angels over the past two seasons has been behind the plate. While Chris Iannetta is on his way back after undergoing wrist surgery, he was only hitting .197 before his injury, and Angels' catchers have combined to hit just .209 with four homers and 12 RBI.
Arencibia could find himself out of a job anyway in Toronto with impressive prospect Travis D'Arnaud tearing up pitching at the Triple-A level. Arencibia may not hit for a high average, but the home-run power will be a plus.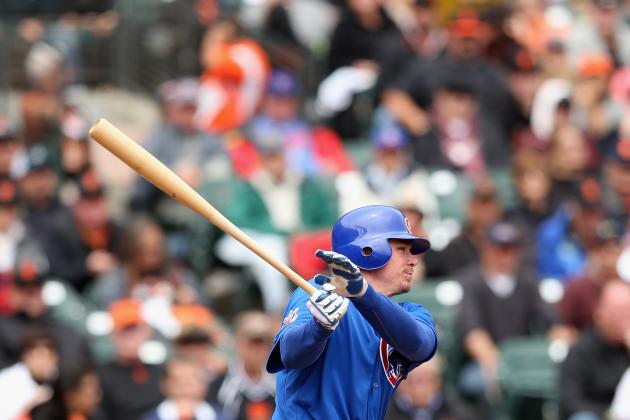 Ezra Shaw/Getty Images

Trade Scenario: The Los Angeles Dodgers acquire first baseman Bryan LaHair from the Chicago Cubs for utility player Elian Herrera and catching prospect Gorman Erickson.
At 39-22, the Los Angeles Dodgers have the best record in baseball, despite the loss of center fielder Matt Kemp and despite the paltry production from first baseman James Loney.
Adding LaHair would definitely help fulfill an offensive need, and LaHair would be able to stay at his natural position instead of moving to the outfield, which is the likely scenario in Chicago once the Cubs call up prospect Anthony Rizzo.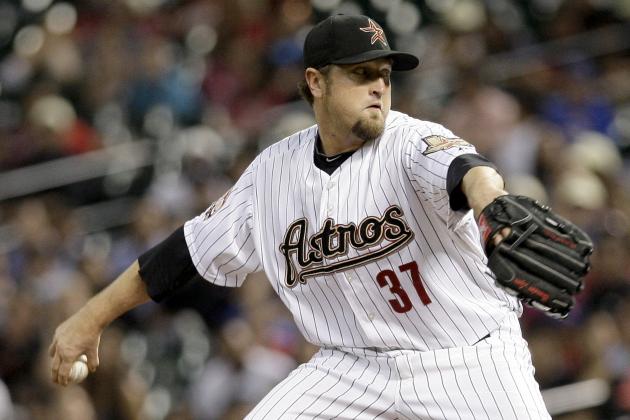 Thomas B. Shea/Getty Images

Trade Scenario: The Miami Marlins acquire relief pitcher Brandon Lyon from the Houston Astros for outfielder Scott Cousins.
The Miami Marlins are right in the thick of things in the crowded NL East race, just five games back of the Washington Nationals. However, they have lost six in a row, and the bullpen has been taxed. Adding Lyon to the mix would take the load off of both Randy Choate and Steve Cishek, who have both been outstanding.
Lyon has a 2.28 ERA in 25 appearances thus far for the Astros.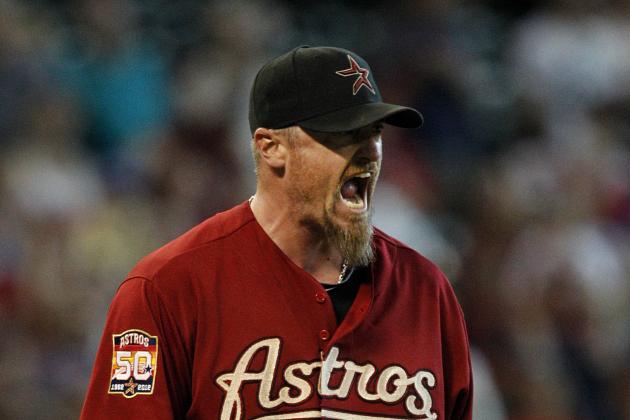 Bob Levey/Getty Images

Trade Scenario: The New York Mets acquire closer Brett Myers from the Houston Astros for pitching prospect Darin Gorski.
Houston Astros closer Brett Myers has been terrific in his role as closer for the Astros, registering 14 saves with a 2.14 ERA. Current Mets closer Frank Francisco has been heart attack-inducing all season long, with 15 saves but with a 5.55 ERA and 1.562 WHIP.
With the Mets' financial situation no longer in complete jeopardy, they could easily absorb the remainder of the $11 million owed to Myers for the season, and Mets fans wouldn't have to reach for a bottle of heartburn medicine when their closer is called upon.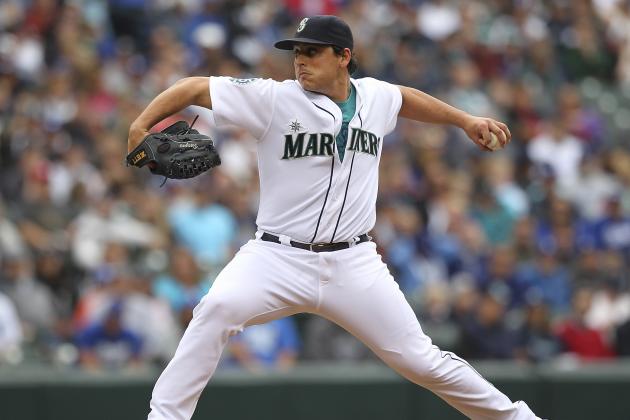 Otto Greule Jr/Getty Images

Trade Scenario: The Philadelphia Phillies acquire starting pitcher Jason Vargas from the Seattle Mariners for outfield prospect Jiwan James and reliever Jake Diekman.
The Philadelphia Phillies are two games under .500 and have lost eight of their last 10 games, but with no one running away in the NL East, they're still likely to be buyers, especially if Ryan Howard and Chase Utley return to the lineup anytime soon.
Adding starting Jason Vargas would be a shot in the arm for a rotation that is currently without Roy Halladay and inconsistent performances from both Kyle Kendrick and Joe Blanton.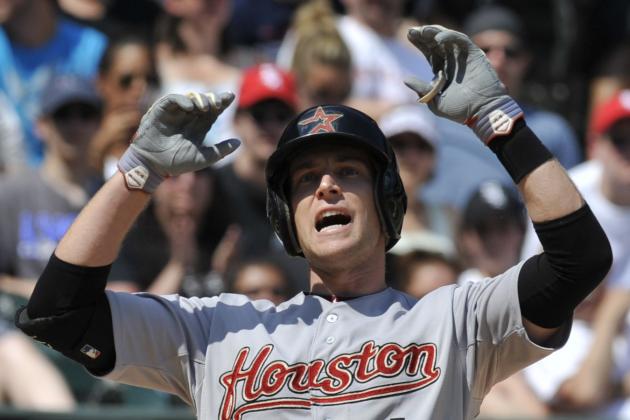 David Banks/Getty Images

Trade Scenario: The Pittsburgh Pirates acquire shortstop Jed Lowrie from the Houston Astros for pitching prospect Jeff Locke and reliever Evan Meek.
The Pittsburgh Pirates attempted to solve their shortstop situation by signing Clint Barmes over the offseason. Needless to say, it hasn't worked, as Barmes is hitting just .195 with three homers and 14 RBI. Lowrie would instantly upgrade a Pirates offense that has hit just .225, last in the National League.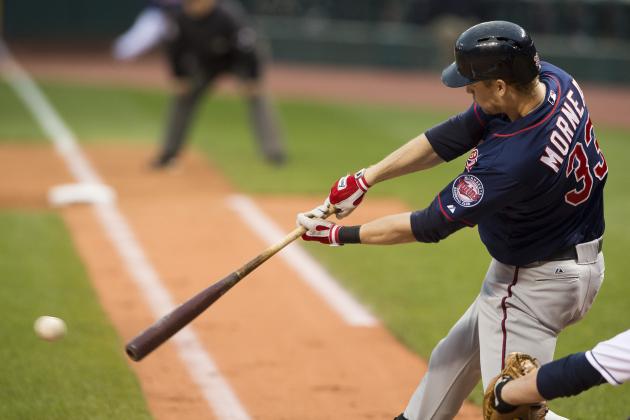 Jason Miller/Getty Images

Trade Scenario: The San Francisco Giants acquire first baseman Justin Morneau from the Minnesota Twins for first baseman Brett Pill and pitching prospect Stephen Harrold.
The San Francisco Giants have used a combination of Brandon Belt, Brett Pill, Aubrey Huff and Buster Posey at first base thus far in 2012, and with the exception of Posey, none of them have added significant contributions thus far.
The addition of Morneau would be a huge upgrade for a team struggling to score runs once again. Despite their offensive disadvantage, the Giants still find themselves just five games behind the Los Angeles Dodgers in the NL West.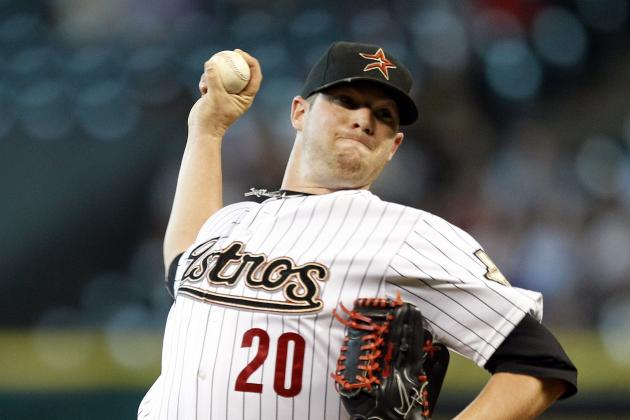 Bob Levey/Getty Images

Trade Scenario: The St. Louis Cardinals acquire starting pitcher Bud Norris from the Houston Astros for outfielder Shane Robinson.
With starting pitcher Jaime Garcia likely lost to the Cardinals for at least six-to-eight weeks while he rests his aching shoulder, the Cardinals are clearly in need of another pitcher who can pick up the load.
Bud Norris is 5-3 with a 4.65 ERA through 12 starts thus far and has proven to be an effective innings-eater. His $511K salary certainly won't break the bank for GM John Mozeliak, either.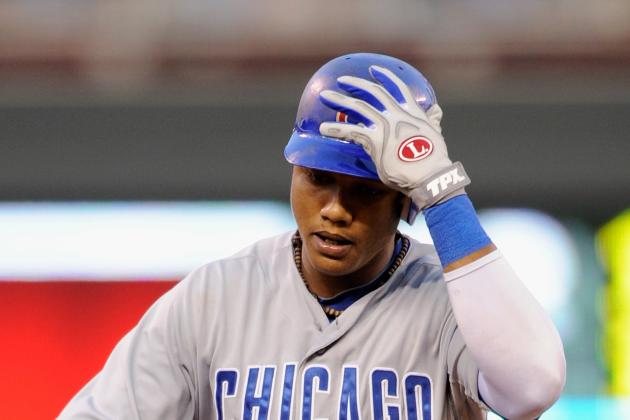 Hannah Foslien/Getty Images

Trade Scenario: The Tampa Bay Rays acquire shortstop Starlin Castro from the Chicago Cubs for whoever the Cubs ask for in return.
This is no doubt a pipe dream, but remember, we're talking about the perfect world here.
In that perfect world, Starling Castro would solve all the shortstop problems for the Tampa Bay Rays. No longer would they have to live through the nightmare of Elliot Johnson, Sean Rodriguez and Reid Brignac. No longer would they have to worry about the suspension of Tim Beckham and his massive disappointment as a top draft pick.
Castro takes care of all that and a lot more.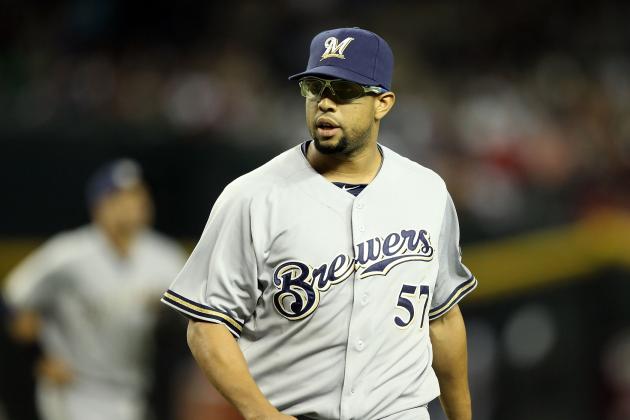 Christian Petersen/Getty Images

Trade Scenario: The Texas Rangers acquire reliever Francisco Rodriguez from the Milwaukee Brewers for utility player Brandon Snyder and outfield prospect Jordan Akins.
The Texas Rangers were considered one of the deepest teams in the majors in terms of pitching, but that depth has been tested lately with injuries to Derek Holland, Neftali Feliz and Alexi Ogando.
Ogando was starting in place of Holland on Sunday when he pulled a groin muscle running the bases on Sunday against the San Francisco Giants. Ogando's injury really hurts, as he was 1-0 with a 2.08 ERA and 35 strikeouts in 34.2 innings working mainly out of the bullpen before replacing Holland on Sunday.
Adding K-Rod would not only bolster the depth but add a quality arm to a bullpen that already has Joe Nathan, Mike Adams, Koji Uehara, Robbie Ross and Mark Lowe, all of whom have been outstanding thus far in 2012.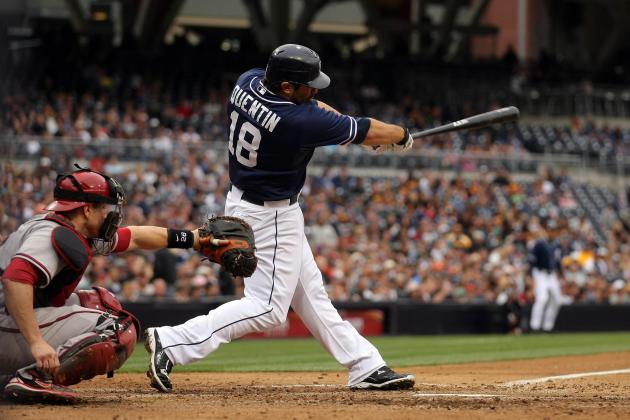 Donald Miralle/Getty Images

Trade Scenario: The Toronto Blue Jays acquire outfielder Carlos Quentin from the San Diego Padres for outfielder Eric Thames and pitching prospect Deck McGuire.
Rajai Davis and Eric Thames have played the bulk of the games in left field thus far this season for the Toronto Blue Jays, and while they haven't been terrible, the chance to upgrade with Quentin would just be way too good to pass up.
Quentin is healthy once again and tearing the cover off the ball, hitting .484 with five homers and nine RBI in nine games since his return from arthroscopic knee surgery in February. Quentin would give the Jays a formidable middle of the batting order along with Jose Bautista and Edwin Encarnacion.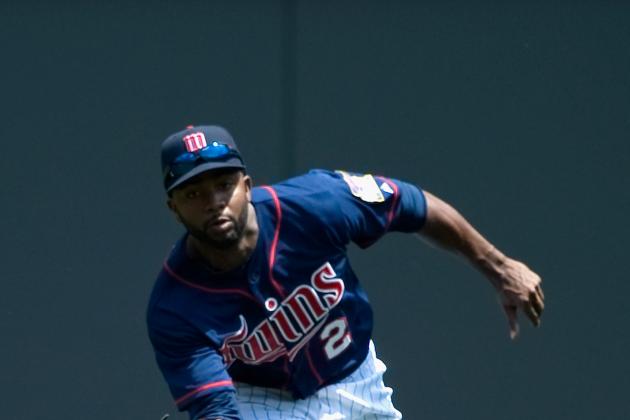 Hannah Foslien/Getty Images

Trade Scenario: The Washington Nationals acquire center fielder Denard Span for outfielder Roger Bernadina and pitching prospect Daniel Rosenbaum.
The Washington Nationals are still looking for a true center fielder. Bryce Harper is not looked upon as the long-term answer in center, and Jayson Werth can play center but is more suited to right. Adding Span would take care of that long-term answer.
Span is hitting .288 thus far for the Twins and providing excellent defense as well. The Nationals could play Harper in right until Werth returns, then move him to left field and have Michael Morse as a super-utility man who can play both corner outfield positions as well as first base, giving breathers to Harper, Werth and Adam LaRoche when needed.
Doug Mead is a featured columnist with Bleacher Report. His work has been featured on the Seattle Post-Intelligencer, SF Gate, CBS Sports, the Los Angeles Times and the Houston Chronicle. Follow Doug on Twitter, @Sports_A_Holic.