Tigers Find Magic in Late-Inning Rally, Steal Series from Reds with 7-6 Win
June 11, 2012

Jonathan Daniel/Getty Images
Nearly ready to hit the panic button, the Detroit Tigers may have found the mojo they were looking for by way of a late-inning comeback 7-6 win against one of the National League's best teams in the Cincinnati Reds.
Not only was it a series-winning victory, but also Detroit did it against Cincinnati's phenom reliever Aroldis Chapman—a nearly untouchable hurler with a devastating three-digit fastball.
Three innings in, it looked as though the Reds were going to coast against Detroit starter Drew Smyly, who struggled to find any sort of rhythm and wound up not entering the fourth inning due to a blister on his left middle finger.
Smyly had already given up three runs on four hits when the blister became too much, and Tigers manager Jim Leyland was forced to make a call to an already fatigued Detroit bullpen. Luis Marte got the call and entered for Smyly in the bottom of the fourth. 
Marte didn't provide much relief from a pressing Cincinnati offense, rendering two runs on three hits with a walk and two strikeouts. His departure found the Tigers down 4-1. Then, Brayan Villarreal gave up a two-run homer to Todd Frazier, scoring Brandon Phillips.
Villarreal, by way of a Tigers rally, wound up collecting his third win of the season before taking a seat following the seventh. 
Reds manager Dusty Baker was forced to work his bullpen to near exhaustion in the eighth, and a scrappy back-end Detroit offense brought the visiting Tigers back within reach.
Baker opted to go with Chapman following a Ramon Santiago walk and a Gerald Laird bloop single off Logan Ondrusek, putting two on with no outs for the Tigers.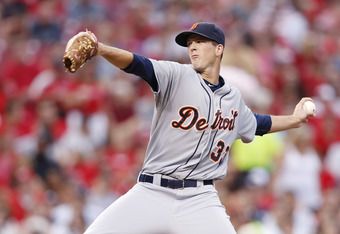 Joe Robbins/Getty Images
Chapman has been nearly lights out for the Reds in 2012. In 30 innings of work, he'd given up only two runs and struck out 54 while walking only nine. He also held an impressive 0.30 ERA.
Detroit was having none of Chapman's hype, though, and pinch-hitter Brennan Boesch promptly ripped a single to right to load the bases.
Chapman followed Boesch's hit with a hit of his own, nicking the jersey of Matt Young and forcing Santiago to the plate and Laird to third.
The biggest offensive stick for the Tigers in their only visit to Great American Ballpark this season belonged to Austin Jackson, making his second start after a stint on the 15-day disabled list.
Jackson went 0-for-4 last night, but plated three runs tonight including a home run in the fourth and a huge two-run ground-rule double off Chapman to score Laird and Perez during Detroit's eighth-inning onslaught.
Chapman then walked Detroit's Quintin Berry and let loose on a pitch to Miguel Cabrera, which shot to the backstop and scored Matt Young. The Tigers were in business.
The wild pitch proved to be the biggest of Chapman's miscues, as he promptly disposed of Cabrera, Prince Fielder and Delmon Young after struggling early in the inning. 
A nearly dejected ballclub may have had the lightning bolt it needed to make a comeback not only in a game that was all but lost but also on a season that was slowly slipping from their grasp. The Tigers, who entered the eighth down 6-3, exited up 7-6.
Cincinnati's best bullpen hurler finished with a blown save and a loss, his second of the season, on two hits and two runs, upping his ERA to 0.87.
Detroit battled adversity throughout the game offensively, leaving 11 men on base and going 4-for-10 with runners in scoring position. But a strong pitching effort by Joaquin Benoit in the eighth and Jose Valverde in the ninth allowed the Motor City Cats to escape Cincy and head north—hoping to pick on the struggling Chicago Cubs during a mid-week three-game series after a day off on Monday.
The series victory was the Tigers' first of the month and second of interleague play this season, having taken two of three from the Pirates in Detroit in mid-May. 
Comeback wins like this—the ones that take the collective effort of everyone on the team—can spark the kind of magic needed to get back into the A.L. Central race. 
Box stats provided by mlb.com.
Bleacher Report Featured Columnist J. Cook is a member of B/R's MLB Coverage Team and contributes to B/R's MLB content and Detroit Tigers page. He also covers key sport interest stories for all of Detroit's major sports teams.