Should Tyler Clippard Be the Washington Nationals' Permanent Closer?
June 11, 2012

Hunter Martin/Getty Images
The Washington Nationals have been without 2011 closer Drew Storen all season, but have been able to remain on top in the NL East for the majority of the year.
In Storen's absence, the Nats tried a platoon of Brad Lidge and Henry Rodriguez, but Lidge eventually landed on the DL. Meanwhile, Rodriguez started strong after assuming the role, but quickly fell apart.
The Nationals wanted to preserve Tyler Clippard as the set-up man, but they simply couldn't wait any longer and made him the closer.
Since making that transition, he has been flawless.
Clippard has been a perfect 8-for-8 in his save chances and has yet to allow a run. What's more, he has only allowed one hit. 
The question is, what happens now when Storen returns from the DL in July? Should Clippard be the full time closer in D.C.? If Clippard is still virtually unhittable, are they going to remove him from the closer role?
When Storen is ready to go, there is no reason that he should not be thrown back into the closing role. Clippard and Storen made up a lights-out one-two punch last season, and there is no reason to believe they would not return to that type of dominance.
Storen has proved that he can close ballgames and Clippard has proven he can dominate in the eighth inning. Last season, Storen shut the door 43 times while Clippard recorded 38 holds and a 3-0 record.
There is no reason to change a formula that was nothing but successful last season.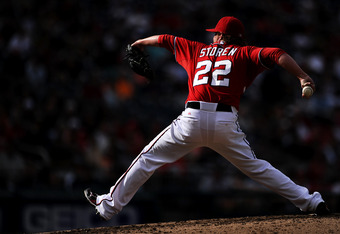 Patrick Smith/Getty Images
Reversing their roles when Storen returns would not benefit the team. Sure, we know that Clippard can close, but we are not sure what to expect from Storen in the eighth inning. In his career, he has pitched to a 3.86 ERA in the eighth, which is his worst ERA in any inning.
Should Storen stumble upon his return to closing games, the Nats have the luxury of putting Clippard back in.
The ideal situation, however, is for that Nats to have Clippard pitching an inning before Storen. This would be one of the most dominant combinations in the league and go a long way in the Nats' pursuit of the NL East crown.