TNA Slammiversary 2012: What Worked and What Didn't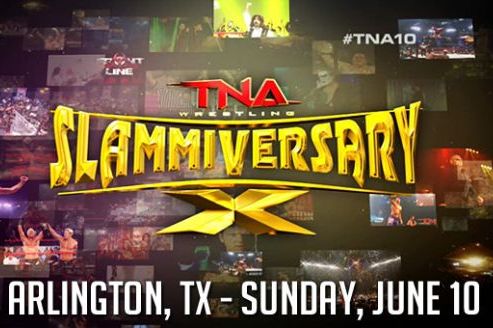 TNA's biggest show of the year (or is that Bound For Glory?) has arrived, and with it we celebrate the 10th birthday of Jeff and Jerry Jarrett's brainchild.
Remember when people said TNA wouldn't last six months, and then a year, and then three years and then 10 years? It amazes me that those people still doubt TNA and talk about it folding within the year.
Slammivesary has always been a risky PPV for me. It's one of TNA's big three (Slammiversary, Lockdown and Bound For Glory) and it's lodged right in between the other two. This often means that feuds aren't ended at Slammiversary but progressed, which can have a negative impact on the product.
This year, TNA pulled out all the stops, and I loved it. If you didn't, please comment and we shall argue about it.
Begin Slideshow

»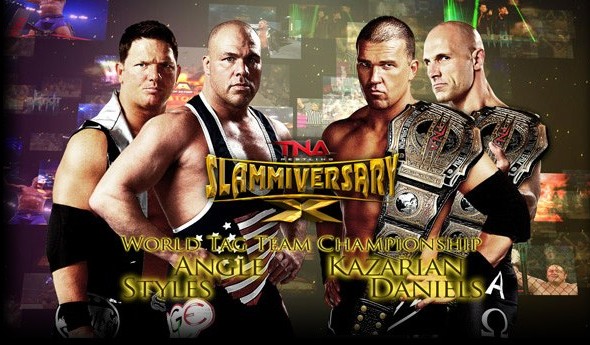 Opening Video - Ten years diluted into two minutes is a hard task, but I enjoyed the video.
Samoa Joe vs. Austin Aries - Fantastic start to the show, and the day Austin and Joe put on a bad match will be a sad day indeed.
Hernandez vs. Kid Kash - It's great to see both of these guys back in the ring, and they really performed (outside of a couple of botches). Hernandez was really over, and here's hoping his victory means he is going to get a push soon.
Daniels/Kaz/JB Backstage Segment - Great little interview in which Daniels had one of the best quotes I have heard in some time in TNA.
Anderson/Hardy/RVD - I think this may have been the best match between these three, but I don't want to see these guys wrestle each other for some time. It's been done to much.
Crimson Open Challenge - Crimson loses, James Storm returns and the crowd was nuts. Everything I could have hoped for here happened.
Sting Hall of Fame video - This was a great video and a fantastic moment for Sting. My money was on Jeff Jarrett.
Tessmacher vs. Gail Kim - It was a very good match and probably the best performance Tessmacher has put in. I'm not a big Tessmacher fan, but having her win in front of the home crowd was a nice choice.
Joseph Park vs. Bully Ray - Wrestling purists will hate this match; I found it entertaining and a good way to continue the feud.
AJ/Angle vs. Daniels/Kaz - This was fantastic, everyone performed to a high degree and Kaz and Daniels looked at home facing Kurt and AJ.
Main Event Promo Video - Got me really hyped up for the match.
Bobby Roode vs. Sting - Good match and Sting performed really well. It was nice to see Bobby Roode back in the Ric Flair-style jacket. Bobby Roode was his usual fantastic self. Ending felt cheap, though.
Sting Snapping - The moment he clotheslined the ref was the moment I knew this was going to lead to a big angle. Great image of a snapped Sting looking over Roode's shoulder.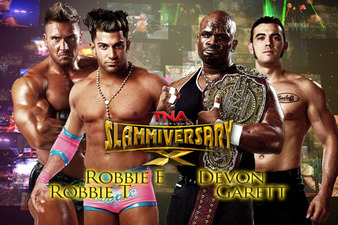 Hogan's Opening Promo - I understand the logic behind it (nobody gets a crowd going like Hulk Hogan), but their was too much pandering, and removing the weight limit from the X-Division just opens the door for guys like Abyss again.
Bischoff/Devon vs. Robbie E & T - I like Robbie E (I really do), but this feud is two months too long, and adding Garrett Bischoff is a terrible idea. Devon beat both men on his own; that should have ended it. The match was alright, but it was really hard to watch when Bischoff faced Robbie T. I couldn't decide who was greener, but at least one of them isn't being shoved down my throat.
Dixie Carter promo before Sting video - The whole thing was filled with so much promotional garbage it just made me sick. Dixie was going off like she was accepting an Oscar, thanking everyone like crazy. Thankfully, it was short.
The Top Three Moments in TNA History - Seriously? I understand Hulk Hogan coming into TNA was huge, but No. 2? Sting has returned like four times now—does that really deserve the No. 1 spot? The whole thing seemed stupid.
Christian Cage's Segment - It was nice to see Captain Charisma back, but it felt like a big tease. He isn't going to return to action for TNA and his appearance didn't serve any real purpose. If this is all TNA got for allowing Ric Flair to go to the Hall of Fame, then they got screwed.
Pre Show
Odds on Crimson's opponent - 2 to 1: Matt Morgan, 5 to 1: Bully Ray (so confident he can beat Park, he wrestles Crimson beforehand), 12 to 1: Christian Cage, 20 to 1: James Storm, 100 to 1: King Mo.
Odds on Hall of Fame inductee - 2 to 1: Jeff Jarrett, 4 to 1: Christian Cage, 25 to 1: Jerry Jarrett, 50 to 1: Sting, 80 to 1: AJ Styles.
Actual Show
- Removing the X-Division weight limit for one night was a nice touch, but it pretty much guaranteed that Aries would win.
- It's nice to see Kid Kash back in the ring, The X-Division has missed him.
- Hernandez has facial hair and a new tattoo—it works for him. Christy Hemme introduced him as one-half of Mexican America, but wasn't Anarquia sent back to OVW? The crowd is really behind Hernandez; I'm surprised they didn't introduce him as from Texas. He has part of the Texas state flag on the right leg of his shorts.
- Madison Rayne appeared during the first tag match; please don't let her crush be on Garrett Bischoff.
- Quote of the night:
JB, we're going to raise our glasses in a toast to the world tag team champions of the world. No, that's not redundant; we're two planets worth of great...We will continue to inspire the world to be more like ourselves and less like themselves, and you have permission to worship us now.

- Christopher Daniels
- Jeff Hardy's little coin-flip spot was weird until he jumped RVD, and then it was brilliant.
- Sting seemed legitimately surprised at the announcement of him being the Hall of Fame inductee. An official ceremony is good, but isn't Bound for Glory three months away?
- Miss Tessmacher is from Texas; that explains why she got the title shot.
- If Tessmacher is now the hot young face of the knockouts, then what is Velvet Sky?
- Joseph Park looks like a taller Drew Carey in his jumpsuit.
- Who the hell was the guy playing Abyss? There's no way that guy was Joseph Park or they would have shown his face.
- Roode vs. Sting: The battle of the liberace jackets.