Euro 2012 TV Schedule: Previews, Key Players and Predictions for Monday's Action
June 11, 2012

Scott Heavey/Getty Images
Monday brings another full day of Euro 2012 action, as we will see Group D take the pitch for the first time.
France and England square off at 12:00 p.m. ET on ESPN, followed by a tilt between Ukraine and Sweden at 2:45 p.m. ET, also on ESPN.
Here we'll give you a preview of the matches, the key players and predictions for the full slate of football.
France vs. England
The two European titans are matched up in the first match of Group D in what should prove to be an intriguing match. This is a huge game for both sides, as the winner will be have the upper hand in grabbing the top spot in the group and advancing to the knockout stage.
England qualified for the Euro by finishing six points ahead of their nearest competitor, Montenegro. Unfortunately, they lost Wayne Rooney to suspension after he kicked Montenegrin player Miodrag Dzudovic.
France comes into the tournament on a 20-game streak with just two losses and will be looking to make quick work of the Three Lions to come away with a win and three points as well as a stranglehold on the group.
Man to Watch for England: Ashley Young
Young will be on the attack for Roy Hodgson and will need to put on a great show because Wayne Rooney is suspended for the first two games of the tournament. Hodgson figures to use Young much more than Fabio Capello did and will use the 26-year-old as a forward against the French.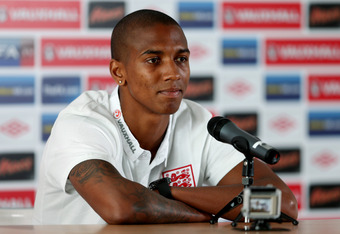 Scott Heavey/Getty Images
Young will be England's best scoring chance in this match. He'll likely rely on his dribbling to create enough space to open up some room to unleash his powerful shot.
Also, if Young can draw defensive attention to himself, that will leave Steven Gerrard open for some opportunities.
France's Key Player: Franck Ribery
If France is going to start this tournament off with three points, they will need everything Franck Ribery has. He must facilitate the French offense, creating opportunities with his crisp, accurate passes all over the field. If he has a shot, he needs to take it. He can't be picky.
Ribery is the man France goes to when a goal is needed. The French need to get a momentum-building win in Donetsk on Monday, and Ribery must lead them to it.
Prediction: France 2-1
Ukraine vs. Sweden
The two underdogs in this group arrived here in very different ways.
Sweden powered through qualifying, scoring 31 goals over the course of 10 games. They even knocked off the Dutch en route to qualifying as the best runner-up.
Ukraine enters as an automatic qualifier as the co-host of the European Championship along with Poland. They haven't been involved in a competitive international game in a long time, so it will be interesting to see if there's some rust to be shaken off.
Key Player for Sweden: Zlatan Ibrahimovic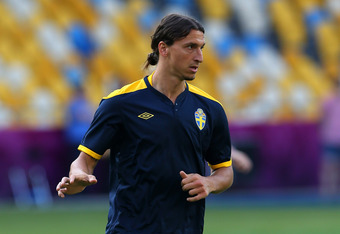 Alex Livesey/Getty Images
There's no other choice for Sweden's most important player than Zlatan Ibrahimovic. He scored 33 goals for AC Milan this season, but it remains to be seen if he will play with the same intensity during international play that he does during club play.
If he comes out slow and sloppy, the Swedes will lose this one. If he comes out on point and precise, we'll see a Swedish victory.
Key Player for Ukraine: Anatoliy Tymoshchuk
Tymoshchuk is one of the leaders of this Ukrainian team, and he'll need to be effective if Ukraine is to start the tournament off with three points.
He's the best passer on the team, and that trend will need to continue. He needs to find the midfielders flanking him with perfect through balls in order to take advantage of the Swedish defense.
His defensive contribution will be important as well. If he can help Ukraine own the middle of the field, the team should be OK.
Prediction: Sweden 3-2