Ohio State Football: Biggest Challenges Facing Urban Meyer in Year 1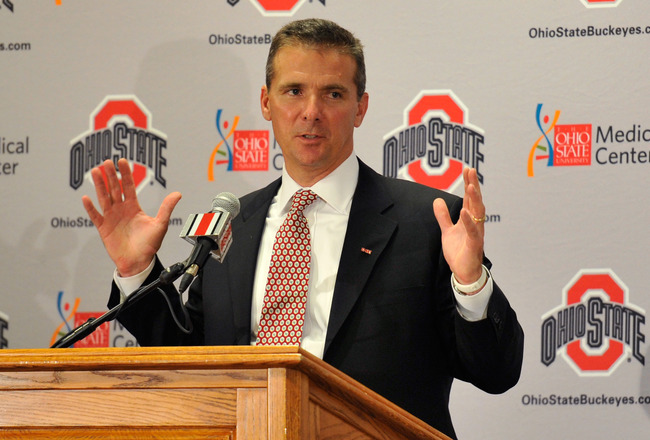 Jamie Sabau/Getty Images
Ohio State's fortunes took a major uptick after it hired Urban Meyer in November following the worst scandal in program history.
The program has had so much positive energy radiating from the Meyer hire in the past seven months that it's hard to not feel optimistic about the future.
Meyer has the most decorated resume of any coach that Ohio State has hired, but he will have some challenges to face in his first season as the head coach.
Here are some of the biggest challenges he has to overcome.
Postseason Ineligibility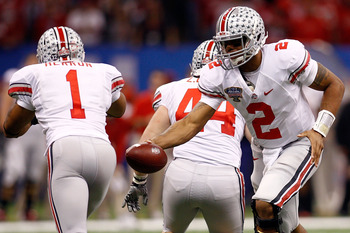 Chris Graythen/Getty Images
Because of the transgressions of the past made by former coach Jim Tressel and QB Terrelle Pryor, Meyer and the Buckeyes will not get to play for a Big Ten title or NCAA title, regardless of their record.
Looking back a few years ago when the Big Ten expanded to 12 teams and created a conference championship game, few people, if any, thought it would take at least three years for Ohio State to play in it.
In short, there is nothing tangible to play for this season for Meyer and OSU.
That is his biggest struggle in terms of getting his players motivated to play.
Meyer has been great through his young career in terms of getting his players ready to go, and getting some retribution for some of the bad losses OSU suffered last year would be a decent remedy to whet the appetites of the fans leading up to the 2013 season.
Lack of Proven Offensive Weapons
Kirk Irwin/Getty Images
Ohio State's offense was beyond abysmal last season outside of a few games, including portions of the Nebraska and Michigan losses.
There are plenty of potentially good offensive players on this roster, but when your top pass catcher—a three-way tie betweem Devin Smith, Corey Brown and Jake Stoneburner—had 14 catches, that's a major problem.
Braxton Miller should take a quantum leap in his progression going into this season, but he needs to find himself a few go-to weapons on offense.
Brown, Smith and Stoneburner should be able to give Miller some help, but the challenge for Meyer is finding a playmaker in this offense.
Rebuilding the Offensive Line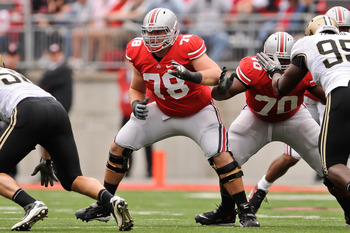 Jamie Sabau/Getty Images
New offensive line coach Ed Warriner has a great track record, including a great few seasons at Notre Dame. But he has his hands full at Ohio State.
Former offensive line coach Jim Bollman was not only a poor teacher of technique, but he also severely underrecruited the position towards the tailend of his time in Columbus.
With three long-time starters lost to graduation, the front line has been reshuffled quite a bit and looks like it will be a work in progress.
The lack of skill on the line was made more and more evident, as the Buckeyes always struggled up front against smaller, faster defensive ends like in the Gator Bowl loss to Florida.
Meyer and Warriner are going to need all the help they can get up front this year to make life easier for their offense.
A Brutal Road Schedule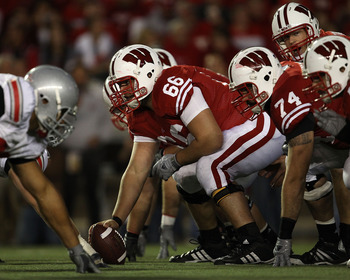 Jonathan Daniel/Getty Images
Ohio State only has four road games in the 2012 season, one of which is at Indiana, which lately, has been more of a home-field advantage for OSU.
The other three road games are as tough as it gets anywhere in all of college football.
OSU opens the Big Ten season at Michigan State, who has arguably the best defense in the Big Ten.
It also travels to Happy Valley to face Penn State, who has also been rejuvenated a little bit under new coach Bill O'Brien. Its road finale is in unfriendly territory, as it travels to Wisconsin.
The Badgers are the favorites in the Leaders Division again after landing Maryland transfer QB Danny O'Brien, who likely will start this season.
An Improved Michigan to End the Season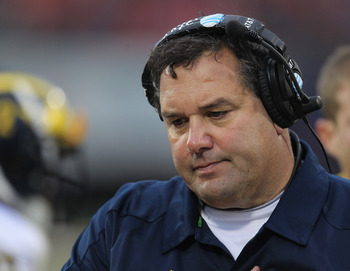 Jonathan Daniel/Getty Images
Michigan is definitely better than it has been in the last five years after coming from the depths of mediocrity to win a stunning Sugar Bowl title last season.
Brady Hoke has brought the rivalry back, and all calendars in Columbus are circled for November 26, when he makes his first trip to the Horseshoe.
With no games left in the season after The Game, Meyer's team has a chance not only at sweet revenge, but also at ending 2012 on a high note.
It won't be as easy as it was in the past years under Rich Rodriguez, but the ability is there for Ohio State to take down its longtime rivals.
A win over Michigan would be the icing on the cake of a great first season for Urban Meyer at Ohio State.
Follow me on Twitter @bielik_tim for the latest college football news and updates.
Keep Reading

Ohio State Football: Like this team?