Italy's Antonio di Natale scores in 61st minute against Spain.
Shaun Botterill/Getty Images
June 10, 2012
At Euro 2012, yesterday's drab performance in Group B, or the "Group of Death," in Ukraine yielded today to a much more entertaining brand of soccer in Poland during pool play.
Group C's cleverly nicknamed "Group of Debt."
The action in the Group of Debt featuring four European countries with struggling economies —Italy, Spain, Croatia and Ireland—far exceeded yesterday's sluggish efforts from the four teams—Germany, Holland, Denmark and Portugal—ranked in FIFA's Top 10 world rankings.
Those teams constitute the tournament's well-publicized Group of Death.
Life quickly became manifest today in the two Euro 2012 contests played in co-host country Poland. The Croatia versus Republic of Ireland match paired two of the championship's smallest entrants that historically punch well above their weight class.
Once again, the Irish and Croats failed to disappoint. 
Little time elapsed before the game's first goal came in the 3rd minute on a header by Mario Mandzukic. It seemed to slowly slip by Irish keeper Shay Given on the pitch's slick surface.
With a throng of 30,000 supporters filling most of the stadium seats in Gdansk, the Irish side quickly rebounded and equalized on a deft set play.
It resulted in a wondrous header by in the 19th minute by Sean St. Ledger.
However, the luck of these Irish didn't last very long as the Croats scored twice more, thanks to a relentless attacking style led by English Premier League star Luka Modric.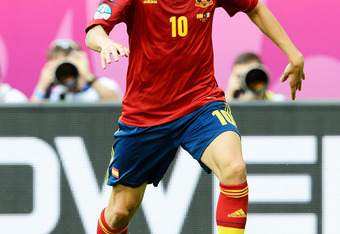 Spain's Cesc fabregas countered in the 64th minute against Italy.
Claudio Villa/Getty Images
In spite of the 3 -1 tally, the game entertained ESPN viewers with the tireless, gritty play of both teams and random shots of the fans in the stands who passionately demonstrated their country's national pride and their deep affinities for the sport. 
In the day's earlier match, two of soccer's royalty, Italy and Spain, kicked off in what amounted to non-stop, wonderfully-worked European football.
As expected, Spain demonstrated its precise passing and overall peskiness, thanks to its cadre of under-sized players like Xavi, Silva, Fabregas and Iniesta.
The Italians performed with the flair, exuberance, periodic flopping and overall excellence for which the Azzurri are internationally known. 
Italy scored first on Antonio di Natale's brilliant breakaway in the 61st minute.
Spain quickly countered with magic of its own on a Csec Fabregas strike in the 64th minute. 
The rest of the match showcased the classic back and forth action indicative of two heavyweight soccer powers. Spain's admired, but inconsistent, striker Fernando Torres displayed uncanny ability to break free twice in the Italian backfield.
However, he failed to put the ball in the back of the net and the game ended in a 1-1 draw.
Though Spain remains one of the favorites of this European event, the Italians proved to be worthy adversaries.
And, maybe even the always surprising Croatians.
Following yesterday's tepid Group of Death pool play games touting four of the world's Top 10 teams, today's Group of Debt contests were a most welcome improvement.
The Group of Debt matches lived up to the rich expectations ESPN forecast for Euro 2012 and proved that, despite their countries' struggling economies, the safest and smartest investment is looking at either Italy or Spain as potential Euro 2012 Champions.
Unless Group of Death favorites Holland or Germany arise from their catatonic states. 
Straight talk. No static.
MIKE, aka Mike Raffone: thee ultimate talking head on sports!
Like the new article format? Send us feedback!