2012 Men's French Open Final Start Time: Delay Won't Impact Nadal's Chances
June 11, 2012

Mike Hewitt/Getty Images
The 2012 Men's French Open final between Rafeal Nadal and Novak Djokovic is slated to resume at 1:00 PM local time at Roland Garros. The afternoon start should serve Nadal well, as it will give him ample time to treat and warm up his knees, if needed.
Nadal was off to a roaring start in Sunday's final, taking the first two sets in what looked as though it would be another cruise-control win on the clay for the six-time French Open winner.
But steady rains made the court slick and the balls soggy, severely mitigating the advantages Nadal claims on the surface that normally rewards topspin.
While Nadal's knees didn't appear to be a problem, cold and wet conditions can cause muscles to tighten, potentially creating issues with tendinitis. Having an entire morning to get loose will certainly benefit any lingering issues with his knees.
Weather conditions could delay the match until at least Tuesday, though. The forecast is calling for rain and temperatures in the mid-60's on Monday.
NBC has announced they will telecast the finals on the NBC Sports Network. While the 7:00 AM ET start will certainly preclude many viewers, their cable network also reaches 35 million fewer homes than their broadcast channel.
Both players are anxious to get back on the court. Nadal is trying to break a tie with Bjorn Borg for the most French Open titles, currently with six. 
Djokovic has the opportunity to be the first tennis player to simultaneously hold all four majors at one time since Rod Laver accomplished a true calendar Grand Slam in 1969.
The clay at Roland Garros have been covered, but if the players are expected to compete in wet conditions the court will definitely tip in Djoker's favor. He is a harder hitter than Nadal, and while clay generally absorbs speed, it is quite slippery when wet.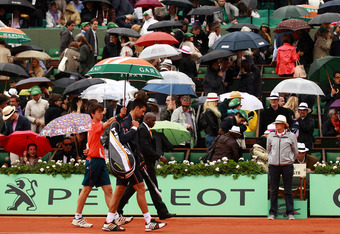 Clive Brunskill/Getty Images
Fast balls skid well on wet clay.
Nadal's well-established topspin normally bites into the clay, helping his shots push opponents back and on the defensive. When wet, his advantage on clay is eroded. His "lefty" advantage is also lost. While he can normally pit heavy forehand shots against the other player's backhand, a soggy tennis ball doesn't allow him to capitalize.
Djokovic has established he is currently playing better than Nadal. Be it health or simple skill, Nadal's success against Djokovic has been his superior play on clay. If the tournament is finished under relatively dry conditions, then so are Djokovic's chances to complete his slam.
However, Nadal will not likely be able to capture his seventh title if they play under wet conditions. With his advantages nullified, Djokovic is simply playing better tennis right now.