New Jersey Devils: Offseason Changes Needed to Return to the Finals Next Year
June 11, 2012

Jim McIsaac/Getty Images
The New Jersey Devils have defied predictions and odds alike, winning back-to-back games in the Finals to stave off elimination. Monday, they will face off in Los Angeles for Game 6 against the Kings.
A win would mean they fought their way back from down 3-0 in the series, a loss means it's the Kings' Stanley Cup. Either way, though, the season will be over by Wednesday.
The Devils' playoff run came as a surprise to many who believed them inferior to some of their Atlantic Division rivals like the Pittsburgh Penguins, Philadelphia Flyers and New York Rangers.
The Devils have proven themselves, though, fighting their way through two of those foes en route to their first finals appearance since 2003.
Sadly, next year's team will not be the same as this year's. Many players are headed for free agency, key players have aged another year and others may simply not reach expectations. However, the Devils do have a core good enough to make back-to-back finals. Here's how they do it:
Keep Up Scoring:
For one of the first times ever, a successful Devils team has been built on offense more than defense. Boasting three 30-goal scorers, the Devils had a number of weapons in their arsenal this season.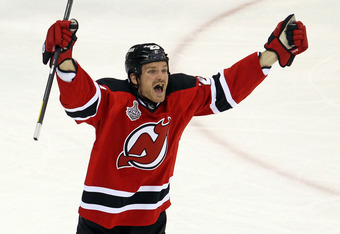 Jim McIsaac/Getty Images
Ilya Kovalchuk, Patrik Elias and David Clarkson will return, but Zach Parise's future is less clear.
The Devils' captain has made it clear he wants to play for a contender, and it would be hard to make the argument that the Devils don't fit that category. However, free agency is entirely unpredictable. Should Parise depart, it will leave a gaping hole in the roster.
Confronted with one less superstar, the Devils may be inclined to shift back to a defensive style. This would be ineffective: their defense simply isn't good enough to carry them, and Marty Brodeur is only getting older. If they try to lean on their defense too much, the Devils will not make it far in the playoffs.
Rather, the Devils need to keep up their offensive awakening. Even if Parise departs, they have a number of talented forwards.
Kovalchuk is the most notable and would undoubtedly be one of the leaders in a Parise-less system, Elias is a life-long Devil who can still put up 70-plus points and play a solid two-way game. Clarkson reached a career high in goals this past season, and will look to build on his totals from this season.
Other players may rise to the challenge as well: Travis Zajac missed much of the season with injuries, but has looked superb in the playoffs. He's developed good chemistry with Kovalchuk, and should be an offensive catalyst regardless of whether Parise is on the other wing.
Rookie Adam Henrique has been a pleasant surprise, going from relatively-unknown prospect to Calder Trophy nominee. Henrique was good enough this season that many even forgot that Zajac was missing. With both healthy next season, the Devils will have two very dangerous centers.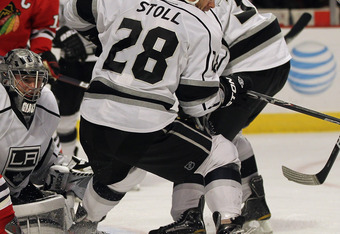 Jonathan Daniel/Getty Images
Re-Acquire Some Grit:
One of the most surprising aspects of the Devils' playoff run this year is the performance of role-players like Ryan Carter, Alexei Ponikarovsky, Steve Bernier, Brian Gionta and Bryce Salvador.
Unfortunately, all of those players will be free agents at the end of this season. Some may return, but many will likely not, and with their departures, they'll be taking a lot of physicality too.
Those players make up half of the Devils' top-10 hitters. They've all provided much-needed offense at times, but they've all played more important roles as well: they kept the Devils competitive against hyper-physical teams.
The Flyers, Rangers and Kings all like to hit more than the Devils, but thanks to the play of these guys, along with Dainius Zubrus, Clarkson and a couple others, they have not been out-muscled.
The Devils have the skill needed, and grit should be a good deal easier to find on the open market. However, if they fail to find some and leave all the rough-and-tumble play to Clarkson, Zubrus and Parise, they'll soon find themselves outmatched.
Pick Up a Top-Four Defenseman: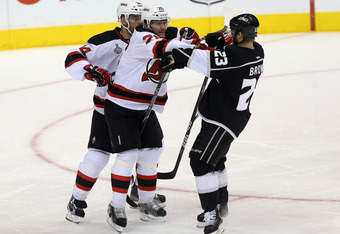 Bruce Bennett/Getty Images
The Devils' defense has been as pleasantly surprising as any aspect of the team: despite the fact that the squad is largely made up of unknowns, the six skaters have performed admirably in front of Martin Brodeur.
Salvador and Peter Harrold are set to be UFAs, while Mark Fayne will be a restricted free agent. Expect Fayne to return, but don't be too sure with either of the others. They've both played great hockey in the playoffs, and are due for raises the Devils may not be capable of (or interested in) giving.
However, the Devils are not without cap space—especially if they fail to bring back Parise. If they could sign Shea Weber, yeah, that would be pretty awesome. Given that every team in the league wants Weber, it's unlikely.
But Weber's not the only good D-man out there, and the Devils should be able to find someone suitable to solidify their back end.
Clarify the Goaltending Situation:
Martin Brodeur seems to want to return next season, and after the playoffs he's given the Devils, it should be hard to turn him away. He'll likely re-up, and will probably even maintain the starting position. Even so, the Devils have a lot of planning to do.
This season, Marty played 59 games. That's a marked decline from his previous playoff years, where he would regularly play 70 or more regular-season games.
The decrease in play suggests Brodeur has recognized himself as mortal, but it's a trend that needs to continue. Brodeur is likely able to play well in the finals because he was able to rest more during the regular season. With another year added onto his already-long career, he'll need more rest than ever. And that's where the problem occurs.
The Devils' backup goalie this year was Johan Hedberg. Hedberg—Moose, as he's affectionately known—has been an admirable back up, but he's also 39, just a year younger than Marty. Like Marty, he's a free-agent come July 1, and it's hard to believe the Devils will bring both of them back.
The Devils need a successor for Marty. It's been known for years, and it's not like they aren't trying. But now it's a must.
If Marty wants to play again next season, okay. But it's no longer the time to have a career backup behind him. The Devils need to find their next goalie—either in their own system or through trade or free agency—get him on the roster and make sure he gets at least 25 starts next season.
Ideally, he'll play more, but at the very least he needs to take on a backup role and do it well. That way, whenever Marty decides to retire, the Devils will have someone with a long career ahead of him ready to step in.
Finding a goalie of the future would also make the Devils a much more desirable locale for free agents, given that it's currently their biggest question mark.
Above All Else, Remain Confident:
Few thought the Devils would get this far, but they have. After the Flyers disassembled the Eastern-favorite Penguins, New Jersey handed Philadelphia four straight losses. They then took on the Eastern-best Rangers, and managed to defeat them three-straight times to win the series.
What I'm saying is, the Devils have been excellent: they've shown resilience and courage, consistency and some surprising skill as well. Next year, the key is to keep it up.
The free-agency market could go any number of ways. The Rangers, Flyers and Penguins always seem to be making offseason moves, and some of those moves may come at the expense of the Devils.
However, no matter what, the Devils need to remember that they can still compete. Against Atlantic teams that finished the season with more points and an advantage in the season series, the Devils came out victorious. There are a deeper and more talented team than almost anyone realized, and they have to continue to believe in their ability to win.
Zach Parise did not single-handedly take this team to the finals, far from it. The Devils are here because they've received contributions from so many different players, and everyone has proven themselves capable when the pressure is on. Losing Parise wouldn't change that. 
The Devils have long been a proud franchise built on consistency and loyalty. The key for them moving forward is to remember where they've come from, remember the players who wore the same jerseys they wear, and remember that they have the ability to beat any team in the league.
It's hard for a team to maintain its identity during an eventful offseason, but no matter who leaves or who joins, the Devils know they are capable of making a final.
Adam Henrique, David Clarkson, Ilya Kovalchuk, have all gone deep into the playoffs now. More than anything, the Devils just need to remain confident. If they play the season with an attitude befitting a reigning Eastern Conference champ, they'll go far in the playoffs next season.