WWE: 10 Opponents John Cena Should Feud with After Big Show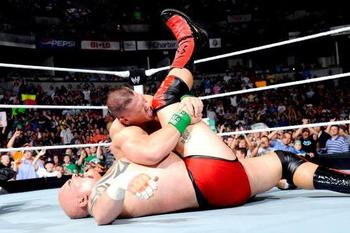 John Cena gives Tensai his first pin-fall loss. (Courtesy of WWE.com)
This Sunday, John Cena will battle Big Show in a Steel Cage match at the No Way Out pay-per-view. This stems from Show's attack on Cena in the main event of Over the Limit last month, where the World's Largest Athlete cost Cena his match against Raw general manager John Laurinaitis.
Needless to say, not many viewers that have been watching WWE for quite some time are too excited for this pending program between Show and Cena merely due to the fact they've feuded a number of times prior to now. We've already seen Cena play Superman by successfully executing both of his Attitude Adjustment and STF finishing maneuvers on Show in the past, so what would be so special about it if we saw it again?
With WWE having a history of hosting some of their most epic rivalries occur during the summer, i.e. Punk and Cena last year, I sincerely hope that this recurring rivalry between these two former WWE Champions doesn't go past the No Way Out event. That being said, who could potentially target Cena next as we quickly approach the SummerSlam pay-per-view?
Tensai

John Cena vs. Tensai

Upon his return to the WWE the night following WrestleMania 28, Lord Tensai was billed as an unstoppable force with a Japanese background. Only two weeks following his arrival, Tensai quickly made an impact by defeating John Cena in an Extreme Rules in the main event of Raw.
Although Tensai disappeared from television shortly thereafter, he re-emerged as Cena's impromptu opponent last week on Raw. Despite a strong effort against the multiple-time WWE Champion, the former Lord suffered his first loss to Cena via pin-fall.
During Cena's subsequent match with Michael Cole, Tensai attempted to exact his revenge by executing his finishing maneuver on Cena to no avail. For what it's worth, they provided a pretty good match for the time they were given that night, and Tensai targeting the Cenation leader yet again would make perfect sense.
Cody Rhodes

John Cena vs. Cody Rhodes

Since becoming a breakout star early last year, Cody Rhodes has been flourishing in his rising role on the SmackDown brand. Having already won the Intercontinental Championship on two separate occasions, it's only a matter of time before Rhodes receives the main event he so rightfully deserves.
While Rhodes may be currently entangled in a feud with Christian, that doesn't mean he'll be stuck in the mid-card yet again this summer season. Sources have indicated that the third-generation star is primed for a push in the very near future, more specifically on the Raw brand.
If you're an up-and-coming star in the WWE, there's no one better to help get you over than John Cena. Of course, you may be thinking to yourself that Cena is always the first one to "bury" young talent, but he just so happens to be the face of the company, so a victory of the former WWE Champion is an impressive feat all in itself.
We haven't seen much of Rhodes and Cena together in recent years, so a feud between the two could really be something fresh and beneficial for both parties.
Mark Henry

John Cena vs. Mark Henry

Although both John Cena and Mark Henry have been apart of the WWE for nearly 10 years, it's amazing to think that they have yet to have a legitimate one-on-one rivalry with each other. Cena and Henry are two powerhouses that share very similar styles, so it's baffling that these seasoned veterans have never actually set their sights on one another.
If you can recall, these two also happen to be very good friends both inside and outside the ring. During the two-year time period that Henry portrayed a fan favorite, he aided Cena on more than occasion in hopes of protecting his fellow happy go-lucky pal.
Now that the World's Strongest Man is a full-blown heel, blaming Cena for never being there for him and whatnot could trigger the feud I've been pulling for. With Henry currently out on the disabled list, making Cena his first target upon his return could be an interesting angle to say the least.
Christian

John Cena vs. Christian

Once then-WWE Champion John Cena was drafted to Monday Night Raw apart of the 2005 WWE draft lottery, he was immediately confronted and challenged by Christian. During his run as the CLB, Christian was at the peak of his career, and many believed that it was his time to take the strap off Cena at that year's Vengeance event, but it sadly never came to fruition.
With Christian turning heel once again last year, it seemed ideal that he'd be eventually feuding with John Cena when he moved over to the Raw brand, but he reverted back into a fan favorite before that could occur. I always thought that a feud between Cena and Christian had the potential to be something much greater than what it was given in 2005, and I still firmly believe that there's hope we could see a rivalry erupt between the two at some point in time.
Dolph Ziggler

John Cena vs. Dolph Ziggler

Since debuting back in 2008, Dolph Ziggler has proved to the world that he's not only deserving, but also capable of a chance in the spotlight. He's been involved in a handful of top title matchups in recent years, and it's only a matter of time before that prestigious prize is once again around his waist.
Until then, Ziggler will have to continue to build momentum by picking up victories over credible stars instead of acting as a glorified jobber to the likes of Brodus Clay and Santino Marella. In order to achieve said task, entering a feud with the one and only John Cena could do wonders for the bleached-blonde Superstar's career.
As you may already know, both Cena and Ziggler have storied amateur wrestling backgrounds that could easily make for a solid contest. Whether this rivalry erupts over the WWE Championship this upcoming summer season or not, expect Cena and Ziggler to cross paths sooner rather than later.
Dean Ambrose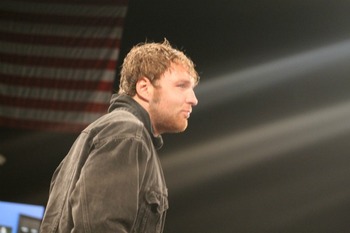 Dean Ambrose
Of the entire crop of FCW talent that WWE currently has available, it comes as no surprise that Dean Ambrose is the most ready rookie of them all. From the tremendous work he's exhibited down in Florida as of late, it's safe to say he's primed to become a major star in the company once he eventually makes his anticipated televised debut.
Most recently, Ambrose has been embroiled in a feud with the legendary Mick Foley over social networking. Although it seemed that the rivalry could have been a setup for Ambrose's move to the main roster, the angle has since been dropped and hasn't been hot as it once was.
If the Nexus storyline two summers ago was any indication, John Cena is the one to target if you're an arriving rookie on the scene looking to make an impact. Having the sick-minded Superstar debut in a shocking manner by ambushing Cena could made him into a star almost instantly.
Zack Ryder

John Cena vs. Zack Ryder

During the premiere episodes of Zack Ryder's Z! True Long Island Story YouTube series, Ryder did everything he possible could to get John Cena to appear on his show. Over time, the friendship between the two grew on television to the point where they were officially "broskis for life".
Late last year, Cena helped Ryder realize his dream by finally winning the United States Championship at WWE TLC in December, but it all went downhill from there. With Ryder gradually getting closer to Eve thereafter, the mastermind Diva manipulated Ryder into thinking she was cheating on him with Cena, thus ending their friendship.
With Ryder no longer aligned with the former WWE Champion, his career has been sent into a downward spiral that he has yet to been able to recover from. It was heavily speculated that a Ryder heel turn was in the works, but was ultimately dropped as the Long Island Iced Z reverted back to being a WWE Superstars regular.
As we approach the summer season, Ryder could blame Cena for his recent losing ways and reignite the foreshadowed rivalry from a few months back. Not only could it give Ryder his rightful spot back on television, but it could also add an extra serious layer to his character that has been absent for quite some time.
Daniel Bryan

John Cena vs. Daniel Bryan

Since the start of 2012, Daniel Bryan has developed into one of the hottest heels WWE has to offer today, with his growing popularity and charisma on the mic and in his character. While he may no longer be World Heavyweight Champion, there's a strong chance Bryan could walk out of No Way Out this Sunday as the new WWE Champion.
That being said, there aren't all that many faces he can defend that strap against with the roster being thinner than ever at the moment. Sure, he can have a rematch with CM Punk, but that'd seem like a rehash of their bout at Over the Limit.
Why not switch it up and throw John Cena back into the title picture? The 10-time WWE Champion hasn't been involved in a title match since last year's Vengeance pay-per-view, so having him contend for the strap would be a breath of fresh air.
Whether this feud between Bryan and Cena erupt over the prestigious prize or not, there is enough history between them that it isn't necessary for something to be on the line.
On the fateful night that the Nexus debuted two years ago, it was Bryan's actions towards Cena that included the American Dragon spitting in the face of Cena and subsequently forcefully kicking him in the skull that got him fired days later. Once Bryan returned to the WWE two months later at SummerSlam, it was he and Cena who were the final two members of Team WWE in their tag match against Nexus.
A decade ago, Bryan received his first WWE tryout in a match against Cena on Velocity, a bout that the future face of the company emerged victorious in. With the amount of chemistry and background between these two, there's no doubting the importance of this rivalry hopefully coming to fruition in the very near future.
Brock Lesnar

John Cena vs. Brock Lesnar

On the night after WrestleMania 28, Brock Lesnar made his explosive return to the WWE by laying waste to John Cena at the conclusion of the show. The two battled in a No Holds Barred match at Extreme Rules a few weeks later, where Cena shockingly emerged victorious with an awe-inspiring Attitude Adjustment on the steel steps.
On the subsequent edition of Raw, Lesnar was written out of storylines after viciously attacking WWE COO Triple H and breaking the arm of the Game. The following week, Lesnar's official business associate Paul Heyman announced that the Next Big Thing had "quit" the company, thus keeping him off television for the foreseeable future.
Nonetheless, his feud with Cena earlier this year had the potential to be much greater since both were the top faces of WWE and UFC respectively at one point in time. Sadly, they rushed the rivalry too quickly and had it culminate at Extreme Rules in an anti-climatic fashion instead to prevent Lesnar from using up too many of his contracted dates.
Once Lesnar eventually returns to the ring later this year, reigniting his rivalry with Cena could produce yet another strong matchup that could pick up where it left off in April. Whether it be on a future edition of Raw or even at WrestleMania 29, expect Lesnar to seek vengeance.
CM Punk

John Cena vs. CM Punk

A year ago yesterday, CM Punk picked up a shocking victory against then-WWE Champion John Cena in the main event of Monday Night Raw, thus triggering the "change" that Punk stated would alter the entire landscape of the WWE. Sure enough, Punk was right.
Thereafter, Punk defeated Cena once again at the Money in the Bank pay-per-view, thus time capturing the coveted WWE Championship in controversial fashion. Once the Second City Saint returned to the company a mere eight days later, he immediately challenged Cena to a title unification match at SummerSlam, where Punk once again emerged victorious.
At the conclusion of the bout, Cena had his foot placed on the rope, which would usually mean that the pinfall on Cena was invalid. However, special guest referee Triple H failed to see the rope break, meaning Punk's victory over the Cenation leader was indeed a fluke.
Although they competed in their third and final match together to date eight days removed from SummerSlam, Kevin Nash made his presence known during the course of the contest and distracted Punk, which allowed Cena to capitalize on the victory.
Regardless of that match, Cena should still reset his sights back on the Straightedge Superstar and his WWE Championship as we approach Money in the Bank next month, the same event where the two initially faced off in the first place. Of course, a Cena "heel" turn is vastly unlikely at this point in time, but having him obsess over the fact that he was never able to significantly defeat Punk last summer could drive him over the edge.
Visit my website at Next Era Wrestling, as well as my SAVE US GSM, WrestleRant and Spoilers podcasts for more of my thoughts and writings, along with WWE/TNA news, rumors, reviews and more.
Listen to Internet radio with Spoilerspodcast on Blog Talk Radio
Keep Reading