Stanley Cup Finals 2012: Kings vs. Devils Game 6 Preview and Prediction
June 11, 2012

Bruce Bennett/Getty Images
Game 6 of the 2012 Stanley Cup Finals starts Monday at 8:00 p.m. ET from the Staples Center in Los Angeles.
The Los Angeles Kings have a 3-2 series lead over the New Jersey Devils, but have lost back-to-back games. The Kings will once again look to close out the Devils at home and win their first Stanley Cup.
Series Results
Game 1: Kings 2 at Devils 1 (OT)
Game 2: Kings 2 at Devils 1 (OT)
Game 3: Devils 0 at Kings 4
Game 4: Devils 3 at Kings 1
Game 5: Kings 1 at Devils 1
Game 6: Devils at Kings: Monday, June 11, 8:00 p.m. ET
Game 7*: Kings at Devils: Wednesday, June 13, 8:00 p.m. ET
Goaltending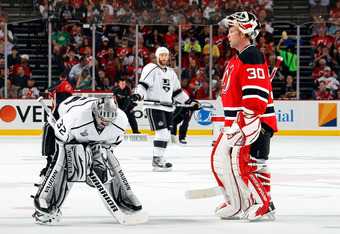 Bruce Bennett/Getty Images
Jonathan Quick is 15-4-0 with a 1.43 goals-against average, a .946 save percentage and three shutouts in the playoffs.
Martin Brodeur is 14-8-3 with a 2.00 goals-against average, a .922 save percentage and one shutout.
Quick has had an amazing postseason run and is a favourite to win the Conn Smythe trophy as playoff MVP. However, he did have a costly slip-up in Game 5, when he misplayed the puck on the penalty kill which led to a power play goal by Zach Parise. Aside from that error, Quick has been consistent in the finals and should be expected to perform well in Game 6.
Brodeur has also been consistent in the playoffs, and at age 40 he is trying to help engineer one of the greatest comebacks in NHL history. After being hung out to dry on Kopitar's overtime winner in Game 1 and giving up four goals in Game 3, Brodeur was almost unbeatable in Games 4 and 5. Given his extensive experience in pressure situations, expect Brodeur to have another great showing in Game 6.
The Captains
Dustin Brown has seven goals and 10 assists for 17 points in 19 playoff games. He's also the playoff leader with 89 hits and is tied with linemate Anze Kopitar for the best plus/minus rating at plus-15. However, Brown's production has slowed in the finals, and in Game 5 Brown spent the last three-plus minutes of the game on the bench.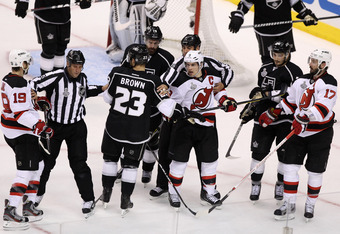 Christian Petersen/Getty Images
Brown needs to step up in Game 6 and play his best game of the playoffs. After there were rumours he could be dealt at the trade deadline, Brown proved to the Kings organization just how valuable he was.
With that being said, Brown is due to step up to the plate once again. Look for Brown to come out and be a one-man wrecking crew and a force offensively on the forecheck.
Zach Parise has eight goals and seven assists for 15 points in 23 playoff games. Like Brown, Parise leads by example at both ends of the ice, having registered 51 hits and 14 blocked shots in the playoffs.
After Parise and linemates Travis Zajac and Ilya Kovalachuk struggled in the first three games of the series, they began to find their form in Game 4. In Game 5 Parise opened the scoring with a key power play goal, the first for the Devils on the man advantage in 16 opportunities.
For the Devils to force a seventh game Parise will have to have a similar performance in Game 6. Parise, a free agent come July 1, could once again be playing in his last game as a member of the New Jersey Devils.
Keys to the Game
Special teams will play an important role, specifically the Devils' power play and the Kings' penalty kill. If the Devils can score against the Kings' penalty kill that's operating at 91.9 percent, there is a good chance they can force a seventh game.
The Kings need to put more pressure on Brodeur by getting more pucks and bodies to the front of the net. In Game 4 the Kings had over 20 missed shots, which could have been the difference in a close game. In Game 5 the Devils did an excellent job supporting Bordeur, blocking 20 shots.  
Finally, the first goal of the game could be decisive as the team that's scored first in each game of the series has gone on to win.
Prediction: Kings 3 Devils 2
The Kings have not lost three in a row since February, and that won't change in this series. Look for the Kings to come out flying in front of the home crowd and take the lead early in the first period.
The Kings forecheck will be too much for the Devils to handle and even a great performance by Brodeur won't quite be enough to save the Devils.
The Kings win their first Stanley Cup, while Jonathan Quick becomes the second straight American goaltender to win the Conn Smythe trophy.