Stanley Cup Playoffs 2012: Players Who Must Step Up in Game 6
June 10, 2012

Jim McIsaac/Getty Images
It turns out that we will see Game 6 of the 2012 Stanley Cup Finals after the series had initially looked dead in the water.
Los Angeles has allowed New Jersey to stay in the series, but the Kings still have two chances to win its first Stanley Cup since becoming an NHL franchise 45 years ago.
After watching what happened in the first five games, Game 6 is a toss-up. Here are some players who must step up their game.
Dustin Brown
It's time for the captain to show up in the scoring department.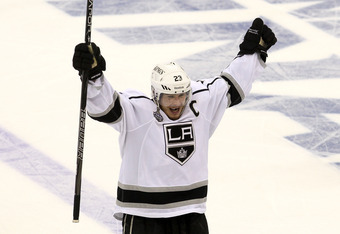 Jim McIsaac/Getty Images
Brown has 17 points this postseason, but only one assist in this series. He has to produce at a high level in the biggest game of the year.
He has produced at a +15 clip this postseason, but absolutely nothing offensively. It's time for him to solve Martin Brodeur before he sees his team tied in the series.
Captains step up in the biggest games. We'll see what Brown brings to the table in Game 6. 
Jonathan Quick
Los Angeles can't complain about its goaltending issues much this season because Jonathan Quick has been stellar. However, he didn't put forth his best performance in Game 5.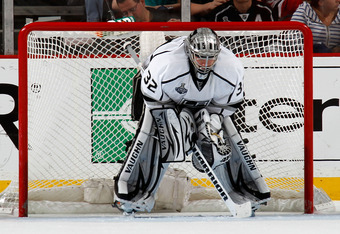 Bruce Bennett/Getty Images
Quick gave the Devils the lead early after an inexplicable play. He allowed New Jersey to gain confidence after being unable to solve Quick at home during this series.
Quick saved 17 of 19 shots for a .895 save percentage. It was his lowest of the entire 2012 NHL Playoffs.
He wasn't himself. 
Quick and the Kings must get this series completed in Game 6. They have been fabulous on the road this postseason, but all the momentum will be on New Jersey's side if they get this to seven games.
It starts and ends with Quick in net. 
Ilya Kovalchuk
Ilya Kovalchuk has been productive in some games and invisible in others.
He was invisible in Game 5 from a statistical standpoint. He was a -1 with one shot on goal.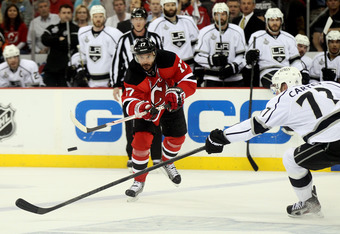 Elsa/Getty Images
Kovalchuk is known as an offensive player but that performance won't get it done in Game 6. He needs to be more active offensively.
He threw his body around, which is great, but he needs to show up offensively. Kovalchuk needs to put himself in better position in the slot and get to the net. Good things happen when you go to the net. 
Prediction
Los Angeles seals the deal to win the Stanley Cup. Coming back down 3-0 is nearly impossible and there is a reason why. Winning four in a row in any sport is difficult.
Kings win 2-1 and Quick is fantastic.