Heat vs. Thunder: Game 1 TV Schedule, Live Stream, Spread Info and More
June 10, 2012

Mike Ehrmann/Getty Images
The Miami Heat answered the bell when it mattered most, dominating the Celtics in Boston in Game 6 and pulling ahead in the final 12 minutes of a Game 7 that was all tied up after the third quarter.
But now, things will really get interesting.
The Oklahoma City Thunder put a stop to the San Antonio Spurs' 20-game winning streak, and they'll now look to end Miami's hopes of finishing the job they botched in the 2011 NBA Finals. With the once-dominant Spurs and Celtics dispatched, the presumptive "next generation" of dynasties will commence what may become a compelling rivalry for the ages.
Both clubs set the bar for young talent, especially OKC. Kevin Durant and Russell Westbrook are each just 23 years old, while the famously-bearded James Harden is 22.
Needless to say, the best is quite certainly still to come for head coach Scott Brooks' well-rounded club.
The same may be said for Miami, where LeBron James and Dwyane Wade proved dominant enough to win five of the nine postseason games Chris Bosh sat out due to an abdominal strain. Now at full health, the Heat will look to rediscover the stride that made them look nearly unbeatable against the New York Knicks in the first round.
It will take nothing less to stop the Thunder, especially with Oklahoma City owning the home-court advantage.
Where: Chesapeake Energy Arena, Oklahoma City
When: Tuesday, June 12 at 9 p.m. ET
Watch: ABC
Live Stream: WatchESPN.com
Listen: The Ticket 790 AM (Miami) and WWLS 98.1 FM (Oklahoma City)
Betting Line: Oklahoma City Thunder (-5), according to Top Bet
Thunder's Key Injuries (according to Yahoo! Sports)
Out: Eric Maynor, PG (Torn ACL)
Heat's Key Injuries (according to Yahoo! Sports)
None reported
What They're Saying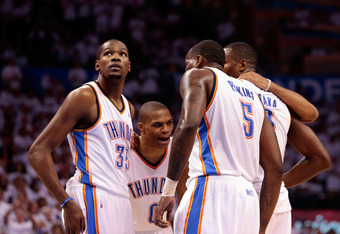 Brett Deering/Getty Images
For all the talent on the floor in the finals, the deciding factor might just come down to who wants it more. That's how Thunder center Kendrick Perkins sees it anyway (via the AP's Brian Mahoney):
Once you get to the finals, it's just about will and heart. You could do all the scouting that you want to do and try to get ready for them, but at the end of the day, you done worked so hard to get here that it's just coming from within. You've just got to dig deep. 

By Game 4 or 5, you'll see guys getting tired because of the season being long or whatever. It's just digging deep and seeing who wants it more.
If Perkins is correct, it will be awfully hard to make any sound predictions about who comes out on top in this series. On the one hand, the Heat must be plenty motivated after a disappointing 2011 defeat at the hands of the Dallas Mavericks in these same NBA Finals.
On the other hand, the Thunder have proven to be nothing if not determined after extricating themselves from an 0-2 deficit against the San Antonio Spurs and winning four consecutive games en route to their showdown with Miami.
Most Important Player to Watch: Dwyane Wade
Mike Ehrmann/Getty Images
It's been a tale of two postseasons for Wade. At times, he's looked as good as ever. Namely, when he put up 41 points in a bid to end the Indiana Pacers' titles hopes in Game 6 of the Eastern Conference semis.
At other times, though, he's looked like a shell of an All-Star, making fewer than 40 percent of his field-goal attempts in six of his 18 playoff games.
Chris Bosh's return will certainly ease some of the pressure on Wade, but that doesn't mean Miami won't still need a dynamic performance from the Big Three original. The Heat have yet to face a club with the kind of scoring punch OKC brings to the table. If Wade starts forcing bad shorts or, alternatively, disappearing from the offense altogether, Erik Spoelstra may struggle to replace his production.
Key Matchup: Kevin Durant vs. LeBron James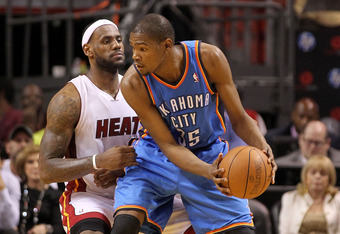 Mike Ehrmann/Getty Images
It's the matchup for which stargazers were all eagerly waiting.
James won his third MVP award this season, and Durant earned his third consecutive scoring title. It's hard to think of other players around whom you'd want to build a team. They score in a wide variety of ways, but they're by no means one-trick ponies. James can defend virtually anyone, and he's a beast on the glass. And yet, his greatest asset may be his ability to get his teammates involved by always making the right pass.
Durant has an ideal combination of length and quickness that allows him to grab rebounds, bother shots and make plays precious few athletes have any business making. He also epitomizes a new generation of leadership that lets his play do most of the talking.
You don't need anyone to tell you just how epic this faceoff will be.
Game 1 Prediction: Oklahoma City 102, Miami 96
The Thunder are rested, determined and playing at home in front of what is unquestionably one of the most ferocious crowds in the league. This club can beat teams in a lot of different ways, and it's hard to imagine it not capitalizing on at least one of them in this first contest.