Euro 2012 Bracket: Biggest Difference Makers so Far in European Championship
June 11, 2012

Shaun Botterill/Getty Images
Even though the tournament is just three days old, there's been no shortage of stellar play in the 2012 UEFA European Football Championship. 
We've had it all in the first few days, even though Group D has still yet to step on the pitch in Poland or Ukraine. Shocking upsets, favorites emerging and evenly-matched spectacles have astounded the soccer world and made Euro 2012 one of the most watchable sporting events on right now.
Euro 2012 is gearing up to be one of the best in recent memory, and it shouldn't disappoint going forward. 
Let's take a look at the players who have put their stamp on the European Championship so far and will continue to do so. 
Mario Gomez - Germany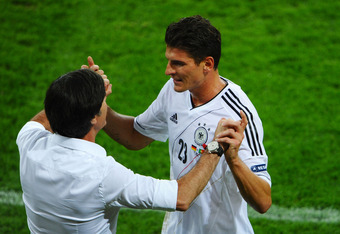 Laurence Griffiths/Getty Images
It was unclear heading into Euro 2012 if Mario Gomez was going to be on top of his game and worthy of Germany's top striker position, but he hushed his critics with brilliant play in their 1-0 victory against Portugal on Saturday. 
Gomez was in perfect position for a Germany cross and put away the distanced header in epic fashion to score the only goal in a game that went both ways and could've easily been won by Cristiano Ronaldo's Portugal squad.
He also nearly tallied his second goal of the game as he broke in the box and received a stellar ground cross, but came just inches short of reaching the ball. 
It was obvious who the biggest difference maker in Germany's opener was.
Alan Dzagoev - Russia
With players like Andrei Arshavin on your side of the pitch, it's hard to make a name for yourself and stand out. But that's exactly what Alan Dzagoev did in Russia's opener against the Czech Republic.
Dzagoev's two goals made a huge difference in their 4-1 win and he could not be stopped from becoming the early goals leader in the tournament.
One of the biggest question marks heading into Euro 2012 was who should be pegged as favorites to escape Group A, which features four very evenly-matched teams and no true leader or international powerhouse. But Russia put their noses in front and will not be stopped from advancing past the group stage.
And at just 21 years of age, Dzagoev's best is still yet to come. 
Antonio Di Natale - Italy
The 34-year-old striker has had his fair share of disappointments in his career, but he proved his worth to the 2006 World Cup champions with an epic goal against Spain.
Italy were pegged to have no chance against the heavy favorites in their opening match, but Di Natale came off the bench to replace an uncontrollable Mario Balotelli and wasted no time putting his team on the board.
Spain would end up tallying an equalizer by the boot of Cesc Fabregas and the match would end in a 1-1 draw. But Italy took the first steps to advancing out of a raucous Group C by notching a point, and it would not have been so without Di Natale's great goal past Spanish goalkeeper Iker Casillas.